Best Amazon Affiliate WordPress Themes (Free+Premium)
Best Amazon Affiliate WordPress Themes
Whatever you wish to do with your business, the first impression of your business is the last impression that enables you to convince a visitor to be your customer. So, you must need an incredible theme that provides you with a better overview to monetize your website.
These days, there are many ways to monetize your website and Amazon Afiiliate is one of the. Therefore, if you're looking for a theme to earn from Amazon through their Amazon Affiliate program, you must have the best Amazon Affiliate WordPress Themes.
Here we've handpicked some of the best Amazon Affiliate WordPress Themes.
Please check it out:
Affiliate Review (Free)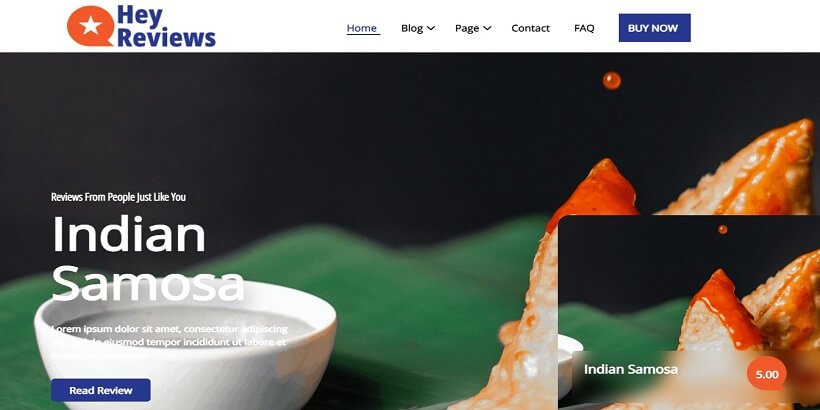 Affiliate Review is one of the most fantastic themes for amazon affiliates, affiliate programs, affiliate marketing websites, affiliate dashboards, review websites, and relevant sites. This theme is minimal with multipurpose use. It is backed by a clean and retina-ready design. This theme comes with a user-friendly theme options panel that allows you to customize it by using the personalization option.
Furthermore, this theme is crafted by WordPress experts and makes use of the Bootstrap framework for creating this theme. Its responsive layout will make your website automatically adjust itself on major electronic devices.  Also, the theme comes with lots of social media options available for effective promotion. This theme is SEO-friendly and comes with secure, optimized code, and is mobile-friendly which makes your website perform well on any mobile device.
Dark Ecommercely (Free)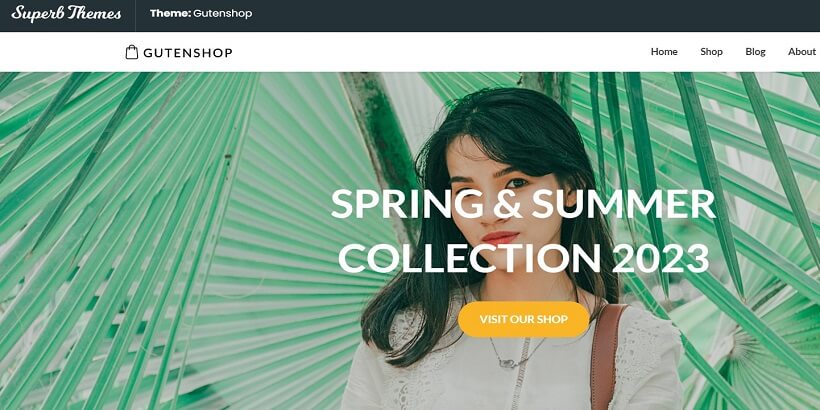 Dark E-commerce is one of the amazing WordPress themes for affiliate marketing. This is an e-commerce theme specially for online boutiques, webshops, and stores. One can use the one-click checkout feature in this theme to make their store an Amazon Affiliate store easily. One can use this theme to create a custom marketplace where users can sell digital services and goods such as stock photos, software, audio files, and more.
Moreover, this theme is powered by WooCommerce and blogs. It enables you to create your own grids, show products online, and add all the contents you wish to on your front page. The theme can also be used as a one-page ship. Also, it is minimum, clean, and responsive It comes with a flat design with a few shadows here and there to make some of the elements stand out. . It comes with excellent page speed/load time and has a full SEO optimization feature.
Kingdom – WooCommerce Amazon Affiliates Theme (Premium)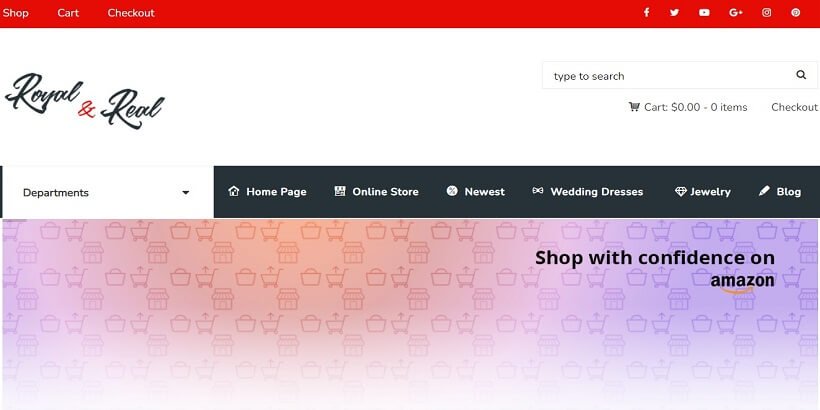 Kingdom is another incredible WooCommerce Amazon Affiliates WordPress Theme. The amazing theme is WZone Gutenberg Optimized Theme. This theme includes the premium SEO pack plugin and Convert Plus-Popups plugin. It comes with More than 50 layout settings available. The theme enables you to configure website colors, menus, and widgets.
Moreover, it is fully compatible with woozone/kingdom, and WooCommerce& seamless integration with visual composer. It comes bundled with Visual Composer page builder & slider revolution. This theme is mobile-friendly and SEO-ready. It consists of three individually customizable display modes: for desktops, laptops, tablets, and phones.  This theme enables you to change the website logo and fonts, and add/ remove header social options.
Astra (Free + Premium)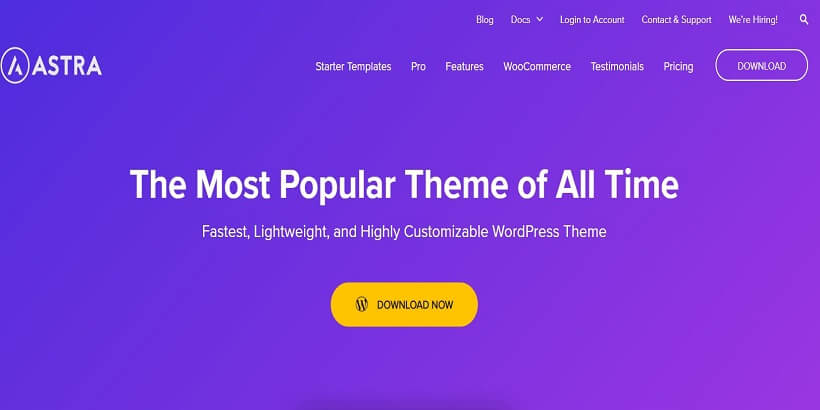 Astra is a fully customizable, fast, and beautiful WordPress theme. This theme is a lightweight, highly customizable multipurpose theme that can be used to create any website. The theme is highly suitable for creating an Amazon Affiliate site. Astra combines some major aspects such as customization, simplicity, and outer look.
Moreover, this theme provides you with pre-built website templates. This incredible amazon affiliate WordPress theme provides you the absolute freedom of activating or deactivating the sidebar and page title. It even enables you to create full-width pages to create a better design.
Also, this theme seamlessly works with major page builders like Divi Builder, WPBakery, Brizy, Elementor, and Gutenberg. It provides you with layout options that offer you to modify the website container, single pages, archives, footer, sidebar, and posts.                                                                                                                                                                                               Detais&Downloads  Demo
Sydney(Free + Premium)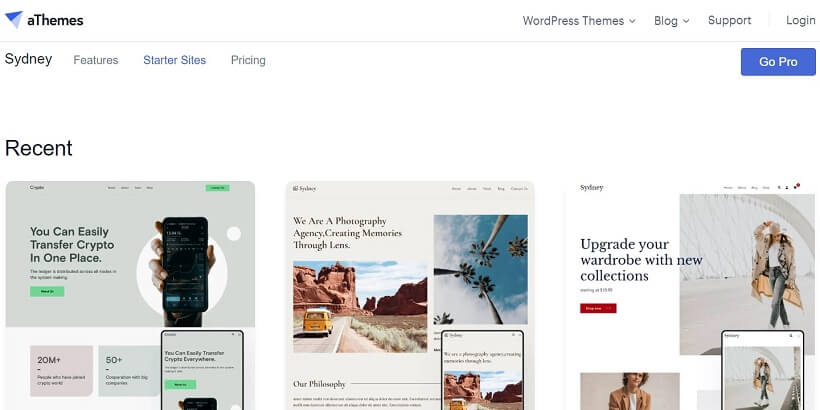 Sydney is another powerful amazon affiliate WordPress Theme. It is one of the few themes recommended officially by the Elementor. This theme enables you to create your dream affiliate website the way you like as it is integrated with WooCommerce. You can make a good impression on customers with the fantastic website designs that come with Sydney. Moreover, this theme enables you to add a full-screen slider or full-width image. It lets you add video headers too. The theme offers five-main header layouts i.e. extensively customizable for both phones and desktops.
The free version offers customization options such as bottom modification, scrolling to the top, blog post styles, widget footer and footer styling, AMP support, WooCommerce Integration, and more.
The pro version of Amazon Affiliate WordPress Theme offers more advanced functionalities such as header top bar, shortcode support for header, individual page control or sidebar, title and featured image, sidebar mini cart, animate heading widget, and more.
Voice (Premium)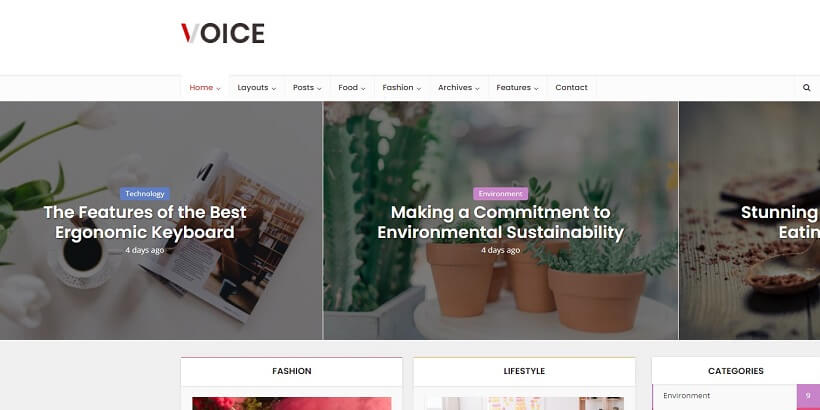 Voice is one of the most downloaded amazon affiliate WordPress themes. This theme comes with a comprehensive tool of an advanced theme section to set up a website in very less time. The theme is suitable for managing marketing websites, review websites, food blogs, magazines, etc. It is created with a highly responsive design with fantastic typography options. This theme consists of advanced header options, sticky header, header layouts, and mega menu options.
Moreover, it is packed with over 150+ post-listing combinations. The theme provides seven main layouts for post listing and an additional 3 for featured area posts. As the comes come with a review system and advertisement placement, it makes it one of the best amazon affiliate WordPress themes. Also, it integrates with the WP review plugin effortlessly.
Convert (Premium)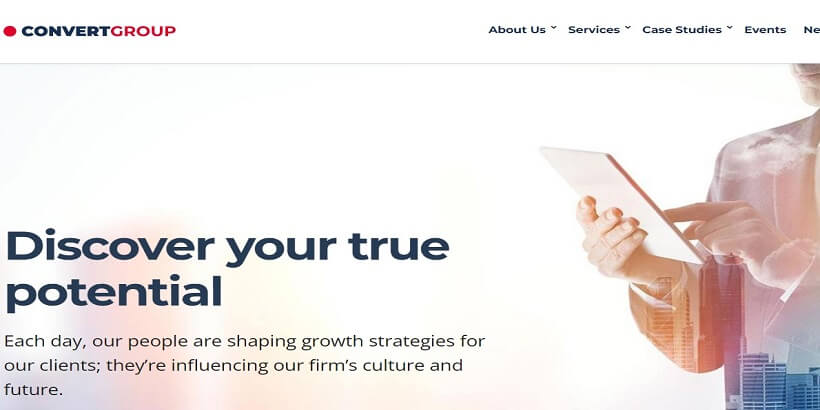 Convert is another best Amazon Affiliate WordPress theme that enable you to effortlessly create amazing affiliates and the first impression of professionalism. This theme consists of more than 70+ templates to choose from. The theme is compatible with famous page builders like Elementor, Divi, Beaver Builder, and Gutenberg Block editor.
Moreover, it is well-optimized and loads assets like JavaScript or CSS only when and where required.  The theme's global sections functionality enables you to design a section once and saves it so that you can use the section multiple times as a template. Also, this amazon affiliate WordPress theme offers advanced header options to set the transparency of your header section, add shortcodes, and enable you to enable or disable the sticky menu.                                                                                                                                                                                                                       Details&Downoads  Demo
I hope you enjoyed reading this article!!