Best Free Graphic Designer WordPress Themes
Are you a graphic designer looking to showcase your talent and skills on the web? WordPress is an incredible platform that enables you to create your portfolio website or blog.
To help you get started, we've gathered up some of the best free graphic designer WordPress themes that are easy to use and offer stunning designs.
These themes will not only make your work shine but also leave a fantastic impression on your visitors.
Web Graphic Designer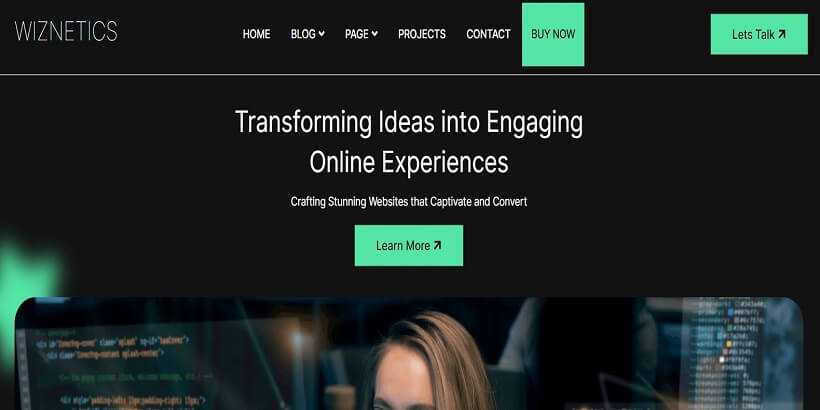 Web Graphic Designer is one of the Best Free, professional, and Visually stunning WordPress themes. This theme is tailored specifically for web graphics designers, creative professionals, digital agencies, and more. This WordPress theme comes with a comprehensive range of features and customizable elements.  The theme enables you to prove an ideal platform to showcase design portfolios, highlight incredible projects, and attract a variety of potential clients.
This incredible theme comes with clean and stylish design elements that create an impressive experience in the user's mind, making it easy for visitors to navigate through portfolios and appreciate their creative talent. Moreover, this theme is fully responsive, cross-browser compatible, and user-friendly. This theme also provides customization options to customize the website to match the designer's unique style and branding.
Graphics Designer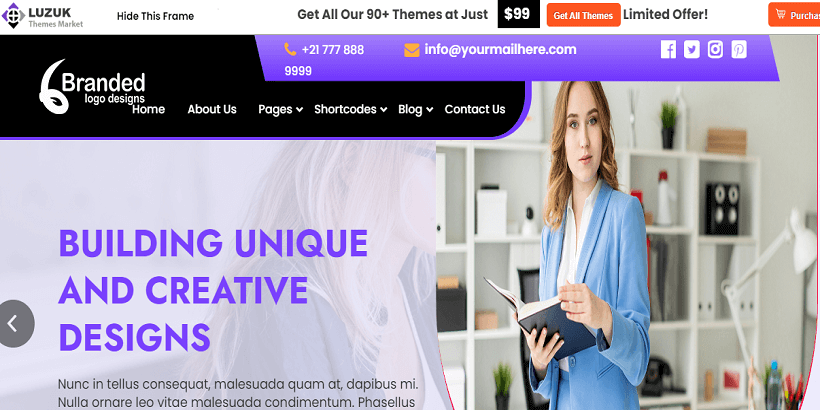 Graphics Designer is an amazing WordPress theme, that enables you to sell your services and expertise online. This theme helps you improve your visibility among your targeted customers and be seen by people who are looking to hire the services of a graphic designer online to launch a WordPress website of your own.
Moreover, this theme will serve your purpose in showcasing your talent, expertise, and work you've done for clients in an organized manner. This theme is super easy to install and you can add images, add pages, edit content, etc . This amazing WordPress theme is cross-browser compatible and can be viewed on any device without any distortion and alignment issues.
Designer Services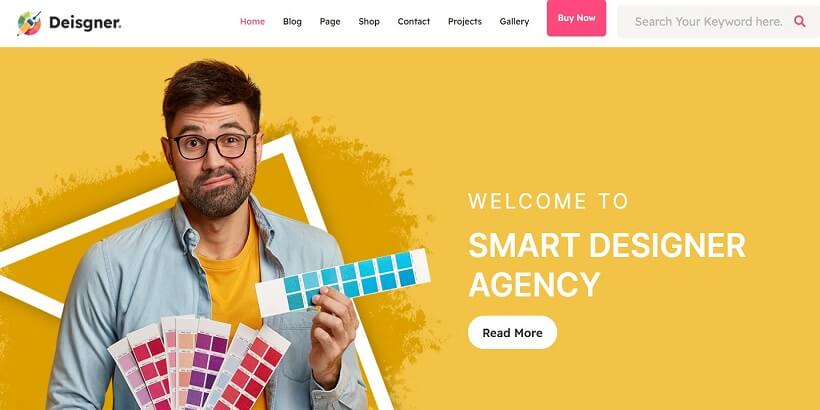 Designer Services is an incredible WordPress theme that enables you to develop your website in a professional way. This amazing retina-ready WordPress theme is perfect for creative design agencies, design studios, branding services,  designer portfolios, SEO marketing, graphic design companies or graphic designers, and all such related websites.  This amazing WordPress Theme offers pre-built marketing-specific layouts to ease out the process of creating pages and is highly compatible with several WordPress plugins such as Yoast SEO, Contact Form 7, WooCommerce, and many more.
Moreover, this theme makes sure that your site will look great on all screen sizes and devices. The theme uses optimized codes and is built on the Bootstrap framework which is responsible for making it powerful and handy.
Web Designer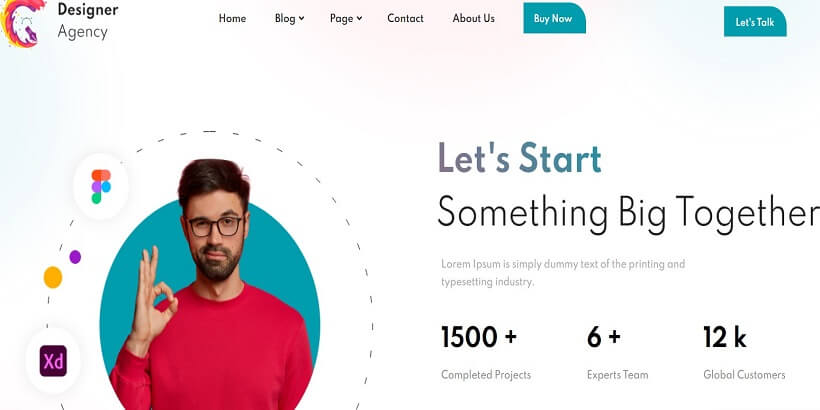 Web Designer is one of the Free WordPress themes, that comes with elegant and sophisticated design. This theme is perfect for web developers, web development agencies, graphic designers, logo designers, animators, SEO and marketing companies, and more. This theme is made up of a minimal design that makes your content pop. It is expertly crafted that give a perfect display of your services.
This WordPress theme is retina-ready and functionally advanced and is also made responsive to work brilliantly across all devices. Moreover, the user-friendly design of the theme is very useful and helpful for beginners and for those who have no coding knowledge. The design of this theme is made SEO friendly and comes with a stunningly beautiful banner and various sections including a blog, team, testimonial section, etc, and more.
Artist Portfolio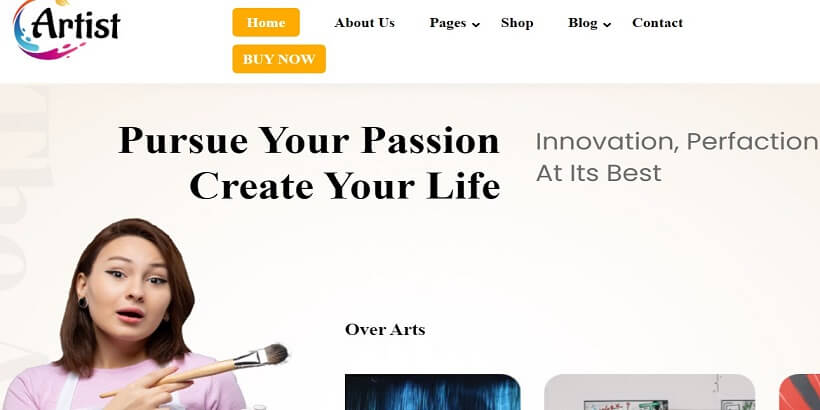 Artist Portfolio WordPress themes are specialized templates designed for artists of all kinds, such as painters, photographers, sculptors, or illustrators, who want to create a stunning online showcase of their creative work using WordPress. These themes offer visually appealing layouts and customizable designs to help artists display their portfolios with elegance and ease. They typically include features like gallery grids and sliders to exhibit artwork beautifully.
With user-friendly customization options, artists can personalize colors, fonts, and layouts to match their artistic style and branding. Moreover, these themes are responsive, ensuring that the portfolio looks fantastic and functions smoothly on various devices, from smartphones to desktops. Artists can use these themes to build a professional online presence, attract art enthusiasts, and potentially gain recognition and opportunities in the art world.
Web Developer Elementor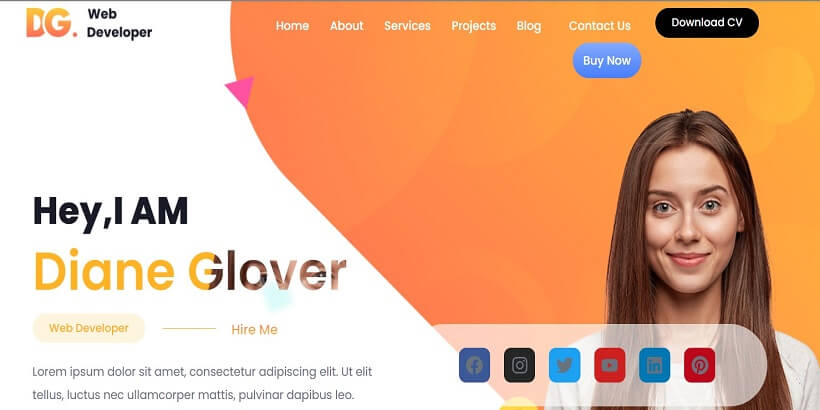 Web Developer Elementor is a stunning WordPress Theme that offers you the highest quality product and saves you all from the miserable themes that will ruin your website. This WordPress theme is specially developed for Web Designers, Web Developers, Graphics designers, and many other developers who want to showcase their professional credentials to the world.  The theme comes with different attributes that enable the users to build pages, titles, taglines, and logos.
Moreover. this amazing WordPress theme is highly responsive, works flawlessly across all platforms, and is compatible with all browsers. This theme is highly responsive and adapts well to the screen size of the images on your visitor's screen and adjusts according to their screen.
VisionArt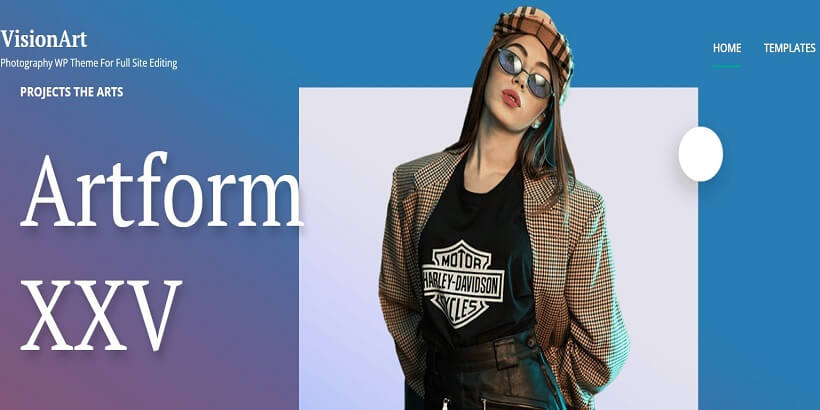 VisionArt is one of the Free Photography WordPress Themes for full site editing. This amazing WordPress theme is best for photographers, graphic designers, creative artists, photo bloggers, freelancers, and other creative photography-centric websites. This WordPress theme is a block-based theme that offers a range of features and design options for building a perfect photography website. It comes with a light color scheme with an amazing design.
Moreover, with this theme, the block patterns are simple and easy to use so drag and drop the blocks and build the content perfectly. This theme is highly customizable, fully responsive, fast-loading, and adapts to all screen sizes perfectly.
I hope you enjoyed reading this article!
Check out our other recent article: