Best Free WordPress Social Auto Post Plugins
Using WordPress and being a publisher, you must make sure your content is discovered and can be easily shared on social media platforms. Sharing on social media makes your content reach a handful of people and you gain some traffic.
Here we've included Best Free WordPress Social Auto Post Plugins. Please check them out:
AccessPress Social Auto Post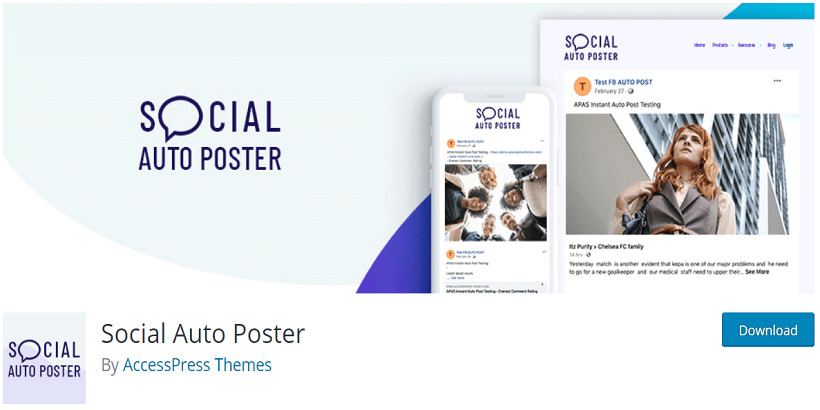 AccessPress Social Auto Post is one of the feature-rich WordPress plugins. This plugin is used for the auto-post to any Facebook account, fan pages. The plugin helps you to automatically post all of your website content on social media. Also, it helps to get viral by spreading your content. It makes it very convenient to publish your site to your social media and makes it easier to custom post types and publish the pages. This plugin comes along with full support for the users.
Features:
Autopost on Facebook profile and fan pages
Comes with Autopost filtering as per the taxonomy
Availability of logs to track all auto posts to individual accounts
Includes message format configuration ability
---
WP2FB Auto Publish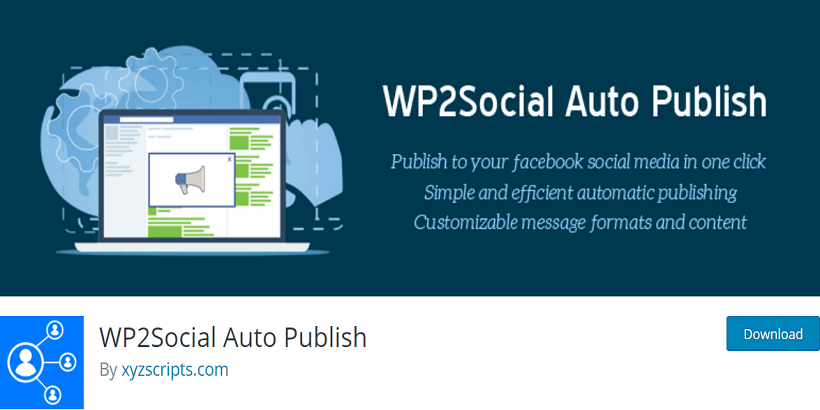 WP2FB Auto Publish is one of the best and stunning WordPress plugins. This plugin is free and it lets you publish your posts spontaneously to Facebook from your blog. It helps you publish your posts to your Facebook as an attached link, simple text as a message, or a text with an image as a message. The plugin holds up filtering posts and offers multiple types of filters for your content. This plugin looks great on all the screen sizes and comes with a fully responsive layout.
Features:
Helps to share a link to Facebook
Includes customizable message formats automatically for Facebook
Fully responsive and manages to look great on all the devices
Lets you publish a message to Facebook with an image
---
Revive Old Posts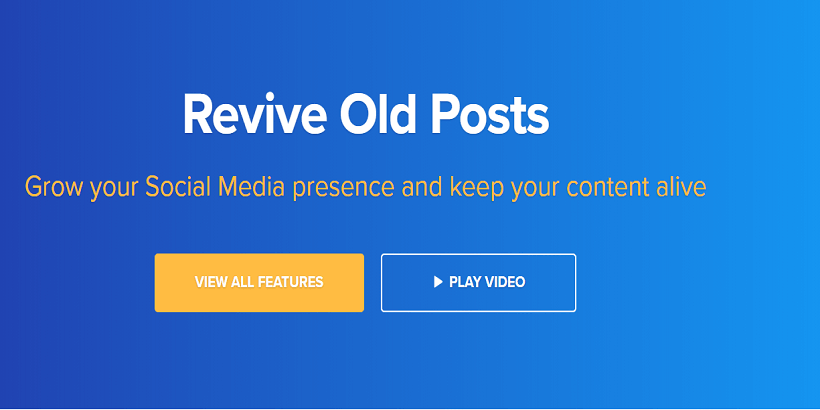 Revive Old Posts is one of the best elegant WordPress plugins. This is a free plugin that allows you to share your post with the help of social networks, which makes it much easier to drive more traffic to your site. It helps you promote your content beautifully and the plugin is compatible with URL Shorteners and is fully integrated with Google analytics. This plugin is very easy to use and is good for all the users ie. Both beginners and professionals as well. In case of any problem, you can get help from the support forum anytime.
Features:
Easily post to social media
Helps to share both old and new posts
Comes with a link back to your site
Uses hashtags to focus on the specific topics
---
Blog2Social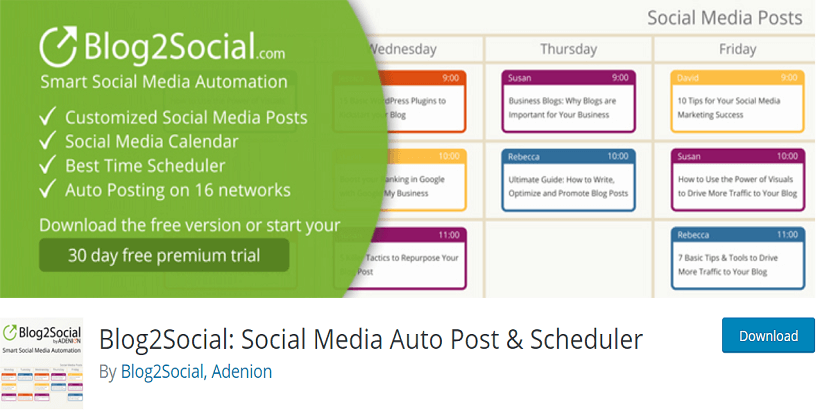 Blog2Social is one of the stunning social media auto-posting and scheduling plugins. This is a free plugin and is ideal to create social media posts for auto-posts and your content. The plugin is fully compatible with Woocommerce, Gutenberg Editor, Bitly, and a hummingbird. It allows you to share your content, pages, and post from other sources on 14 different networks. As this plugin is built without any coding, you can easily install this plugin without any difficulty.
Features:
Includes time manager for easy social media sharing
Spontaneously generated hashtags from your posts
Fully compatible with major plugins
Helps to edit meta tag information of your blogs posts and pages
---
Social Networks Auto-Poster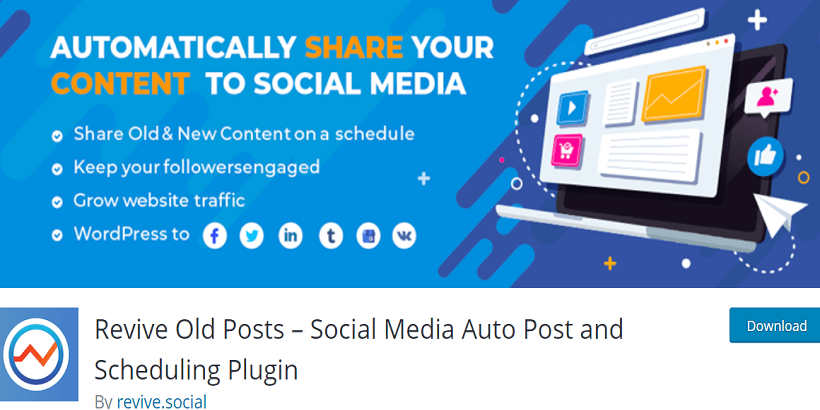 Social Networks Auto-Poster is one of the amazing WordPress plugins. This is a free plugin and is best for publishing posts from your blog or website to different social media sites including Facebook, Twitter, Instagram, Tumblr, Blogger, Google +, Plurk, LinkedIn, Youtube, This plugin helps you reach out to your readers and followers through social media and inform them about your new or recent posts. The plugin is highly compatible with WordPress 5 version and Gutenberg. It works really well with community pages, business pages, business groups, groups profile, etc.
Features:
Categories/ tags should be posted as hashtags
Includes auto-import comments from Facebook as WordPress Comments
Posts Image for Google +, Facebook, Twitter, and Vkontakte
Comes with additional URL parameter and Custom URL for Autoposts
---
Social Media Auto Publish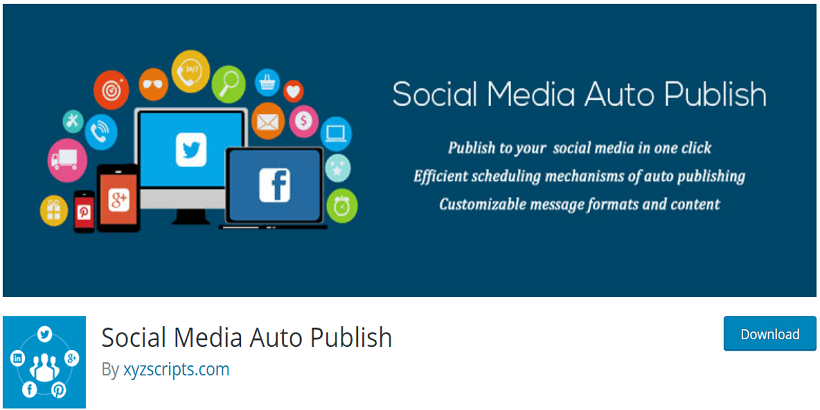 Social Media Auto Publish is one of the best WordPress themes. This theme comes with abundant features and enables users to post your published website posts automatically from your website to social media networks including Twitter, LinkedIn, and Facebook. The theme allows filtering posts that are based on custom post-type categories, and it offers multiple types of filters for the content which should be published automatically. In this plugin, separated message formats are provided for various social media. This theme supports permalink. Post id, description, post publish date, blog title, and many more.
Features:
Allows you enable/ disable publishing of WordPress page
Enables you to publish a message with an image
Includes customizable message formats
Allows you to share link/ post to Facebook
---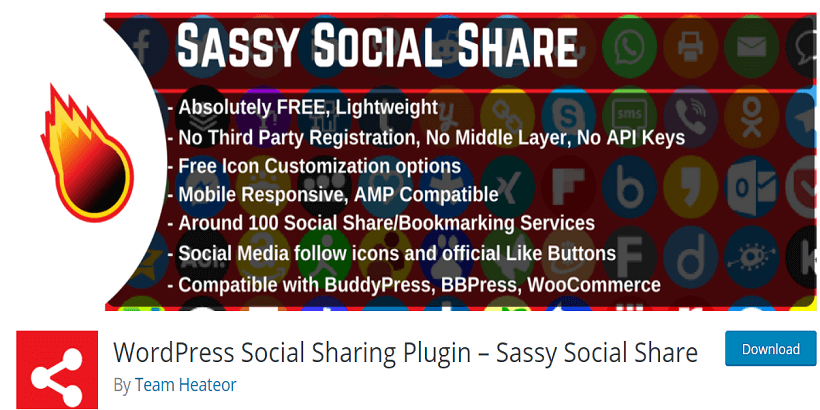 Sassy Social Share is one of the best plugins and comes with a great-looking vector icon and optimization. This plugin allows users to share their website content on various platforms such as Facebook, Twitter, Whatsapp, Google, Pinterest, and more than 100 bookmarking and social sharing services. The plugin is highly compatible with WooCommerce, BBPress, and BuddyPress. Also, this plugin has a very simple configuration. With this plugin, icons can be customized in many different ways with the help of options that is available. This plugin includes best coding practices. They are followed to make sure well-organized performance with fast loading speed.
Features:
Allows social sharing at WooCommerce
Highly supports HTTPS enabled websites
Easily compatible with AMP
Allows you to specify sharing icon size.
---
Feed Them Social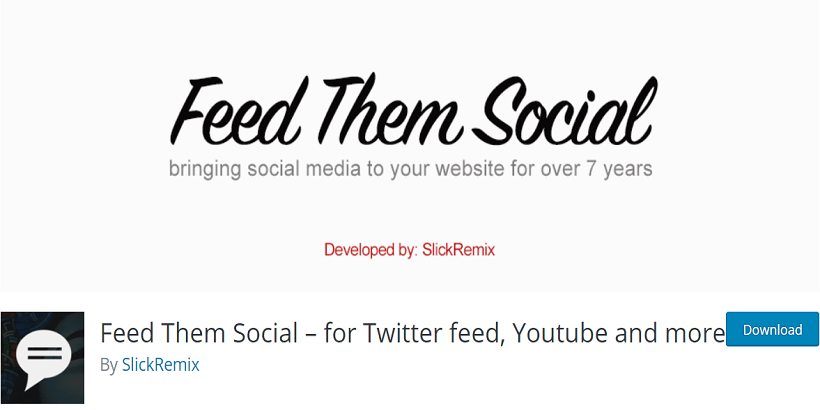 Feed Them Social is one of the most responsive Social Auto Plugin. This plugin enables you to create and then display feeds for your Social media platforms including Twitter, Facebook, Youtube, and Instagram pages. The plugin is very easy to install and setup and it lets you ass as many social feeds as you want. It enables you to generate all the shot codes you need for any feed using a shortcode generator, Also, the plugin lets you display your social feed on any post, page, or sidebar as per your requirement.
Features:
Highly responsive social feeds
Includes follow/ like buttons above or below any feed
Very convenient to Install and Setup
Permits you to add as many social feeds as you want