15+ Best Free Photography WordPress Themes for 2023
Many people have a huge passion and interest in photography. Professional photographers are increasing day by day. Whether it's wildlife, culture, landscape, flora, and fauna, events, models photography is becoming one of the most growing and popular professions. Having a professional website is a great way for such photographers to display their unique photography skills and their awesome collection of photos and image galleries to the globe. Not only they can make a mark as a professional photographer but also promote their work and services and attract valuable customers and companies. And for that, we present you with some of the best free photography WordPress themes.
WordPress is one of the best online platforms to create a website. It is often the most preferable one among many people for its easy installation and user-friendly feature. There is a wide range of WordPress themes available online through which you can create your online presence for yourself and showcase your photo collection to the globe. You might get stuck in choosing the right and best ones from the huge assembly of themes. After all, the collection is huge and every time new lovely themes are being updated. To make it easy and quick, we have personally selected some of the best WordPress themes for photography.
---
Best Free Photography WordPress Themes For 2023
---
CosmosWP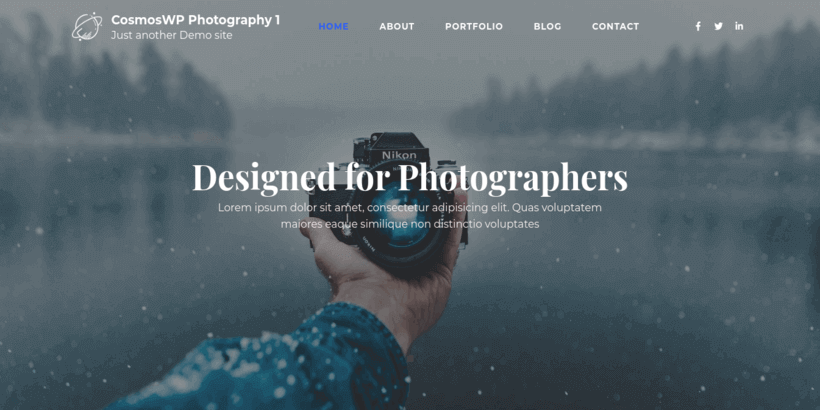 CosmosWP is a multipurpose free WordPress theme that has a pre-built demo layout built especially for photography websites. The theme offers you infinite design options as you can choose to display your photographs in a way that you have imagined.
The theme has over 14 pre-built demo starter sites, and it offers tonnes of customization options for totally free. You can make vast changes to even the smallest element of your website like a button or a small group of texts. With this theme, you can elegantly show your portfolio to keep your visitors engaged on your blog.
You can place your social media icons on the sticky header section so that they stay visible to your visitors.
Besides, the theme has all the great features that you wish to see in a WordPress theme. It supports all the major WordPress plugins, including WooCommerce. It is mobile-responsive, SEO-friendly, and loads super-fast. Likewise, it comes with well-explained documentation to make it easy for you to use the theme.
Features:
Blazing fast loading speed
Mobile-optimized design
SEO-friendly design
Infinite customization
Header and footer builder
E-commerce ready
Compatible with major page builders
Advanced typography, color, and background options
Developer-friendly
---
AcmePhoto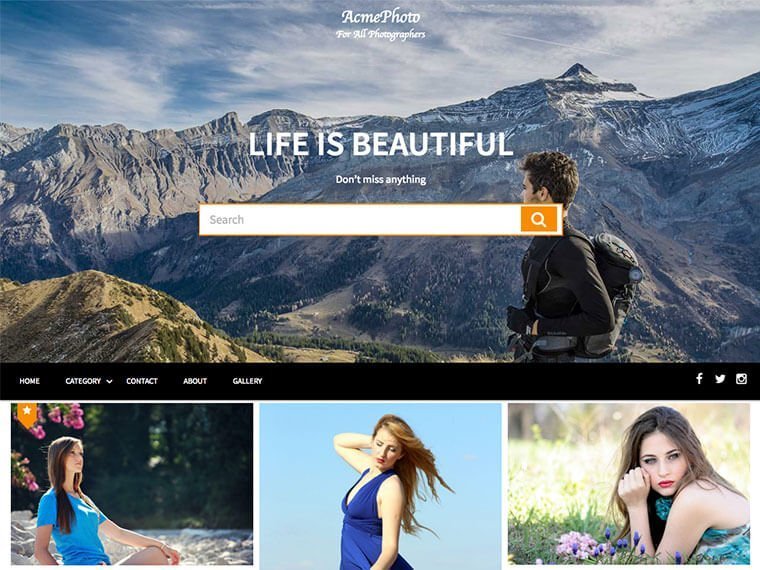 AcmePhoto is a wonderful and awesome photography-based WordPress theme. This unique and magnificent WordPress theme has been developed to display the list of your photo galleries. The theme uses a special feature called an advanced masonry layout with which users can display their images in a well-organized and structured way. On the technical side, this theme is user-friendly and customization can be done with ease. It has the best and most awesome features to make it stand out from the crowd. It is the perfect WordPress theme for any professional photographer. Its elegant looks and standard coding will never let its user down.
Features:
Beautiful Featured Section
WooCommerce Ready
Translation Ready
Cross-Browser Compatibility
Responsive
Added Custom Widgets
Social Media Integration
Advanced Pagination
Fast Loading
SEO Friendly
Advanced Pagination
---
 Infinite Photography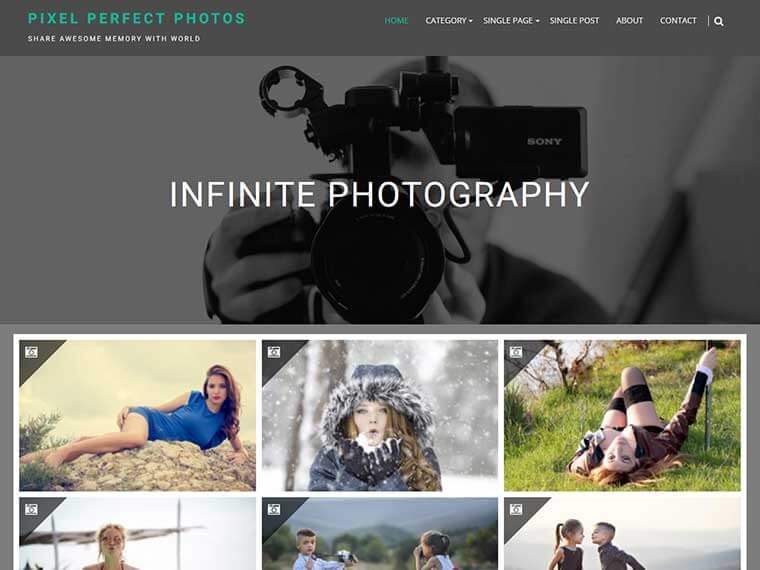 Infinite Photography is an elegant WordPress theme based entirely on photography. Its name says everything you can display your numerous number of unique and best photo collections in a modern and standard manner. It is easily customizable and its user can modify the layout of the theme with less effort. Being highly responsive, you can find this theme well adapted to any kind of electronic gadget such as smartphones and tablets. Get the best of this theme and create your unique online photo collection.
Features:
Copyright Text
Layout Controls
Colors Options
Background Image
Custom CSS
Breadcrumb Options
Social Media Integration
Logo Options
Responsive
---
Click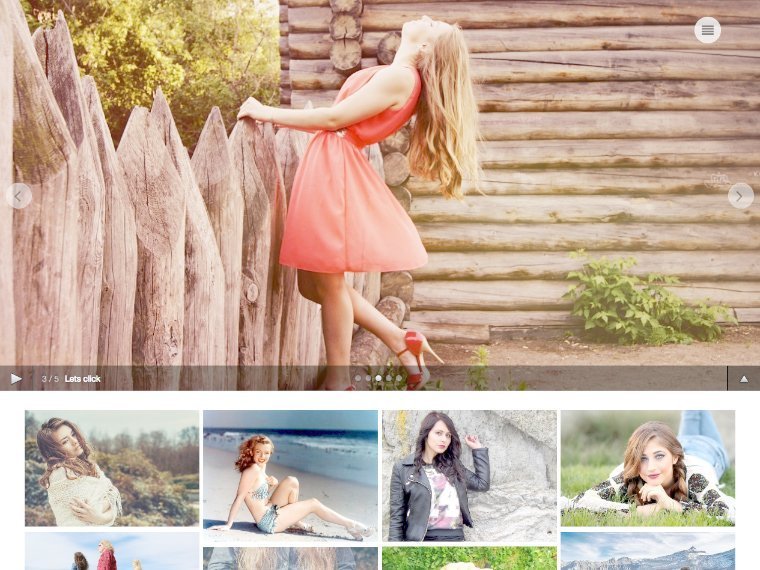 Click is a perfect WordPress theme for any photography enthusiasts who aim to show off their photography skills and promote their photo collection online. The theme is completely user-friendly and easily customizable theme. With its unique features, the user can create an awesome website displaying beautiful, elegant, and attractive photos or images. Its simple yet stylish layout is what makes it an attractive one and can catch anyone`s attention. Display your best photos in its captivating slider in a splendid manner.
Features:
Header Section
Footer Options
Copyright Text
Layout Controls
Colors Options
Background Image
Custom CSS
Browser Compatibility
Responsive
SEO Friendly
---
Multipurpose Photography

Multipurpose Photography is an outstanding-looking WordPress theme for event management. The theme is an ideal theme for any photography website. It is easily customizable and users can modify the theme as desired. Let the people around the corner know about your upcoming and latest concerts and events. An easy way to showcase your photography skills.
This highly responsive theme will let your visitors view your event details on their smartphones and tablets. Create various new pages on your site and even design the theme as you wish by using the various widgets available in the theme. Being integrated with social media, you can share or link your social accounts such as Facebook, Twitter, Instagram within your website.
Features:
Theme Customization
Responsive Design
Social Media Links
Slider Settings
WooCommerce compatibility
Secure and Optimized code
Supports 3rd Party Plugins
---
Gusto Photography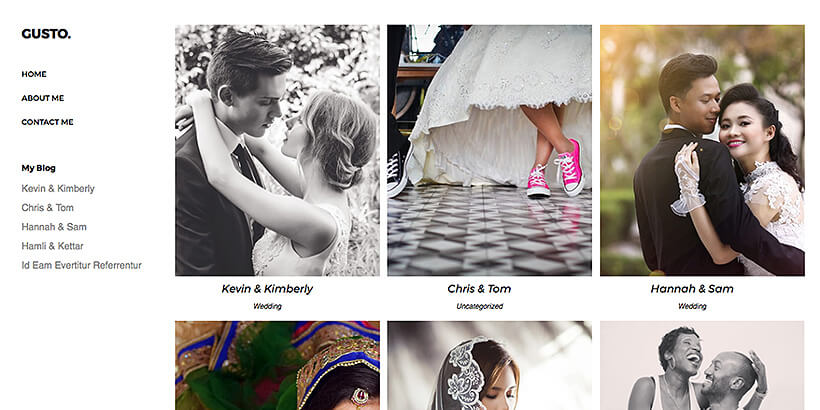 Gusto Photography is a WordPress theme primarily based on photography and blogs. A great theme for photographers who want to showcase their talent in photography on a website. You can use its live customizer to make minimal changes on your sites such as updating the header, logo, footer, and other functionalities.
It is a fully SEO-optimized theme and makes sure that your site appears at a good ranking on a google search. You can use its available widgets to enhance the look of your site and make it more beautiful and presentable. The fascinating image galleries available in the theme are simply a heart whelming and you ought to get mesmerized by them.
Features:
Image Galleries
Videos
Home Page
Tech Support
Frequent Updates
---
VW-Photography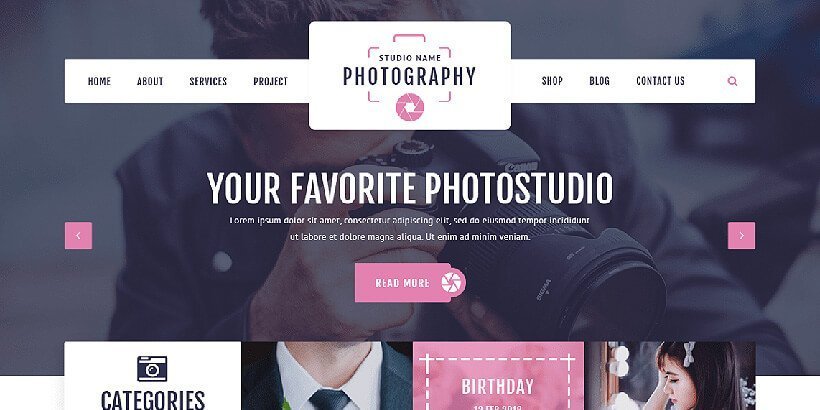 VW Photography is a charming and attractive free photography WordPress theme. All kinds of photographers from beginners to professionals can take good advantage of this wonderful theme. Display all of your priceless snaps and gain important clients from around the world. This highly responsive theme can be viewed well and properly in all modern gadgets like smartphones and tablets.
Make your site lively and charismatic and attract your visitors.  The theme comprises many interesting features that will make your site a fabulous one. A feature like a parallax page title is something you will enjoy using on your site that will simply enhance the mobility of your site. The delightful blog and footer styles are simply unique and good to try for your new website.
Features:
Responsive Design
Parallax Page Title With Breadcrumb
Support Customization API
2 Blog Styles
3 Footer Sidebars
---
AyaPhotography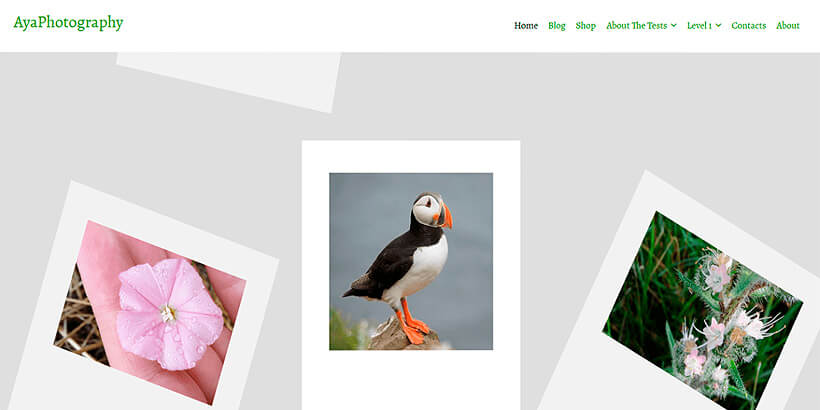 AyaPhotography is a stunning WordPress theme mainly focused on a photography website. The layout design and features have been created to make it the best and ideal one to promote any kind of photography and portfolio website. A website is a great way to showcase your talent and services online. Indeed every photographer wishes to have their own online presence to let the globe know about their photography skills. Hence, this is a perfect theme for photographers.
Made with the latest HTML5 and CSS, this theme definitely has the quality to meet any professional photographer's standard. You can translate your site into some other language to let people from different parts of the world get familiar with the site. Set your own featured image on the feature slider of the front page to promptly grab the attention of visitors.
Features:
Easy Installation and Setup
SEO Optimized
100% Responsive
HTML5 and CSS3
FontAwesome Icons
Dropdown Menu
Threaded Comments
Multiple Browsers
---
Photography Blog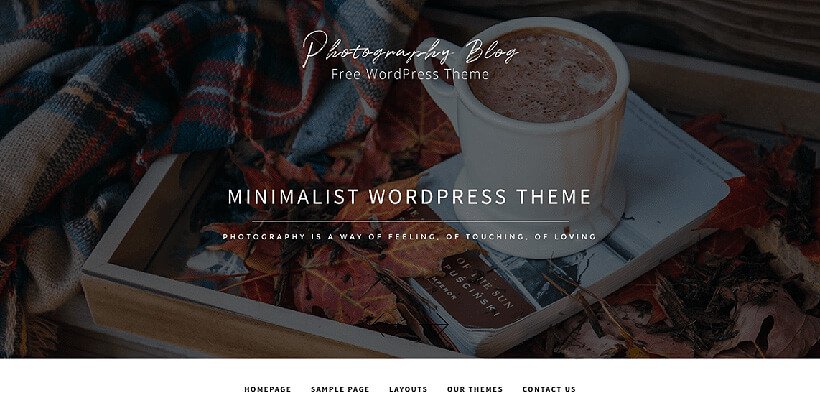 If you are a photographer cum blogger and searching for a WordPress theme to expose your photography skills and blog about your works and stories then Photography Blog is the best choice for you. The site is well-speed optimized and loads quickly once you visit separate pages. It is of course extremely responsive and adapts well in smartphones and tablets of any screen size and brand.
It is translation ready so you can easily have your site ready in other languages making people from different countries around the world view your website. The theme is also RTL Scripts Ready so it is quite a helpful feature for another form of language. It also has very good compatibility with WooCommerce so you can open an online store and showcase various kinds of products of your choice.
Features:
Fully Responsive
High-Speed Performance
SEO Optimized
Translation Ready
---
TS Photography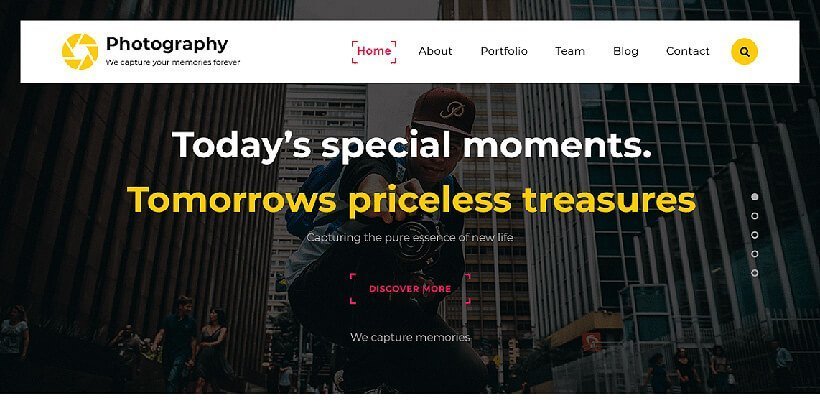 TS Photography is an astonishing and modern free WordPress theme. As the name gives the hint, this theme is fully based on photography. The colorful appearance of the theme is surely a captivating one and will certainly make a cool photography website. The theme consists of some great features which you can utilize well while customizing the theme. If you have many social accounts like Facebook, Twitter, and Instagram then you can link them through your website.
Showcase the main attractive events on the feature slider to get them noticed among people promptly. You can modify the header, footer, and sidebar section in your site easily with minimal effort. Moreover, you can add as many widgets as you want and simply different sources of information about the event on your website. Also, it supports almost all kinds of plugins such as WooCommerce and many others.
Features:
Theme Customization
Responsive Design
Social Media Links
Full Documentation
WooCommerce
Supports 3rd Party Plugins
Templates Pages
---
fPhotography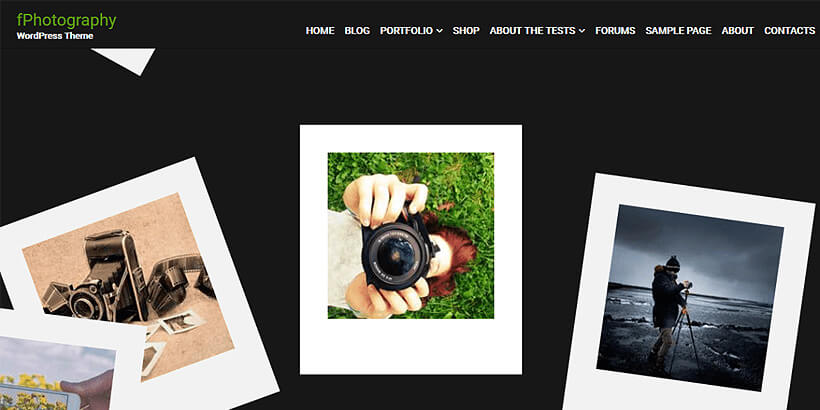 fPhotography is an astonishing free WordPress theme made for photography. It has been crafted with marvelous design and standard coding.  This theme is undoubtedly the best option for a photography website. Photographers around the world can use this theme to make their own personal or professional online presence. Plus, the exciting features included in the theme make it more interesting. You can explore your website around the globe displaying your stunning photos and snaps.
The website can be installed instantly and with ease. The wonderful animation effects of the theme make it a distinct one. With the striking FontAwesome icons feature you can develop a perfect and tremendous website for yourself.  It is also a good feature of having your website look awesome and flawless on all kinds of mobile devices and tablets.
Features:
Easy Installation and Setup
HTML5 and CSS3
Animations Appearing Effects
Featured Thumbnail
Threaded Comments
Dropdown Menu
FontAwesome Icons
Multiple Browsers
Details/Download Demo
---
Photostat Lite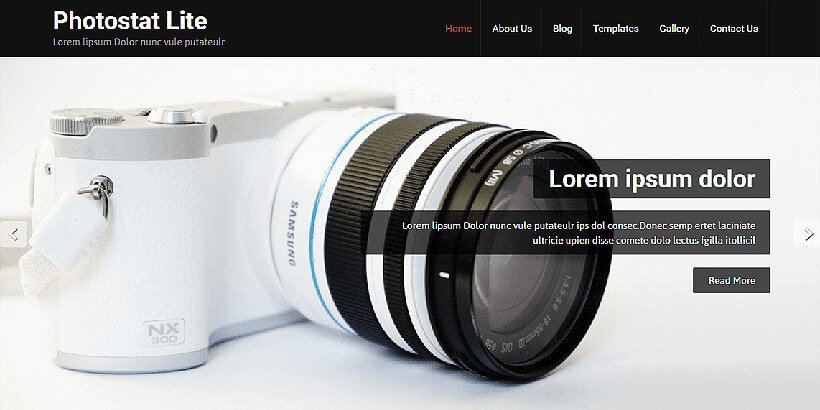 PhotoStat Lite is a simple yet trendy and modern free photography WordPress theme. The look and features make the theme an outstanding one. The lovely slider in the theme is amazing where you can display your popular photograph snaps and show off your skills. So many widgets available in the theme to experiment with the theme and enjoy making or more advanced and unique.
It also happens to be an SEO-friendly theme and certainly, your site will be in a good position on a google search. Besides that, it has good compatibility with almost all kinds of plugins available in the market. Plugins such as WooCommerce and Contact Form 7 work well with the theme. So, if you want to have an online store on your website then you can have it instantly.
Features:
Beautiful and elegant design
Compatible with the latest version of WordPress
Responsive Design
Color Options
SEO Friendly
Compatible with plugins like WooCommerce and contact form 7
---
Fotogenic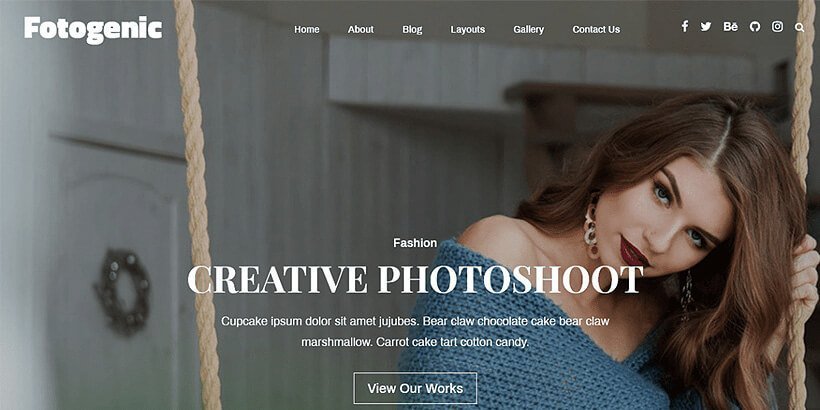 Fotogenic is a stunning WordPress theme tremendously focused on photography. Yes, it's completely a photo gallery website for any photographer. It has an extremely fantastic and fast loading speed. With every click, you can get the page loaded swiftly in no time. The layout of the theme has been designed beautifully making it perfect for a photo collection. The theme is easily customizable and modification can be done instantly with minimal effort.
It has good compatibility with WooCommerce so if anyone who wants to display and promote their products to sell online can use the WooCommerce plugin and activate it in the theme.
Features:
Photography Layout
Responsive Design
Highly Customizable
Unlimited Color Option
Quality Code
Awesome Support
Plugin Compatible
---
Photo Studio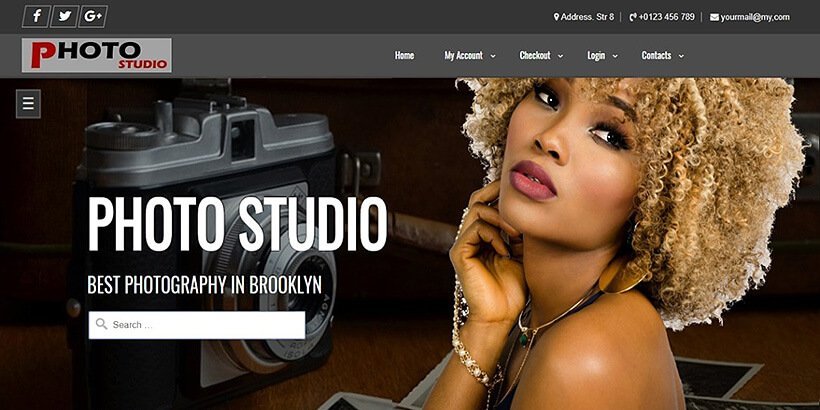 Photostudio is a classic and sleek WordPress theme. This theme is a good choice for all professional photographers around the world. Since it is an easily customizable theme, people who are non-techy or don't have any coding knowledge can easily manipulate the theme in their own way.
It is an extremely responsive theme, it can be seen flawless on mobile devices and tablets of any kind of screen size. If you are not comfortable with its dark front look of the theme then you can update the color and make it more colorful and glamorous as per your wish. Being a user-friendly and plugin-friendly theme, it supports nearly all kinds of WordPress plugins and add-ons.
Features:
Translation Ready
Background Image
Full-Width Template
WooCommerce Plugin Support
Localized for translations
---
Photograph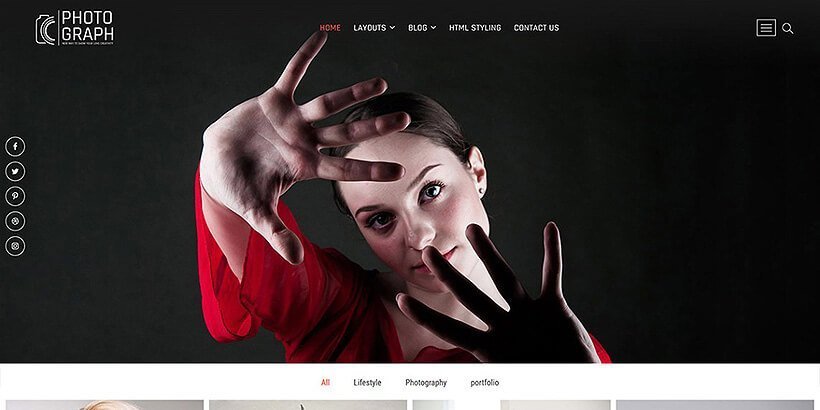 Photograph is a mesmerizing and tempting photography-based WordPress theme. This theme has been crafted elegantly primarily for photographs and portrait online. If you are looking for a theme to promote any kind of collection of photo galleries then this is a good choice for you. You can customize the theme by yourself with very much ease. It comprises some best and most amazing features to make your website look absolutely fabulous.
You can create different pages for other titles and design their layout as you want. Modify the header and footer part of your site with the color, text, and image of your choice. The theme is absolutely responsive and can be viewed flawlessly in smartphones and tablets of any screen size. Besides that, it is also google friendly and can bring your site to a good position in google searches.
Features:
Cross-Browser Compatible
Multiple Layout
Responsive Design
SEO Friendly
Social Media Integrated
Color Options
Support Reply
WooCommerce Compatible
---
Photo Fusion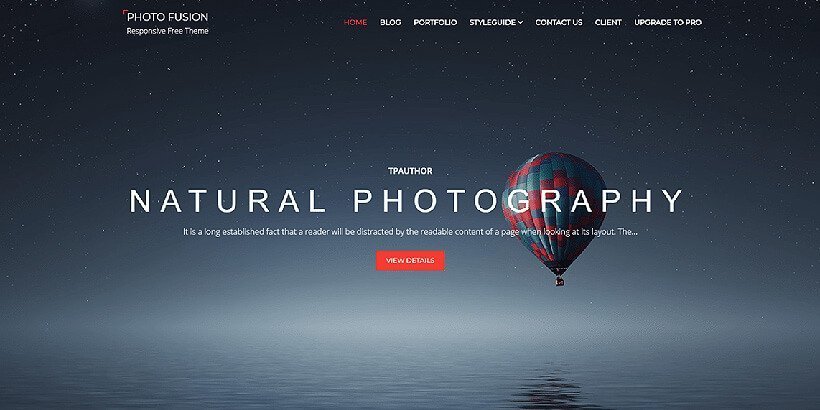 This simple and stunning-looking WordPress theme is an ideal choice for a photography website. The theme works well on all kinds of web browsers like Mozilla Firefox, Google Chrome, Safari, Opera, etc. It has been constructed strongly with the latest HTML5 and CSS3 so no need to worry about the standard and quality of the coding. If you feel like changing the entire look and appearance of the theme then you can do it easily by adding extra custom CSS. This extremely responsive theme will allow you to check your website on any modern electronic device such as smartphones and tablets correctly without any damage. The whole site is decorated with unique styles of widgets where you can showcase photo galleries professionally.
Features:
Theme Options
Responsive Design
SEO Optimized
Custom CSS Option
Front Page Widget Area
WooCommerce Plugin Support
Jetpack Plugin Support
Site Layout
---
Photolo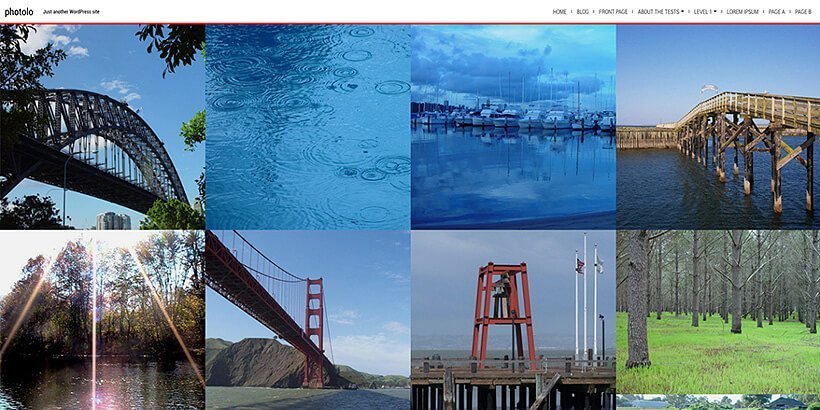 The trendy and eye-catchy look of Photolo will simply catch everyone's eye. Yes, this chic and sophisticated theme looks like a perfect match for a photography website. Being a responsive theme, people can view your site flawlessly on hand-held devices such as smartphones and tablets. Basically, you don't require to have good coding knowledge to modify the theme design.
Its amazing featured slider section, gallery section, and service section will make you love the theme more as it gives such a pleasant look and feel. Translation ready is also one tremendous feature included in the theme through which you can translate your site into some other preferred language of your choice rather than English.
Features:
Theme Options
Theme Layout
Blogs Page Layout
Theme Color
---
Imagegridly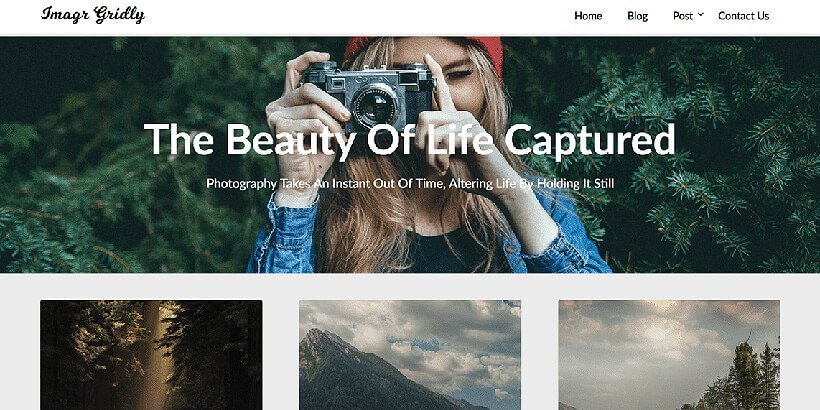 Imagegridly is a simple and sleek WordPress theme and is primarily focused on a photography website. The captivating appearance of the theme is what will grab the attention of people who visit your site. Since it is a highly responsive theme so you can be assured that your site will appear perfect on all kinds of smartphones and tablets.
You can modify its header, footer section, and sidebar as desired. Also, add varieties of widgets to your site to make it look even better and admirable.
The theme is also an SEO Optimized theme so your site will be able to rank at a good position in the google search. Also, you can update varieties of colors on your site to give it a fresh and new look.
Features:
Responsive Design
SEO Optimization
Custom Navigation Colors
Hide Title/Tagline
Custom Background Image / Color
Custom Favicon
---
Wrapping Up,
Anyone who is a professional photographer or a newbie in photography who is looking to make their online presence in the best and standard way, the above themes can benefit you a lot. After all, a website is the best place where a photographer can show their work and services to a huge mass of people around the world. Since all of these themes have been taken from the top WordPress companies around the world so you can be fully assured about its quality.
How did you find this article and the theme collection above? You are always free to share your thoughts and suggestions. Please do write it down in the comment section below:
Other Articles you may be interested in:
Best Free & Premium Adsense-optimized WordPress Themes