How to Add Different Post Layouts in Gutenberg with ZeGuten?
How to Apply and Customize Gutenberg Addons Layouts
Have you ever wondered about the bespoke website, which will be totally under comparison? If yes – meet ZeGuten plugin, a new must-have ultra-fast and multipurpose tool, perfect for adding blocks with rich functionality to any page built with Gutenberg. This Gutenberg block plugin contains 11 Blocks, such as circle progress, countdown timer, advanced map, blurbs and a lot more.
Gutenberg block plugins is one of the most important and common topics of discussion around the WordPress subject because the Gutenberg editor is inbuilt since the 5.0 version. That is why it might be quite hard to be ahead of the flow and create a distinctive website, whether it is a fitness blog, Online electronics shop or a donation platform. Gutenberg blocks WordPress plugin is holding out a hot offer – various layouts for 11 blocks, which can be applied and easily customized in a pair of clicks without any effort.
What interests people while working with the Gutenberg blocks the most, is the ability to create a wide range of pages or posts to entertain visitors. No diggity, it is completely possible with various layouts. Let's go through ZeGuten block layouts one by one.
Representing of Gutenberg Addons Layouts
Our ZeGuten journey starts out with the post carousel WordPress block. You are able to showcase your posts dynamically in a layout of your choice. In the Layout options, which are located in the Block sidebar of the editing area, you can choose one of the 5 layouts. Let's take a glance at each of them.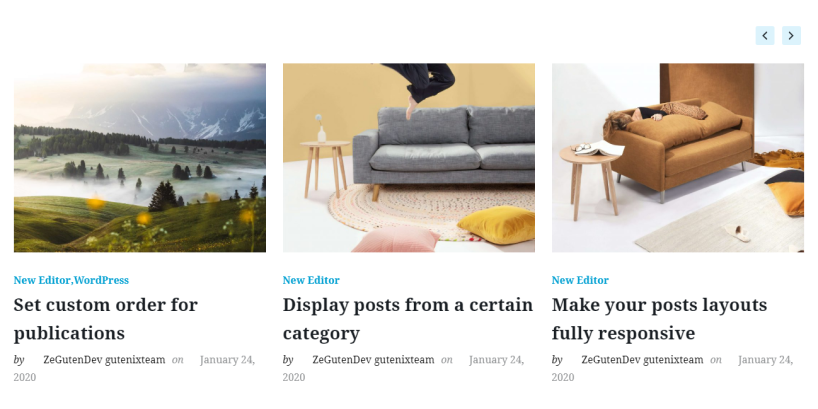 Gutenberg posts block, showcased in a listing layout, can be used on almost any website, from news blogs to online stores. Listing Gutenberg posts block provides companies with a new method for assortment creation. Assortment management defines the showcasing of products in the sales area. Moreover, you are able to set the listing alignment and filter posts by ID, name, date, and also showcase recent or most popular custom post carousel. Choose the number of items in the layout and set the background. 
The Read more settings are also available, as well as the typography and spacing. Now let's move to the grid layout, which is the most popular nowadays. With the post grid WordPress blocks, you can create unlimited layouts and display all post types in a fully customizable and responsive grid system. It is perfectly suited for displaying your blog, portfolio, eCommerce items or any kind of WordPress post type.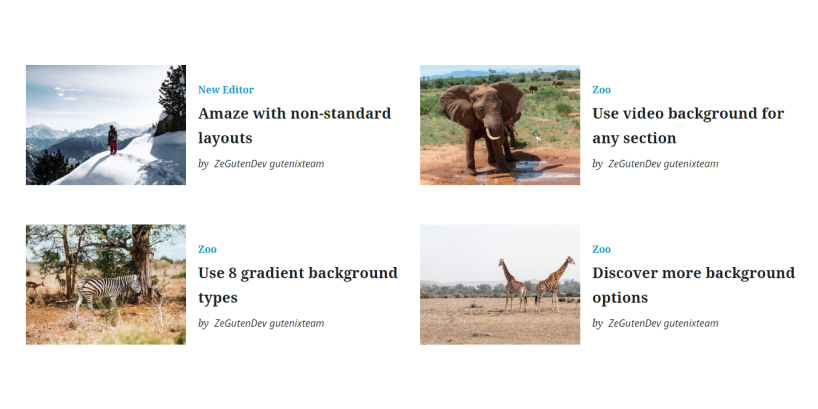 Post grid WordPress blocks can be applied without any coding. If you are not a developer, and even not a designer, ZeGuten plugin provides an effortless approach to the blog building. You can simply set some stylization options and apply the grid layout. All your custom settings, as post excerpts, post tag, category or date, will be showcased in a vivid and neat manner as well.
Expanded Layouts for Gutenberg addons
In case you've been spending a lot of time puzzling out how to make your website out of the box, you can use additional Gutenberg posts block layouts. As for the chess layout, it will be quite suitable, in case you're planning to variegate your blog pages and prevent the visitors from getting bored. Chess layout has the form of listing, where the first post has an image at the left, and text at the right. The second post vise versa, and the third looks like the first.
Post masonry grid WordPress layout of ZeGuten blocks works by placing posts in optimal position based on possible vertical space, which looks like a mason fitting stones in a wall. Along with the responsiveness, Post masonry WordPress layout is multi-various and will catch the eye of any customer.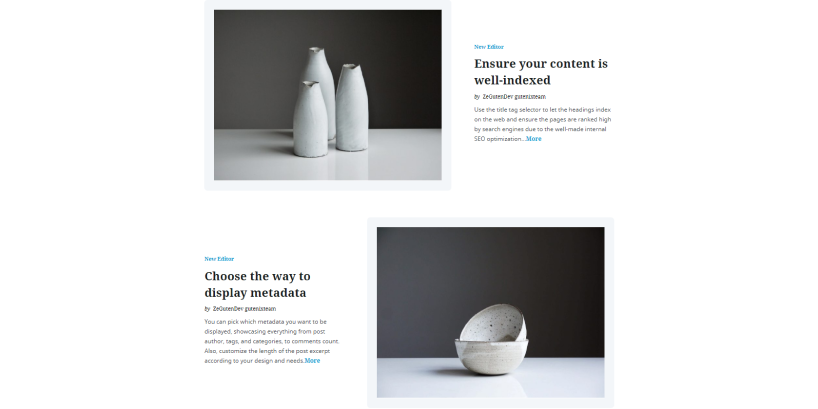 As a desert, let's check the custom post carousel WordPress layout. With outstanding features and responsive design, ZeGuten carousels will add dynamism to your blog and jazz up the whole website.
Summing It Up
With ZeGuten plugin for WordPress, you are able to generate stunning designs based on 5 layouts made for WordPress posts. You will find the design for any taste and surely fall in love with the effortless and joyful customization process.