Your Guide to Thoroughly Backing up Your WordPress Site
You've done all your research, found the perfect plugins and theme, written the best content, and are ready to hit publish on your WordPress site. But wait! You've almost certainly forgotten the most important thing – backing it up.
This is especially important if you run an e-commerce site. Nothing ruins the customer experience quite like a website suddenly becoming inaccessible, or being down for an extended period of time. Before you do anything else, it's time to sort out a backup solution.
What is a Backup? 
A backup is, at its simplest, a copy of all relevant files saved in an alternative location. It's the equivalent of saving an important document to both your personal laptop and cloud storage. Having a backup means that if something goes wrong with the original document – or, in this case, the WordPress site – you have an alternative, recently up-to-date source from which you can download it.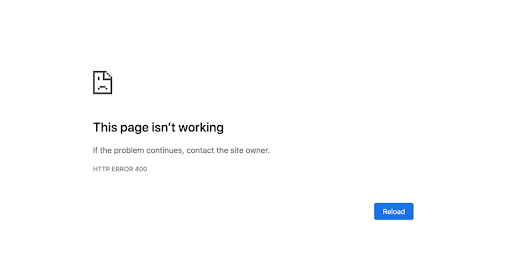 With a WordPress site, it's a little bit more complicated than a simple document. There's a lot of different ways the site could go down – from poorly managed updates to hacking. You can reduce the chances of these by having a static IP address, a dedicated cybersecurity staff member, and by staying up to date on the latest scams, among other things. However, you'll never be completely safe from potential mistakes – and there are a few important things you need to ensure get backed up.
Database
The database is where the important information about your site is stored. WordPress uses MySQL as its management system, so whatever backup method you choose must be able to interact with this.
The database is where you would find usernames, passwords, and email addresses. You don't want to make your VoIP customer service team's life harder when they suddenly can't send out password resets. But, more importantly, it's where you'll find everything you've posted! Whether you use WordPress for blogging, hosting products, or showing off media files, a lot of the information behind your activities will be stored here.
Plugin and Themes
This category is where you'll find that beautiful minimalist theme that you spent weeks thinking about and making sure was perfect. While you could redownload it again, it's much easier to keep backups – especially if you've customized it at all. If something does go wrong you can simply re-upload it from the most recent version saved, rather than starting from scratch.
This applies to plugins, too. Especially if you have quite a few running. Usually, plugins are responsible for allowing certain features to work. That means, if your site did go down and you didn't have backups of them, it might not work as intended when restored. 
Media
Any image, gif, or audio file you've uploaded counts as 'media'. Ecommerce websites rely on this category – imagine browsing a site with no product images! Depending on how image-heavy your website is, this could involve weeks of restoration if you don't have a backup of the site. Even if you have backups of the media saved elsewhere, you'd still have to re-upload it and make sure it's assigned to the right places. Far easier to have the whole site backed up!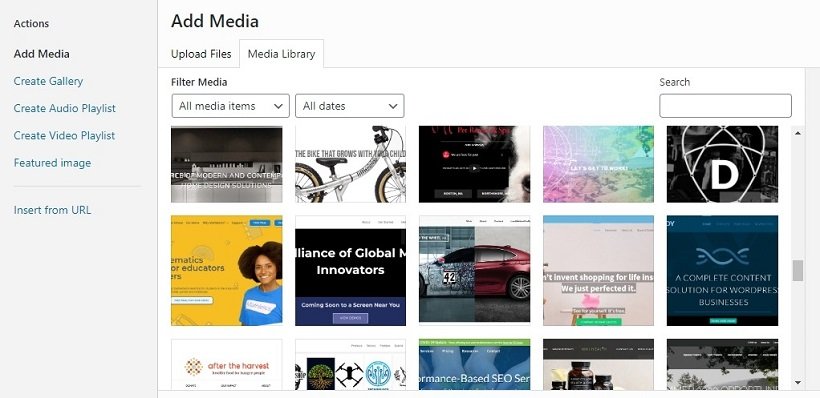 Doesn't My Host Do It?
Your host might backup on your behalf – but it's not worth relying on them. Some hosts offer backups in their plans, but you need to look for the fine details on a few things:
How frequently do they back it up?

How many versions do they store?

What's the maximum file size?

How easy to access are these backups?
Frequency
You want your website to be backed up regularly. For some people, that means weekly, and for others, it may even be daily. Many hosts are a lot less frequent than this, leading you to potentially lose a lot of work. You also have no manual control over the backups, so you can't make one before a big update or after a lot of important work has been finished.
If your product is something technical – a VoIP server, HR software, or cloud storage solutions – then it's vital that you have the most up-to-date technical information available. If you rely on your host's backup system, you could end up restoring data that gives instructions for your product that don't work anymore. This will cost you a lot more work in the long run.
Equally, if you have a site devoted to the latest fashion, you probably update your stock very frequently. Imagine if during next Spring it rolled back to Fall the year before – you're likely to lose a lot of customers and need to spend a lot of time fixing it.
Versions and Size
Ideally, you want a couple of versions of your WordPress site saved. If the site has gone down due to a plugin incompatibility, or a security breach, you won't know for certain how long ago the issues that led to it were introduced. Having only one version locks you into a backup that might still contain some issues. 
Trying to keep a recent one, a less recent one, and even a simple starter one based on your initial set-up can reduce this risk. Most hosts, however, will only store the one version – and you can't guarantee it's the version you want.
As for file size, they usually have limits. If your site goes over these, then you're either out of luck or have to pay a lot extra – which is something you don't need on top of an already stressful situation.
Easily Accessible
If you've backed up your website yourself, you can access those backups on demand – however is best for you. If your host has been doing the backing up, though, you're reliant on them and their timescales. In an ideal world, they would have excellent communication and get back to you as soon as possible, but that often isn't the case.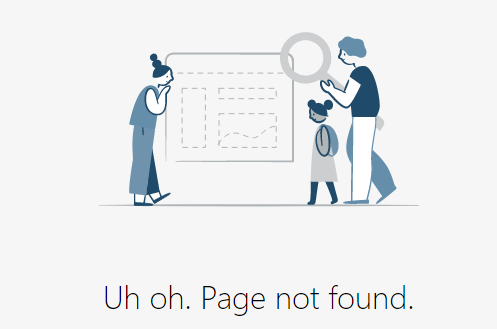 This is often worsened when the loss of the site comes from an issue on the host's end. If there's been a security breach, or they've been hacked, then they'll be dealing with a lot of people's requests for backups. No matter how good their call centre solutions are, the sheer number of other clients contacting them is going to slow down their response to you. It's far easier to be able to restore it yourself.
How Do I Do It?
Luckily, it's quite easy to backup your WordPress site. There are a lot of plugins designed specifically for that purpose. It's worth reading around and seeing what functionality they offer and for what cost, but some of the top recommended ones are:
UpdraftPlus

BackupBuddy

Snapshot Pro

Blog Vault

VaultPress (now part of Jetpack)
Some of these do have free versions, but those versions don't have quite as much functionality as the paid ones. Ideally, you want something that lets you back up to multiple locations – both a cloud storage system and a local one – or download the backup yourself. This gives you an extra layer of safety. Think of it like any business solution, from technological ones like VoIP to people-based ones like external HR. You can go cheap, but it's usually better paying more for quality.  
Let's have a quick look through how to use Updraft, as an example. To install the plugin, simply log in to your WordPress site and go to the plugins menu. Then, search for the one you want to install.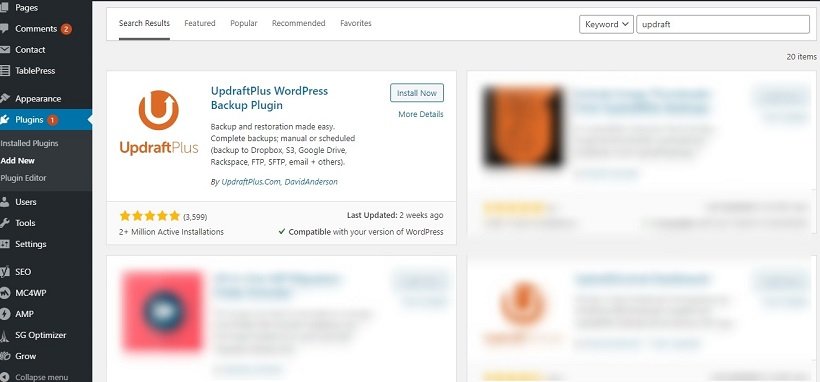 That's the easy part. Once you've installed it and activated it, it's time to customize the settings. As you can see below, there's quite a lot of them. The most important ones get decided by your backup schedule, and how many of those backups you want to store. Then you need to decide where to store them – it's worth having a dedicated section to it so it's easy to refer to.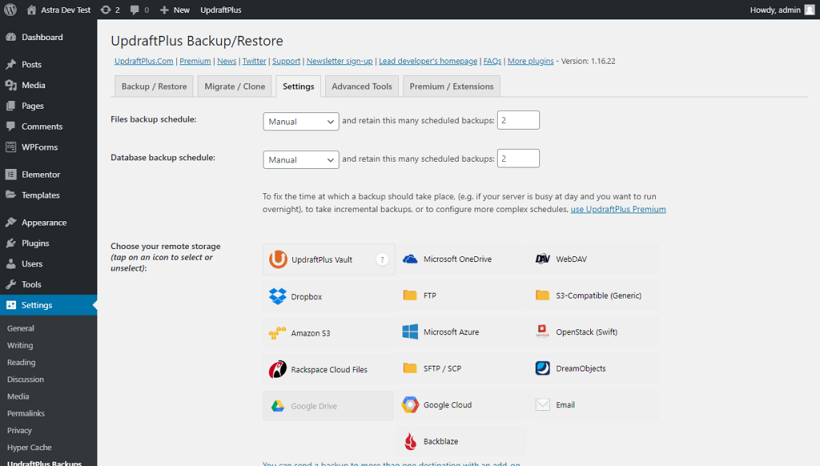 You can also include or exclude certain things from being backed up (useful if you need to save space), and receive an automatic email whenever a backup is done.
Next, it's time to press 'backup now'!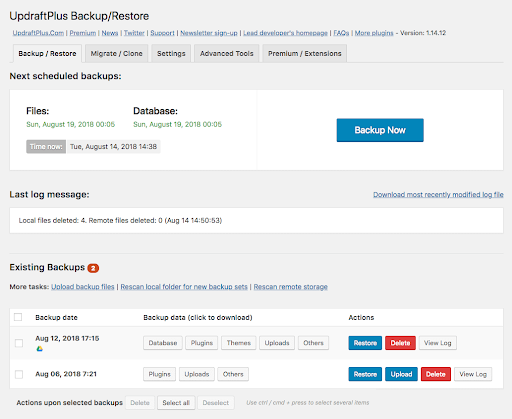 In the image above you can see where the existing backups – once you have them – are visible, and how easy it is to press restore. You can also see that the backups don't necessarily contain everything, and this is selected after you press 'backup now'.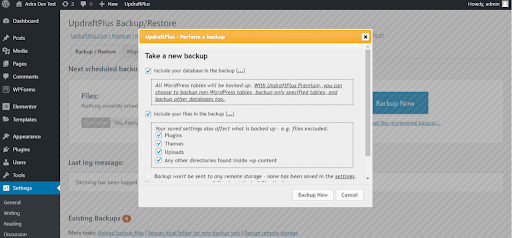 Simple, right? And if something does go wrong and you need to restore any older versions of your site, you just go to your existing backups and press 'restore'.

It is possible to get more into the detail of this, but it's not worth it unless you have a solid technical understanding. If you have a dedicated development team, give them access to these more detailed settings, but otherwise, being able to save a backup and restore it is all you need to keep your website up and running. 
Is It Really Worth It?
The short answer is yes.
The long answer? No matter what your website is for – whether it's for an up-and-coming start-up selling ATS software, a recipe blog that's still finding its feet, or a graphic designer's resume and portfolio – there's a lot of important information on it that you don't want to lose.
Installing a plugin to keep secure backups is the work of less than an hour (though you can and should spend longer!). Compare that to the weeks and even months of making that website in the first place – and it's clear to see that keeping your WordPress site backed up is worth it.
This is a guest blog post from:

Sam O'Brien – RingCentral UK

Sam O'Brien is the Senior Website Optimisation & User Experience Manager for EMEA at RingCentral, a Global VoIP, video conferencing and Cloud PBX provider. Sam has a passion for innovation and loves exploring ways to collaborate more with dispersed teams. He has written for websites such as G2 and Hubspot. Here is his LinkedIn.