Best AMP Plugins for WordPress
Have you been hearing a lot of buzz about AMP?
Well, AMP has been quite a hot topic these days. So, here I am with the top five best AMP Plugins for WordPress websites.
Before that, let me make you clear about what AMP is and what it does to your site. Does it benefit you? If so, in what way?
AMP, Accelerated Mobile Pages, is a project backed by Google to speed up the mobile web. AMP version of the websites load faster in mobile devices which results in increased user experience, increase website ranking, faster loading even on slow internet, and so on. Simply put, AMP offers the lightweight version of your website that loads faster.
Well, that sounds impressive! But, how does it do it?
Accelerated Mobiles Pages (AMP) control the number of javascript and CSS files that are used on posts or pages of your website. Contrary to regular pages, AMP pages are automatically cached by Google AMP cache which results in faster loading times on Google search.
Now, let's look at some of the best free AMP WordPress Plugins with which you can create an AMP version of your site that will load faster in mobile devices.
AMP for WP – Accelerated Mobile Pages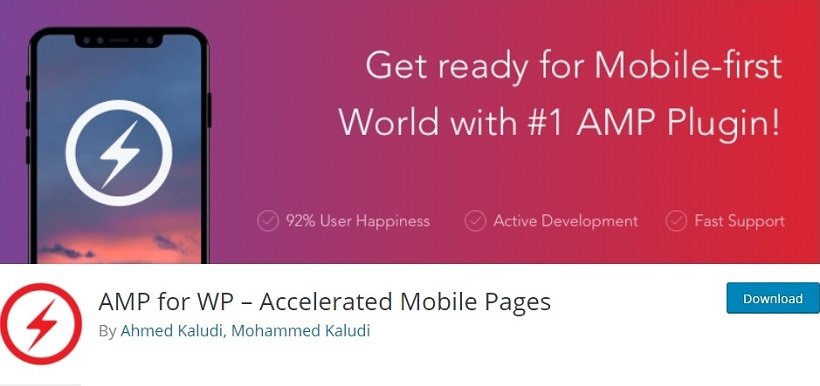 AMP for WP is one of the most popular AMP free WordPress plugins with over 100,000+ active installations. It is designed in a way that your site loads super fast and also engages your users. It supports homepage, posts, pages, custom post types, search, and archives. It has its built-in auto AMP Page Validator.
The plugin has six pre-defined ad slots so that you can easily monetize your blog or website with advertisements. With those native AMP Ads slots, the plugin will ensure that the ads will be shown in the most visible spots.
The plugin is SEO-optimized and it is fully compatible with SEO plugins like Yoast SEO and All in One SEO Pack. It has Yoast SEO, All in One SEO, Rank Math, SEOPress integration in it.
AMP for WP has a powerful settings panel that gives you full control over all the elements of your AMP site.
The plugin has several pre-made designs in the free version and a few of them are kept in the premium version, The plugin is page builder compatible too.
AMP
AMP is the official plugin for displaying AMP content on WordPress websites. This free AMP WordPress plugin has over 500,000 active installations and it is undeniably the most popular WordPress plugin at the present.
The plugin automates the AMP-valid markup, provides validation tools and does so many works itself. So, you can have a well-secured, super-fast, and engaging website in the AMP version.
The plugin has three template modes – standard, transitional, and reader mode. So, you can choose the template mode that suits your website. Another impressive feature of the AMP plugin is that it supports the AMP Pages serving so that you can take full advantage of features like AMP-AMP linking and mobile redirection.
AMP WP – Google AMP for WordPress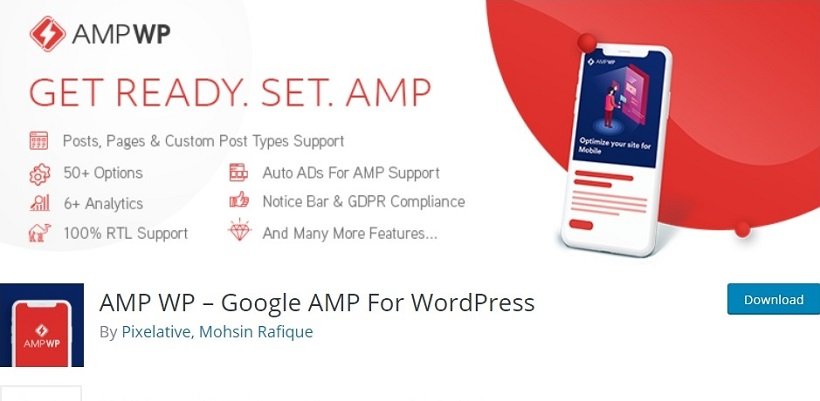 AMP WP – Google AMP for WordPress is a free WordPress AMP plugin that is quite new in the market. Yet, it has already proven to be the one that will be loved by thousands of blog and website owners.
It has a powerful AMP WP Settings Panel and an AMP WP Options Panel that lets you control and customize the AMP version of your website. It supports sidebar, slider, related posts, classic/list view layout, and so on.
The plugin claims to load sites 5x faster in mobile devices.
Better AMP – WordPress Complete AMP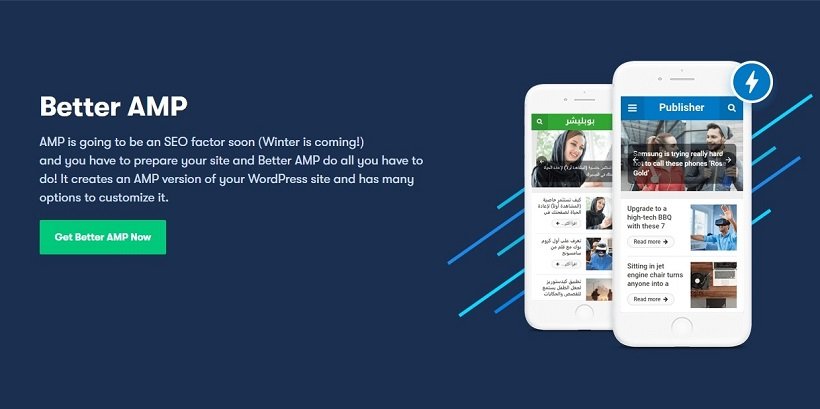 Better AMP is a WordPress plugin that is quite new. It is one of the fastest AMP plugins at the present. It offers a fully-functional AMP interface for your WordPress site's pages, posts, tags, search bar, category menus, and so on.
The plugin has a demo customizer which can be quite useful to test. With its demo customizer, one can easily test his/h3er customized AMP landing page and overall structure before making the site live.  It also does your mobile page integration which is an impressive feature of Better AMP.
Overall, this is a great plugin that lets you build a clean and easy-on-the-eye AMP website easily. It is well-suited for both beginners and advanced users.
AMP on WordPress: weeblrAMP CE
WeeblrAMP is a free WordPress plugin that is something more than just a standard AMP plugin. With this plugin, you can create an AMP version of your website; it lets you create AMP posts, pages, tags, categories, and archive pages on your site.
This AMP plugin integrates seamlessly with so many plugins including Google Analytics, Disqus, WooCommerce, Contact Form 7, Gravity Forms, Jetpack, Yoast SEO, Elementor, and more.
The plugin is fully customizable and it lets you override its templates as well.
Final Words
There are only a few AMP plugins that people trust and these are the best ones. Choose any one of these and you are set to go.