Best Free WooCommerce Gateway Plugins(Supports paysafecard gateway-2023)
Best Free WooCommerce Gateway Plugins
Payment Gateway is regarded as a third-party solution that is used by merchants and online stores to undergo an online payment process and transfer all the information and data related toit. This enables you to accept payments made through your store. This payment gateway integration is necessary for the WooCommerce store.
Here we've handpicked the best WordPress Gateway plugins.
Please check it out:
Event Manager and Tickets Selling Plugin for WooCommerce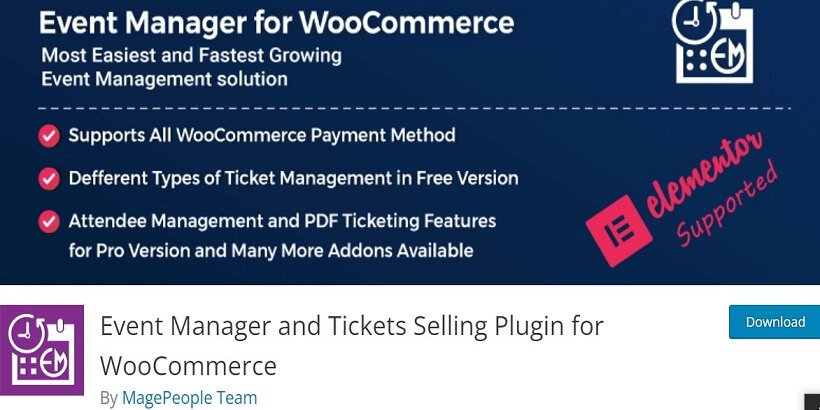 Event Manager and Ticket selling Plugin for WooCommerce is one of the incredible and simple event management plugins. This plugin uses WooCommerce to take payment which enables users the freedom to use popular payment getaways via WooCommerce. Also, this plugin can be used to create any type of event. It supports all the WordPress versions, and all the payment methods available in WooCommerce. This plugin is highly responsive, SEO friendly, cross-browser compatible, and multilingual.  Moreover, this plugin comes with many more features and is easily customizable, show event venues using Google Maps, a one-click event rest option, and more.
WooCommerce PayPal Payments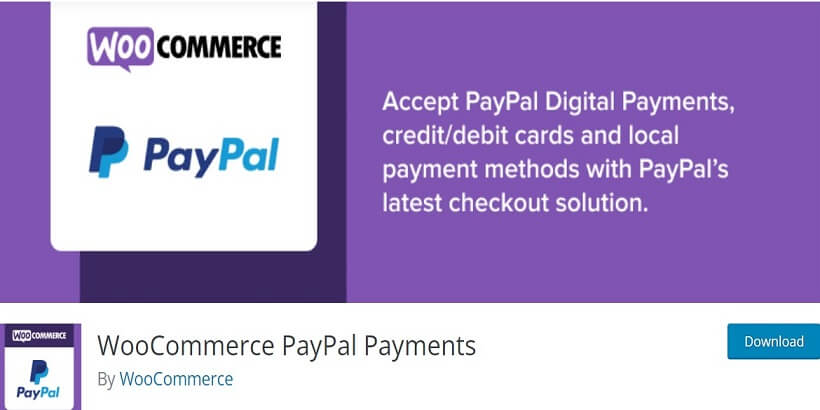 WooCommerce PayPal Payments is the latest, most complete payment processing solution. It accepts PayPal exclusives, credit/debit cards, and local payment methods. With this plugin, you can turn on only the PayPal option or process a full suite of payment methods. The plugin enables global transactions with extensive currency and county coverage. This plugin helps you reach more customers in 200+ markets worldwide, and offers subscription payments to help drive repeat business. It also creates stable predictable income by offering subscription plans.
Stripe Payment Plugin for WooCommerce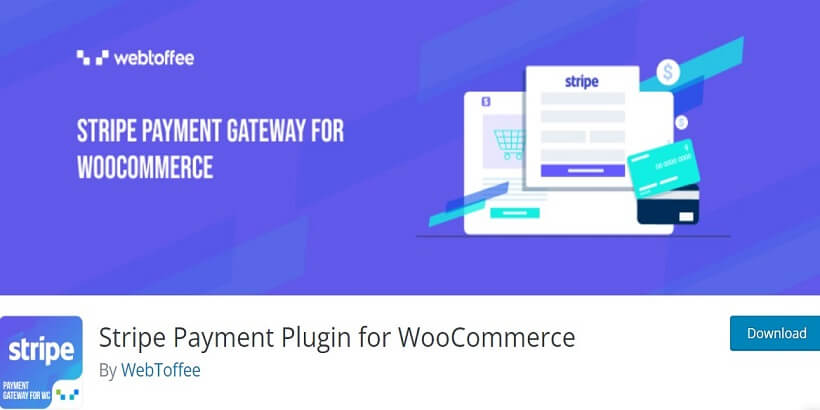 WooCommerce Stripe Payment Gateway is another best WooCommerce payment gateway plugin. This plugin enables you to take credit card payments easily and directly to your store. The plugin extends WooCommerce and allows you to take payments directly on your store via Stripe's API. It is an easy way to accept payments online. This plugin supports the WooCommerce Subscription extension. Also, this plugin includes Apple Pay support, which enables customers by using payment details associated with their Apple ID.
Braintree for WooCommerce Payment Gateway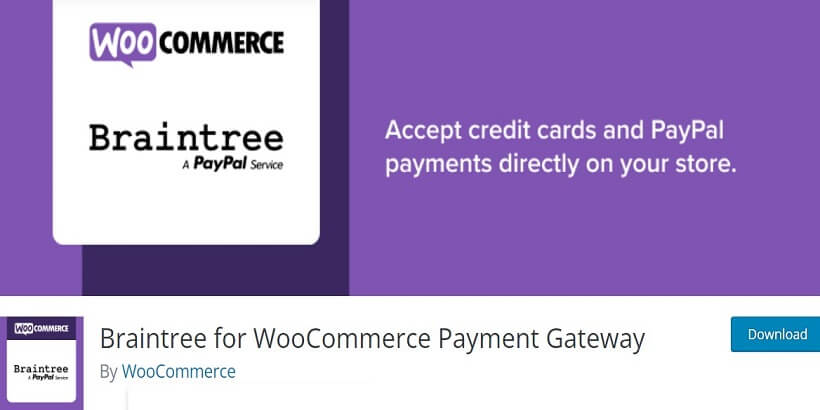 Braintree for WooCommerce is another best WordPress getaway plugin. This plugin allows you to accept credit cards and PayPal payments on the WooCommerce store via Braintree. With this plugin, customers can link their PayPal account to their WooCommerce user account or save their credit card details for easy and fast checkout.  This plugin enables you to securely sell your products using Hosted Fields, which helps you meet security requirements without an integrated checkout process or sacrificing flexibility. Moreover, this plugin supports tokenization, WooCommerce Subscriptions, and WooCommerce Preorders. It supports Braintree's extensive suite of fraud tools, supports 3D security and much more
WooCommerce Checkout & Funnel Builder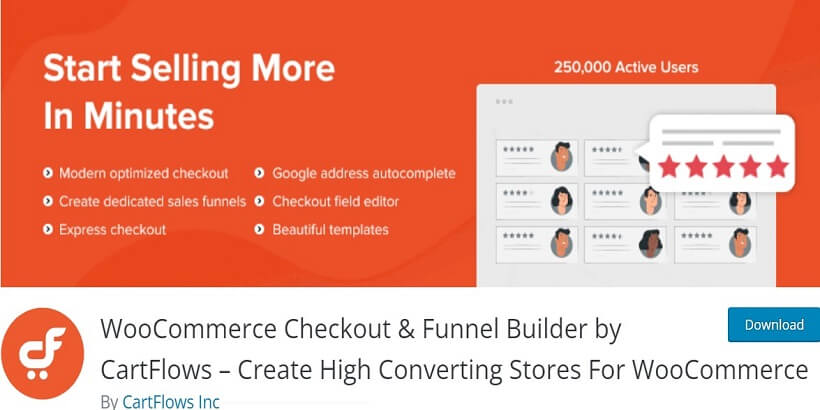 WooCommerce Checkout & Funnel Builder is an amazing payment gateway WordPress theme. This plugin makes it simple for busy store owners to increase WooCommerce checkout conversion just in a few minutes of effort. The plugin enables you to create unlimited sales funnels to increase your store's average order value.  Furthermore, this plugin comes with a fresh new modern look and feel. It is optimized to get you more conversion and includes fast, frictionless checkout for your customers.  This plugin comes with all the necessary features needed for a WooCommerce gateway including real-time email validation, single or two-column layouts, new field interactions, a field manager, a modern skeleton loader, and more.
Price Based on Country for WooCommerce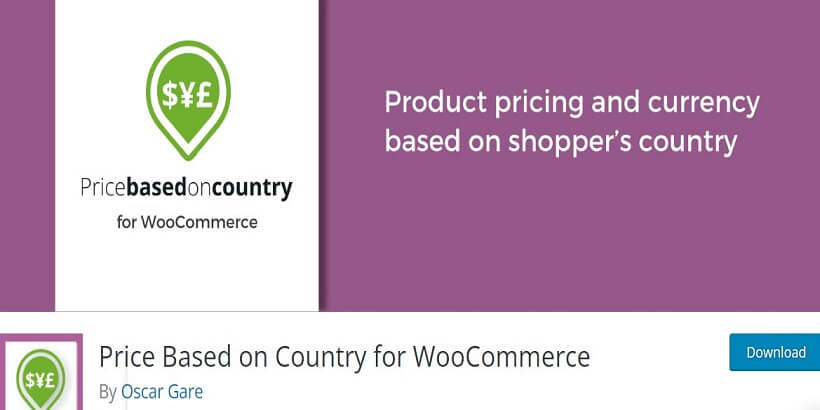 Price Based on Country for WooCommerce is an amazing WordPress theme. This plugin enables you to sell the same product in multiple currencies based on the country customer is from. The plugin automatically detects the geolocation feature included in WooCommerce. It displays the currency and the price that you have defined previously for this country. This plugin is highly WPML compatible. Furthermore, this plugin includes a country switcher widget that enables your customer to change the country from the front end of the website.  It comes with the feature to sell and receive payments in different currencies reducing the costs of currency conversion.
WebToffee PayPal Express Checkout Payment Gateway for WooCommerce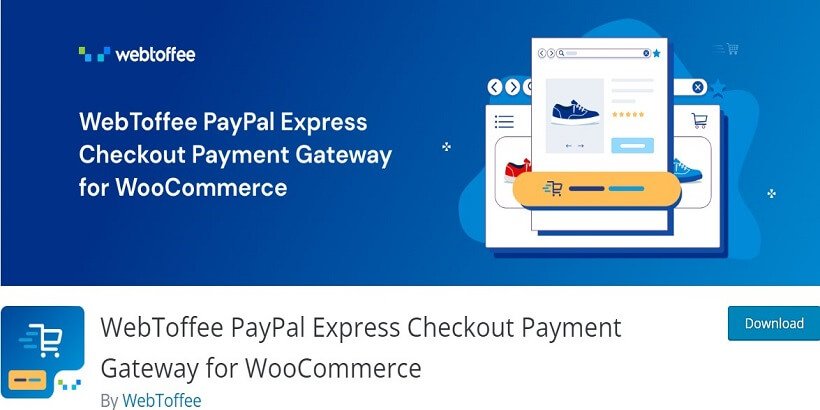 WebToffee PayPal Express Checkout Payment Gateway is an incredible WordPress plugin for WooCommerce. This plugin enables you to integrate PayPal checkout/Paypal smart checkout in WooCommerce. It allows you to accept payments through PayPal's secure payment gateway. This plugin comes with the smart button that lets your customer make payment using the preferred payment methods in their county/region that is auto-detected by PayPal. Overall, it is one of the best PayPal plugins available to integrate your WooCommerce store with PayPal.
I hope you liked this article!
Please check out our recent article: