Best Free WooCommerce Product Grid List Designer Plugins
If you're running an online store, it might be best for you to use WooCommerce Product Grid Designer Plugins to showcase your products online.
Here we've handpicked some of the best plugins for this purpose.
Please check it out:
Elementor Website Builder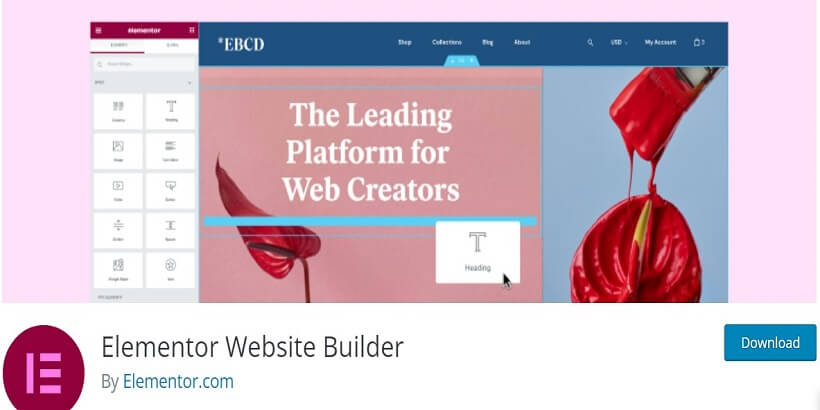 Elementor is one of the incredible website-building platforms for WordPress, that enables web creators to create a professional and pixel-perfect website with an intuitive visual builder. This plugin comes with elementor's robust features that allow you to create show-stopping unique websites.  It comes with all the major components including live design, inline editing drag, and drop editor. The plugin comes with pixel-perfect designs, full website templates, and a template library, and is fully responsive.  It promotes accessibility, is fast loading, and promotes accessibility. Moreover, this plugin comes with over 40+ free widgets.
Royal Elementor Addons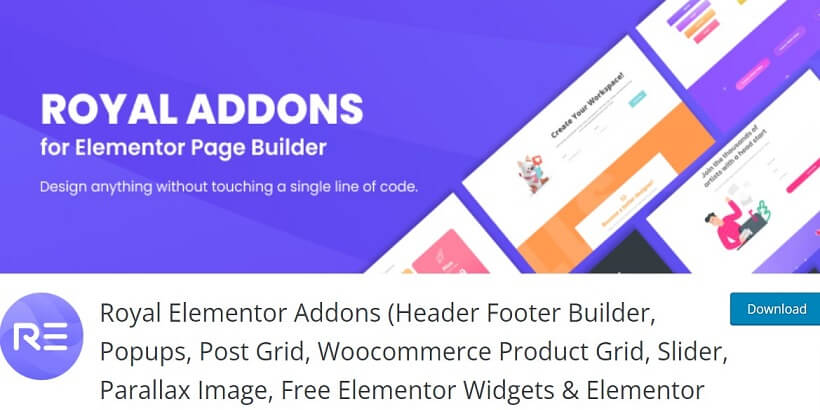 Royal Addons for Elementor is another most intuitive, versatile, and easy-to-use Elementor Page builder extension. This plugin aims to provide the tools to make things happen. This plugin comes with+ WElementor Template KIT,  70+ widgets, Theme Builder, Popup Builder, Elementor WooCommerce Builder, Premade Widget Blocks, and extensions for elementor. This incredible plugin takes your WordPress website to the next level. It comes with Elementor Post Grid, Elementor WooCommerce Grid, Elementor Image Grid, and many more. Furthermore, it comes with many elementor template kits as well.
Happy Addons for Elementor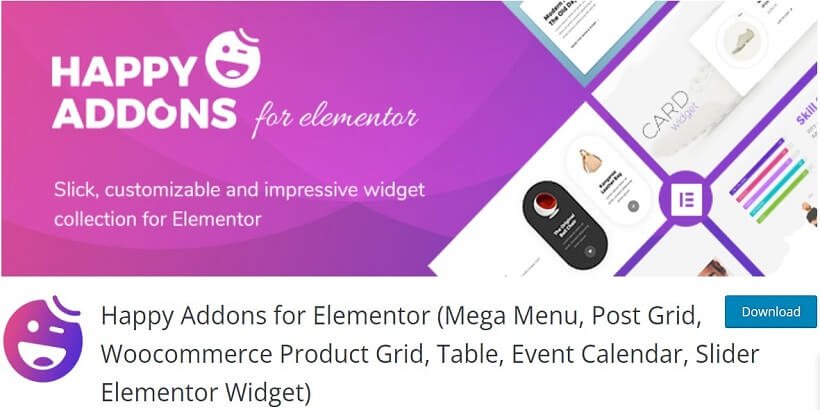 Happy Addons for elementor page builder is a splendid plugin that comes with 114+ elementor free and pro widgets. This plugin comes with 22+ problem-solving elementor features. This plugin's elementor widgets are not limited to customization.  It enables you to create a website that will stand out from the crowd in terms of flexibility of customization.  The plugin comes with 70+ full-page elementor templates and 400+ ready-made elementor blocks. It consists of premium quality elementor widgets in the widget library. All the elementor widgets in HappyAddons are full of customization.
Spectra – WordPress Gutenberg Blocks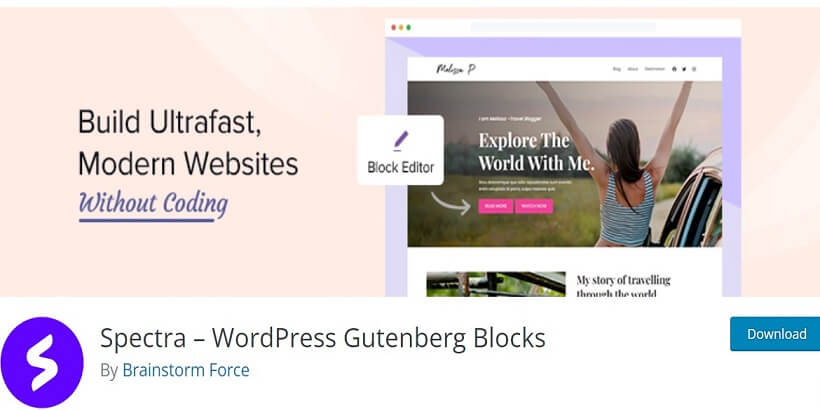 Spectra is another amazing WordPress plugin that powers up the Gutenberg editor with advanced and powerful blocks that helps you build a website in very less time. This plugin gives you a number of unique and creative blocks for Gutenberg that enables you to design and build pages without using a single line of code. It comes with an easy-to-use interface and several customizations to make it easier to build a complete website and pages without custom codes. The plugin comes with professionally designed 20+ pre-built sites using Gutenberg, Astra, and Spectra themes. This plugin comes with all the major features including faster performance, pixel-perfect design, easy customization, deeper integration, and more. It also includes full-width support for Gutenberg blocks, Gutenberg blocks inherit theme settings, front-end styling in the Gutenberg editor, and more.
ShopEngine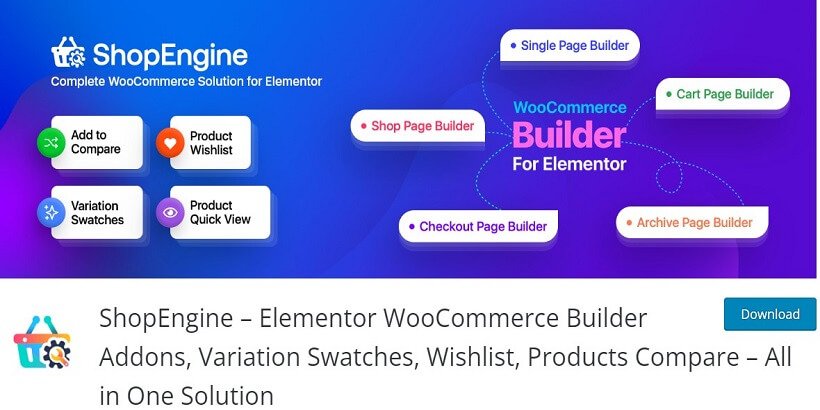 ShopEngine is an amazing WordPress plugin that enables you to enjoy all the functionalities of a full-fledged online shop without affecting loading speed. This theme comes with a deep customization option using drag and WooCommerce builder. The plugin will let you change and upload or share product images anytime. It will make it possible for  WooCommerce product designers to a great extent.  This amazing plugin helps you customize the single product page, archive page, order page, checkout page, thank you page, and my account page from scratch. This product features a product wishlist, product comparison, and variation swatches. Also, it comes with 50+ drag-and-drop elementor widgets to enable you to build and customize your website.
CoDesigner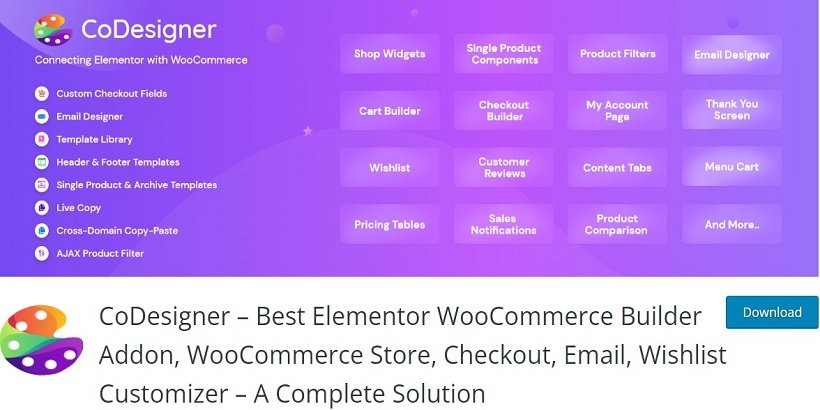 CoDesigner is the best plugin that connects the page builder plugin on the earth elementor with the most popular eCommerce plugin WooCommerce. This theme enhances the capacity of Elementor to the level that you can customize any pages of WooCommmerce including the card and checkout pages. It enables you to build stunning WooCommerce Shops. The plugin comes with 11 stunning and eye-catching shop designs for WooCommerce. It enables you to customize the WooCommerce cart page, checkout page, email designer, and more.
Ultimate Store Kit Elementor Addons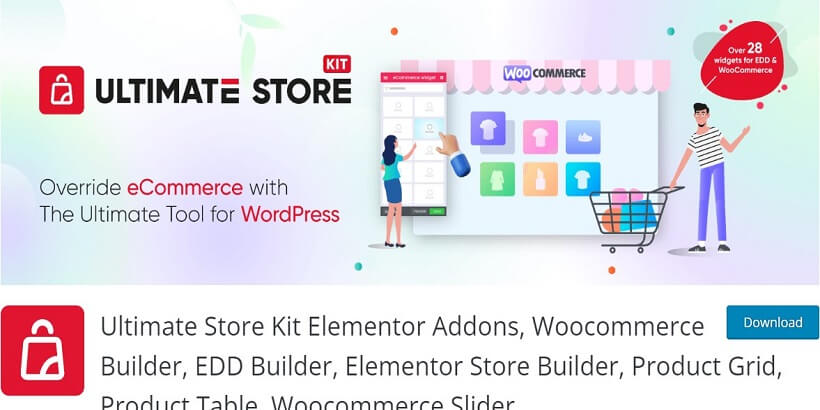 Ultimate store kit elementor addon is one of the splendid plugins developed to give web developers and designers an effortless way of creating an amazing eCommerce website. This website enables you to build a unique online shop website in a very less period of time. It enables you to create personalized store product pages, featured product pages, landing pages, and many other features that include badges. Buttons, tags, wishlists, and more.  Moreover, this plugin comes with all the necessary features including a product carousel, product category grid, product image accordion, and more.
I hope you enjoyed this article!
Please check our other recent article: