Best Free WordPress Accordion Plugins
Are you searching for the Best Free WordPress Accordion Plugins?
An Accordion is a clean web design technique that enables users to display contents in a fold-down tab layout.
Accordions enable users to showcase more content without adding long scrolls on posts and pages. It enables users to shrink the length of page so that more content can be displayed on your post and pages.
Users can add horizontal or vertical according to with text inside each tab and when user mouseover on the tab, it expands and reveal the content.
Here in this article, we've handpicked the Best Free WordPress Accordion Plugins. Please check it out:
Accordion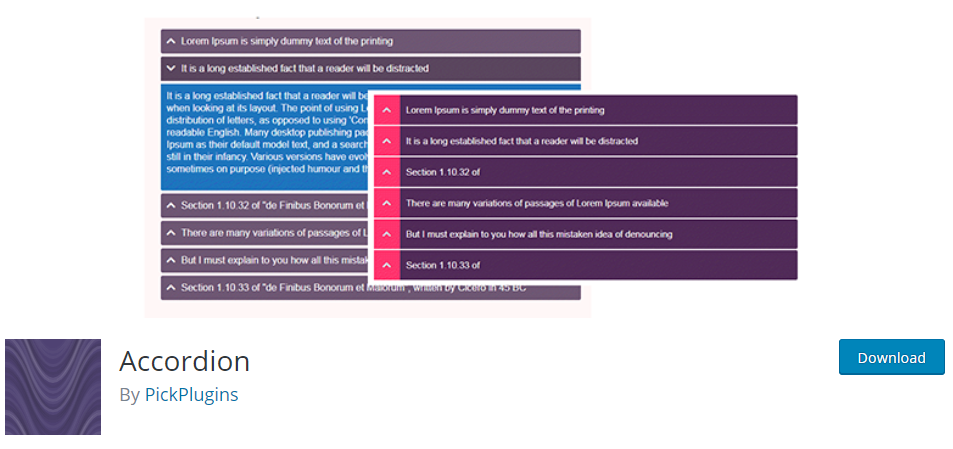 Accordion is one of the best free WordPress Accordion plugins. This plugin is very convenient to use and is a powerful tool to create faq, tab content, knowledge base, tabs, question and answers section, WooCommerce FAQ tabs, and there are many other ways to use this plugin. Accordion is very easy to customize looks and feel, changing the color and font size of the content. It comes with many features.
Major Features:
Comes with Unlimited Accordion and Tabs
Displays Accordion and tabs via Shortcode
Includes responsive accordion and tabs
Comes with custom icons, header styles, content style, and container style
Bellows Accordion Menu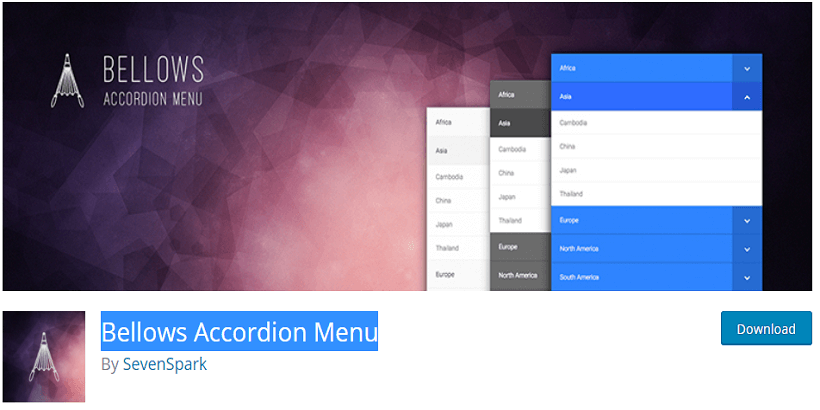 Bellows Accordion Menu is one of the incredible accordion menus for WordPress. This plugin works with the WordPress menu system which helps you to build an amazing accordion menu for your site.
Major Features:
Comes with a fully functional accordion menu
Includes multiple submenu levels and 3skin presets
Comes with multi-or single folding
Comes with expanding current sub menu automation option
Includes Shortcode and Widget integration
Accordion Blocks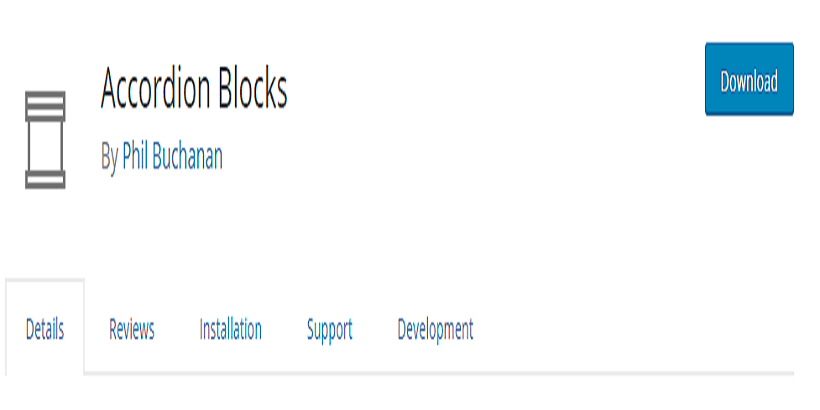 Accordion blocks are one of the best WordPress Accordion Plugins. This is a simple plugin that adds a Gutenberg block for adding accordion drop-downs to your page. The accordion is made so that they blend seamlessly with your theme.  The plugin disables auto-closing of accordion items It opened individual accordion items by default. It comes with many features.
Major Features:
Add on a Gutenberg block for adding accordion on your site
Highly supports multiple accordions
Fully responsive and accessible
Comes with major support on nesting accordions
Highly support item IDs and direct links
Accordion FAQ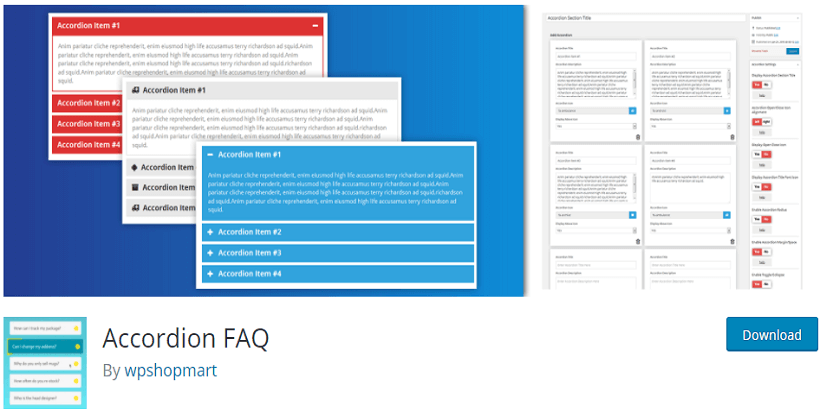 Accordion FAQ is one of the best WordPress Accordion Plugins. This plugin has been built up with an excellent accordion FAq builder for WordPress. With this plugin, you can easily add unlimited accordion and collapse with unlimited color. This plugin helps you easily sort your accordion position by using the backend. This plugin is built-in bootstrap.
Major Features:
Highly responsive design
Comes with limitless accordion anywhere in the theme
Integrated with Drag and Drop builder
Comes with draggable accordion items for easy sorting
Integrated with two different styles
Comes with slick frontend and backend UI
Highly browser compatible
Lightweight Accordion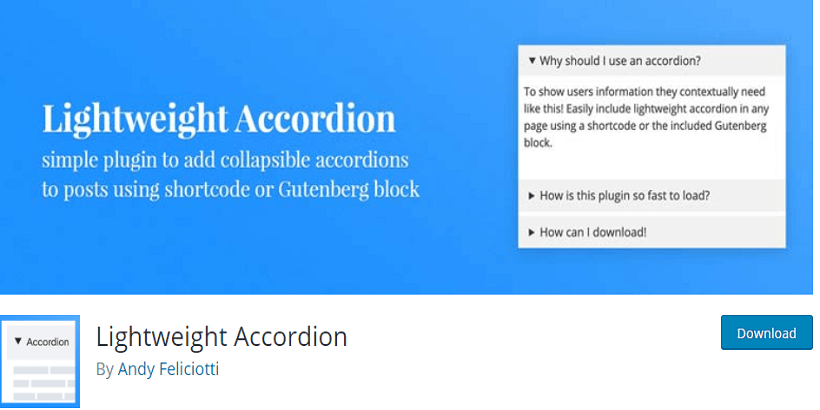 Lightweight Accordion plugin is one of the best WordPress accordion plugins. This plugin allows you to add collapse elements to post by using shortcode or using Gutenberg. This plugin is extremely lightweight as it uses the native details HTML tag and a few lines of code for almost no impact on the front end. It is highly customizable. It comes with many features.
Major features:
Very Lightweight
Provides one block
Simple and lightweight
Includes accordion collapsible block
Easy Accordion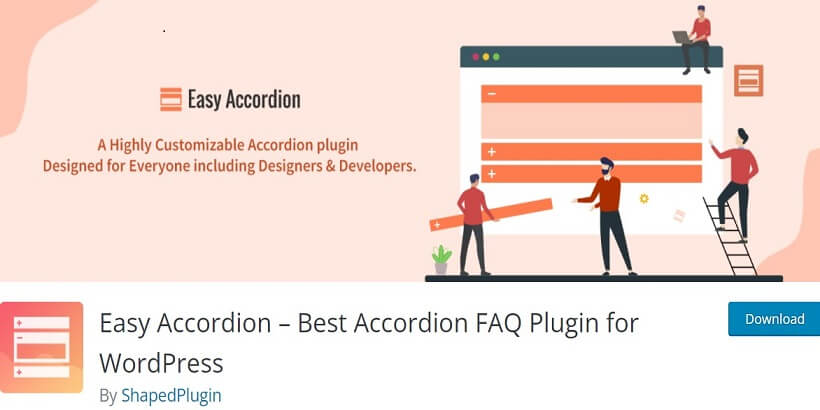 Easy Accordion is one of the incredibly responsive and drag and drops Accordion FAQ builder plugins. This plugin comes with a lot of customization options. The plugin enables you to display multiple accordions into your site or blog effectively and fastly without writing any code. It is both easy and a very powerful WordPress Plugin.
Major features:
Highly responsive and mobile ready
Clean, lightweight, fast, and robust
Intuitive admin panel
Includes multiple accordions and WP classic editor
Comes with activator even, drag and drop accordion sorting
Supported with the mouse wheel and  cross-browser
Accordion & FAQ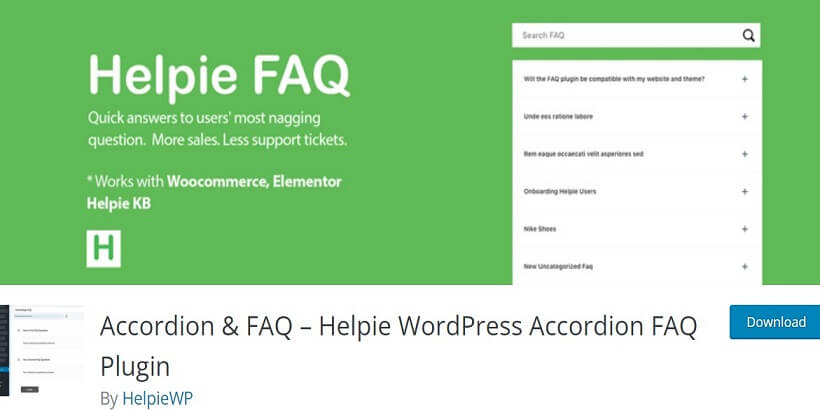 According & FAQ is one of the advanced WordPress FAQ plugins, that is used for creating, editing, and embedding FAQ'S and Accordions on your WordPress website. This plugin enables you to created FAQ posts, allocate categories and tags, use responsive Accordion-style to toggle and display FAQ's on the website.  It can be used as a general-purpose accordion plugin too.
Major Features:
Enables FAQ search bar
Highly integrated with elementor
Display FAQs based on categories in WooCommerce
Includes URL attribute for FAQ's
I hope this article helped you!
Check out our other articles: