Best Free WordPress Live Chat Plugins
Today, we look at the best free WordPress live chat plugins.
Adding a WordPress live chat on your website can be quite beneficial. You can take the benefit of much better conversions by addressing the questions of your visitors. Having live chat support helps you take the personal approach and win the trust of your visitors. It will help your customers make a quick decision to buy your product or service.
On top of that, some people (including me) prefer to communicate through chat than other methods. So, check our collection of the best free WordPress live chat plugins to integrate the one on your website.
Tawk.To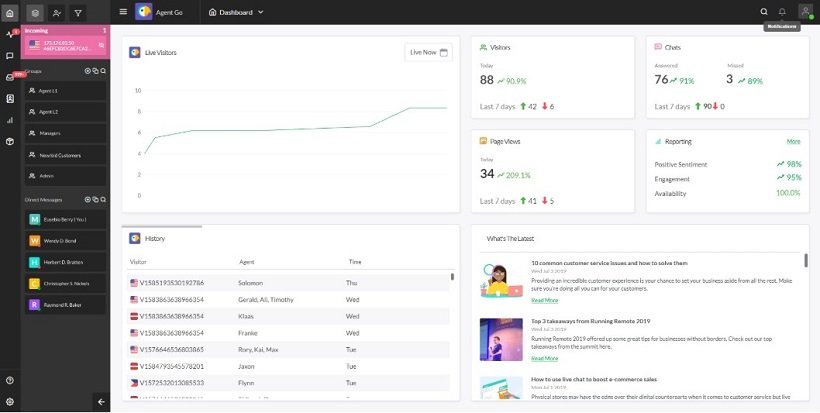 Tawk is a secure and quite easy to use free WordPress chat plugin. With Tawk, you can easily monitor your visitors on your website and they can start chatting with you instantly. Multiple agents can easily interact and provide real-time support to visitors.
It also has its mobile application which will directly notify you on your smartphone if a visitor messages you. It also provides customized chat window. It supports Android, iOS, Windows, and Mac OSX.
Tawk.To is fully customizable and you can easily modify its design to match the design of your website. Moreover, it also supports translation plugins which can be quite useful for multilingual websites.
Another awesome feature of Tawk is it can be added as a widget on widget-areas. So, with all these convenient features, it has been a highly popular plugin at the present time.
WP Live Chat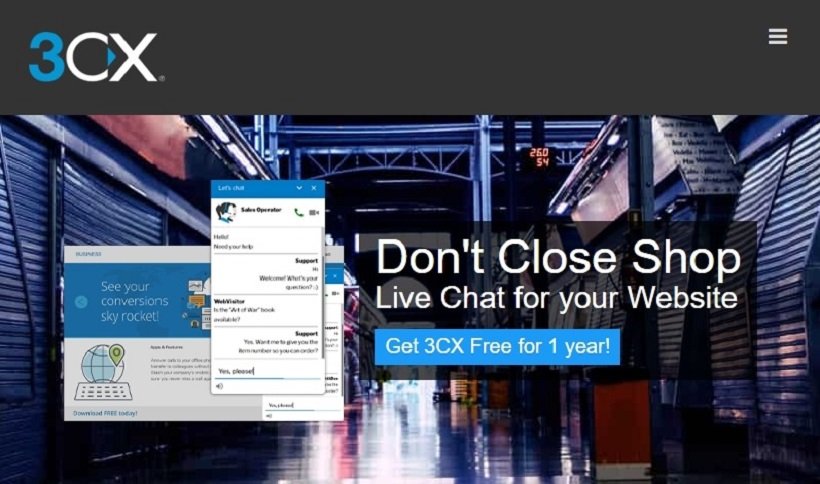 WP Live Chat is one of the best free WordPress live chat plugins. It can be great for businesses of all scales. The plugin comes with six predefined live chatbox themes; you can choose any one of them.
With this, you an active automatic live chat pop-up according to certain behavior of the visitors on your site.  The pop-up live chat is draggable as well so that your users can place it at the most convenient part of the screen. If you want to enable the chatbox for only registered users, that feature is available too with this plugin.
With the WP Live Chat plugin, you can enable notifications for new messages so that your support agents can immediately jump in when someone sends you a message.
The plugin is fully compatible with translation plugins. Besides, it also has an anonymity option for your users.
WP Chatbot builder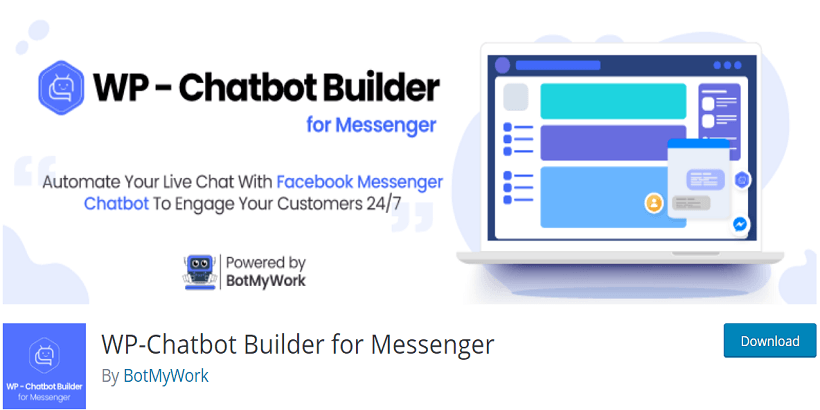 WP Chatbot builders the best WordPress plugin for adding a Facebook Messenger widget to your WordPress website Using this Chatbot widget, you can build and customize your own Messenger chatbot and automate conversation with your website visitors, round the clock. WP-Chatbot Builder integrates Facebook Messenger with the WordPress website and expands the possibilities of lead generation and sales on both platforms with common tools. Marketers can take advantage by using a chatbot for Messenger in many ways.
Features:
Chatbot support is available 24 hours a day, 7 days a week.

Convert leads into paying customers by catching and nurturing them.
Communicate with your guests and engage them, as well as solicit feedback and reviews.
Easily switch between live chat and automated chat using the new Handover Protocol feature.
LiveChat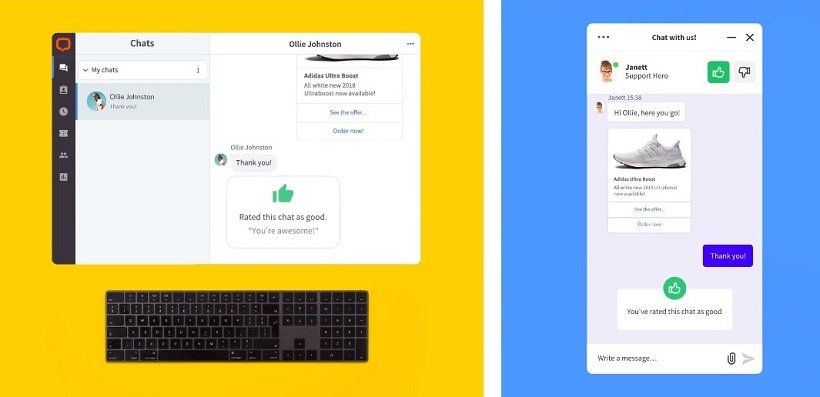 LiveChat is another popular helpdesk chat plugin that has so many amazing features integrated. The plugin uses AI with which you can automatically segment your visitors based on their activity on your site. Plus, you can easily integrate this plugin with over 170 tools which will help you make your works easy. Chat with customers, send your customers' details to your CRM, manage orders, and do so much more with this plugin.
LiveChat welcomes people with a beautiful chat box right at the bottom of your web page. Your visitors can easily access that visible button with a single click and start the conversation. LiveChat also provides your visitors with an option to give feedback on the agent or your service. Not just that, your customers can also give you a shout-out on social media platforms by using the sharing button that is embedded in the chatbox.
Tidio Live Chat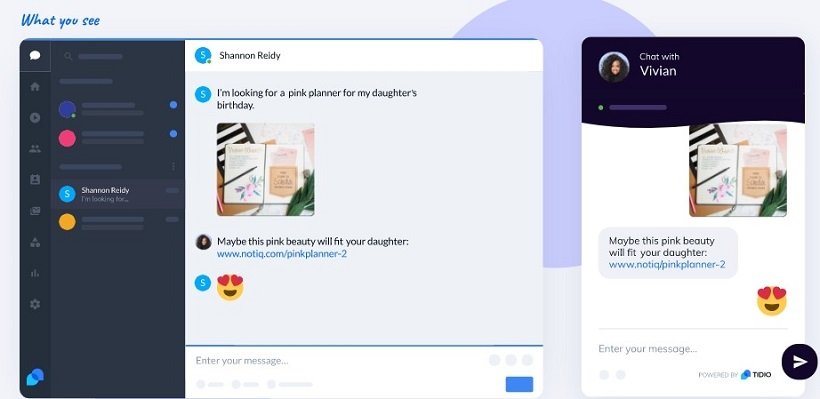 Tidio Live Chat is a responsive free live chat plugin that you can integrate on your site instantly. It is quite easy to use and the installation process is also super fast and easy.
This free live chat plugin for WordPress website is quite easy to customize. You can choose from two unique live chat design and change its color, border, radius, and positioning as well.
With Tidio, you can also see the users who visit your website. Plus, you can save the offline messages and even enable a notification whenever a user sends you a message.
Tidio free live chat WordPress plugin integrates seamlessly with other popular plugins including MailChimp and SalesForce. And, it is translation-ready as well.
Zendesk Chat
Zendesk is a popular live chat plugin for WordPress that lets you monitor your visitors and chat with them. With Zendesk Chat, you can provide different chat support to your visitors, including live chat and triggered chat.
Zendesk Chat has an offline mode too, which ensures the visitors' message is reached to the admin's (or agent's) email address. The plugin also converted blog comments into Zendesk support tickets that can be easily viewed from the dashboard. It provides all the customer data plus conversion history.
It provides you with multiple formats, including Excel, PDF, image, or CSV, to download your customer's data.
WP-Chatbot

WP-Chatbot is a free WordPress live chat plugin with which you can add Facebook Messenger to your site. Since a huge part of web visitors use Messenger regularly, they are comfortable sending you messages through their Messenger rather than providing an email address. So, WP-Chatbot has been a popular live plugin for business websites and e-commerce stores.
You can easily integrate it with your Facebook Business Page and Facebook Messenger. Conversations from Messenger chat and native web chat are placed in the same inbox. The plugin is fully responsive and is compatible with all the major themes and plugins.
Click to Chat

Click to Chat is a free WordPress livechat plugin that adds Whatsapp live chat on your website. If the majority of your customers are Whatsapp users, Click to Chat plugin can be a great option for your business' website.
You can add your WhatsApp or WhatsApp business number and your visitors can easily contact you with a single click. The plugin has eight stylish and customizable designs and it also lets you add your own image and GIF.
With Click to Chat, you can display a pre-filled message which makes it easy for users to start the conversation. The plugin also has a premium version that unlocks a whole new set of impressive features.
Join.chat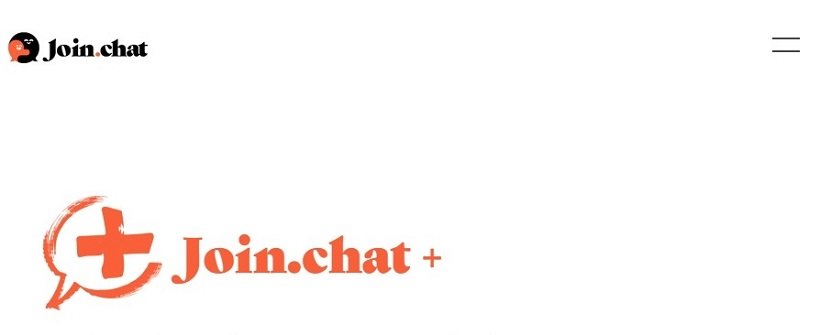 Just like Click to Chat, Join.chat is also a popular Whatsapp plugin for WordPress. It has over 200,000 active installations. Before, it was named WAme.
This free live chat plugin for WordPress websites lets your visitors chat with you easily. With this plugin, you can insert a Whatsapp button on any specific zone and page of your site. You can also add a logo, picture, or an animated gif so that you can immediately catch the attention of your visitors.
The plugin is highly customizable and it lets you change general settings on individual page, post, or product. You can make changes on display elements like messages, CTA, phone number, and other display options. The usage of the balloon on the button will help you get the attention of users while they get a notification.
The plugin integrates well with WooCommerce and you can use dynamic variables (price, product) on product pages. Other impressive features of the plugin include Google Analytics and Facebook Pixel support, compatibility with multi-language plugins, dark mode, and so on.
The Official Facebook Chat Plugin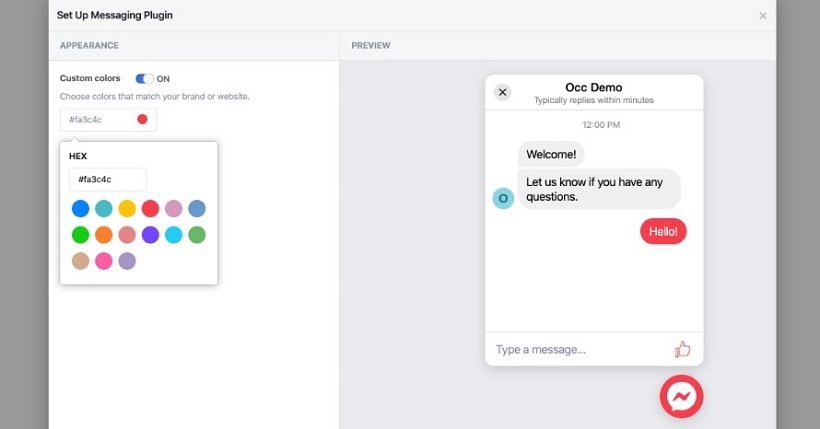 The Official Facebook Chat Plugin by Facebook is another popular free WordPress live chat plugin that lets your customers message you instantly while they are browsing your website. You can see and reply messages from your customers by using Facebook Messenger, Facebook Page Manager, of Facebook (desktop version).
The plugin is quite easy-to-use and your customers are already familiar with its interface because of Facebook and the Messenger. The familiar interface helps you build trust with your customers.
One impressive feature of this plugin is it creates a message thread that will not break even if the customer gets back to you after days or months. You can use the same inbox of your Facebook page' messaging. Set up your available hours, create auto-replies, FAQs, and more with this free WordPress live chat plugin.
HubSpot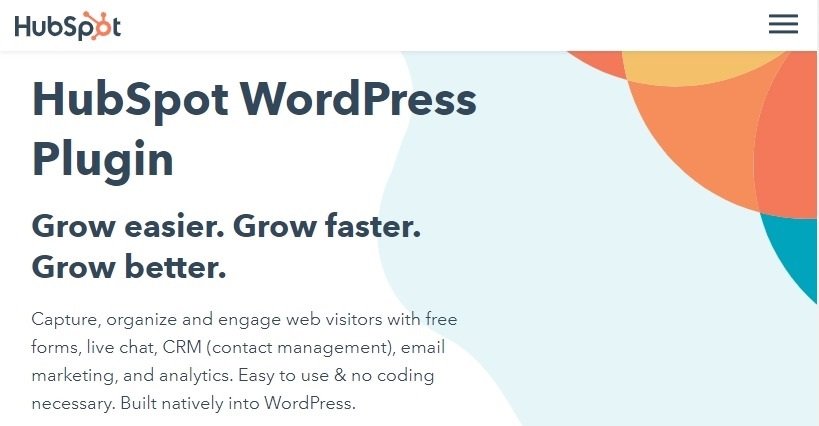 HubSpot is the one solution for CRM, live chat, email marketing, analytics, and forms. It helps you grow your business better by turning your visitors into leads, turning them into your customers, and providing your business data which will help you analyze and grow your business.
You can engage your visitors with its live chat and chatbot function. You can convert leads with forms and popups, build engaging email newsletters, manage the entire customer's database, analyze the business growth with an analytics dashboard, and do much more.
Although HubSpot is not just a live chat plugin, it makes an excellent addition here if you are searching for a one-plugin solution for all these needs.
Final Words,
We hope you find the live chat plugin that you would love to integrate on your site. We wish you good luck on helping your customers and growing your business.