Corporate Plus Pro: Make Your Site Awesome
Let's explore Corporate Plus Pro.
Corporate Plus is a professional-looking multi-purpose theme that is specially designed for your corporate houses, business, eCommerce sites and many more. This theme is both responsive and retina ready, Corporate Plus is built for businesses, portfolios, photographers, web apps, or general company site to promote your services as well as eCommerce sites. This theme with multiple features, such as video on featured image, animation and normal, social icons, related posts, different layout, browser compatible, simple and clean with fast loading and it making it one of our most flexible themes that cater to any type of user.
Features:
– WooCommerce Ready
– One page Menu
– Awesome Featured Section
– Header Image
– 12 + Custom Widgets
– Colors Options
– Intro Loader
– Breadcrumb Options
– Social Media Integration
– Default Blog/Archive Layout
– and many more….
Demo Import:
Confused? How to make your site as our demo? It's simple, download the dummy content from here and follow the below mentioned steps to import dummy content. In the ZIP file of dummy content, you will get 3 files, XML, DAT, and WIE. Please import those files separately with the following process.
That's it! This will work only if you do not rename the theme.
Make your Image size suitable with your theme:
The main thing for making your site as our demo is with setting up image size. Please follow this steps:
Go to Settings > Media
Set Thumbnail Size 500 * 280
Medium Size 690 * 400
Large Size 840 * 480
Click on Save Changes to save the above data. And…….
After completing the above step, please install and activate plugin named Acme Fix Images.
Go to Appearance > Acme Fix Images(After Installation plugin Acme Fix Images, this submenu will appear under Appearance)
Click on Fix All Images
Wait until all the images fixed. 🙂
Setting Up Home Page:
First Create two pages,
One page for Home Page (Example: Home or Front Page)
Another page for blog page(Example: Blog Page or Blog)
And…..
Please set home page and blog page with the following procedure.
Go to admin panel > Settings > Reading
Click on "A static page (select below)"
Set Front page: (Home Page recently created above)
Posts page:(Blog you recently created)
Don't forget to click on Save Changes below.
Manage Slider Section:
Are you confused about how to remove/change the default 'Welcome to Corporate Plus' text on the slider?
This theme is Parent/Child pages and Widgetized theme. You have to select the parent pages and its child pages will appear as a slider. So, please select the parent page for the slider. After selecting the parent page, it child page title and content will appear on the slider and it will automatically remove the default text. Are you confused about how to make the Child Page? Please have a look here.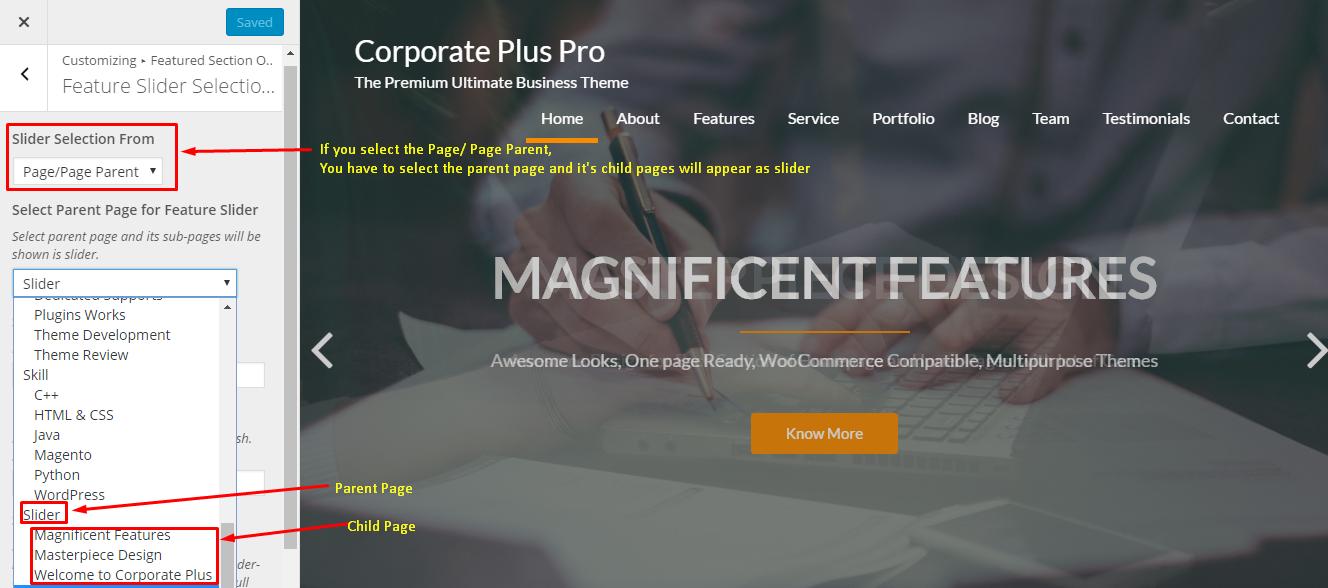 If you select the Custom Slider Selection, you can add the title, content and image from customizer. Please have a look on below screenshot.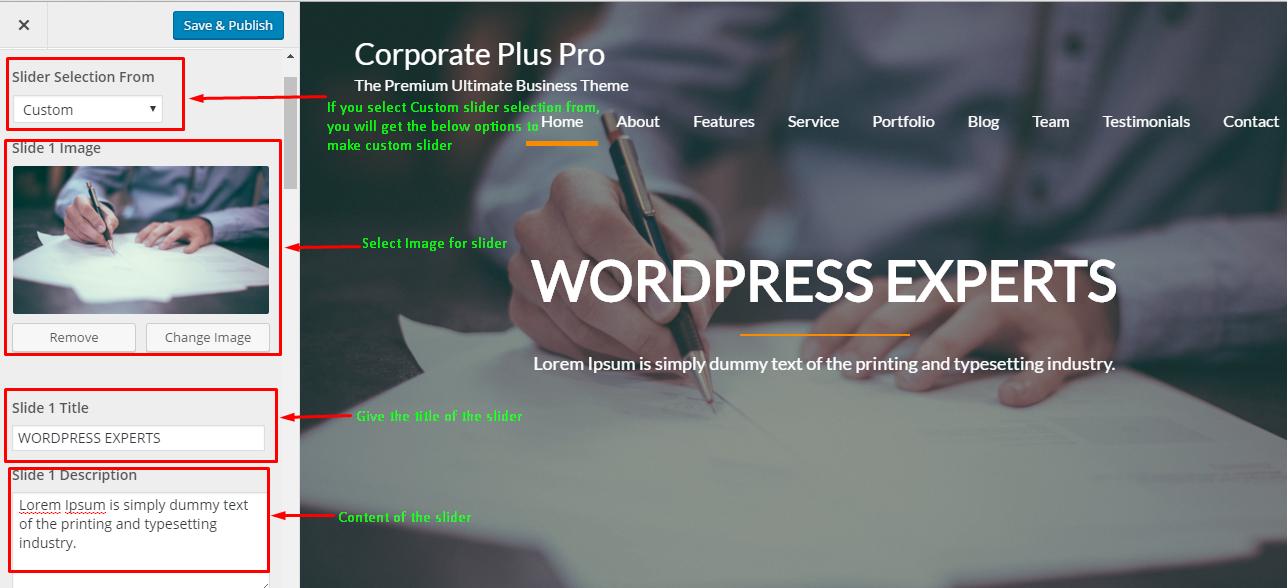 About Section on Home Page:
Are you wondering how to add the section below the slider? It's simple, please follow the below process:
– Go to Appearance > Widget
– Add the available widget (Example AT About Section) on "Home Main Content Area"
– Use the available options of the Widgets
View the home page, you will find the about section there.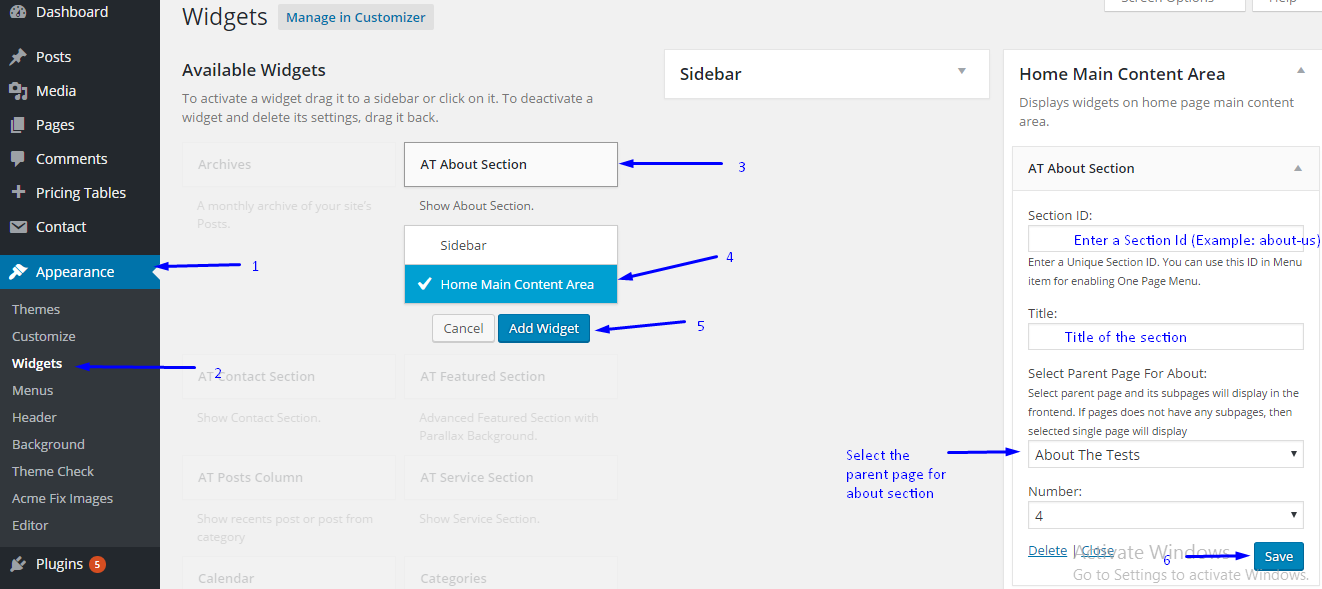 Follow the above steps to add other widgets as well.
Still confusion? Please ask your question on below comment or ask your questions on the support forum.