MailerLite vs ActiveCampaign: Which Is Better?
In this article, we'll compare MailerLite VS ActiveCampaign, and go over some key features of both platforms, pros, and cons to help you decide the best fit for your need.
Today, the world of marketing is skyrocketing. Chatbots and Influencers are the things today. Having said that, email marketing still plays a part when it comes to online marketing.
In reality, data shows that consumers go through 138& more products that have email offers. More statistics demonstrate that 80% of all professionals agree on the fact that email marketing is vital in developing customer retention. Moreover, data from 44% of retail professionals conclude that social media is the only platform that rivals email marketing in the area of customer retention.
Major Differences Between MailerLite vs ActiveCampaign
The major differences between MailerLite and ActiveCampaign are:
ActiveCampaign comes with CRM features whereas MailerLite is solely an email marketing tool
ActiveCampaign Provides the latest segmentation whereas MailerLite more basic autoresponder
ActiveCampaign is generally more costly in comparison to MailerLite
These days Email marketing platforms such as ActiveCampaign and MailerLite have become so important to business revenue building. If you think about it, for every $1 spent in email marketing, you get your business $38 back. This is an incredible gain on investment.
Either ActiveCampaign or MailerLite can take your email marketing strategy to an advanced level. This is most probable but you're not too sure which one of them is the perfect one for your business. Most of the email marketing features are common to both platforms.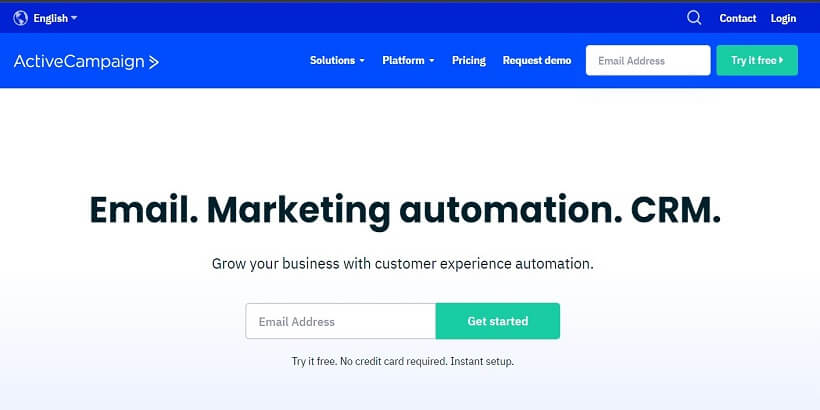 ActiveCampaign was founded back in 2003, to help business owners automate and strengthen each and every step of the customer experience.
ActiveCampaign has been around much longer than MailerLite. However, ActiveCampaign only boasts 145000 users despite being in the run for seven years longer than MailerLite. This might have happened because it's the more costly option, and offers a much more rounded service. To be precise, ActiveCampaign is not only an email marketing platform/ solution but also an omnichannel platform. Using ActiveCampaign, users benefit from lead generation, email automation, social media, customer service, and SMS messaging functionalities.
ActiveCampaign enables you to:
Create simple streamlined workflows and segment your contacts
Access one-on-one support and training
Enables you to manage your pipelines with built-in customer relationship management(CRM) capability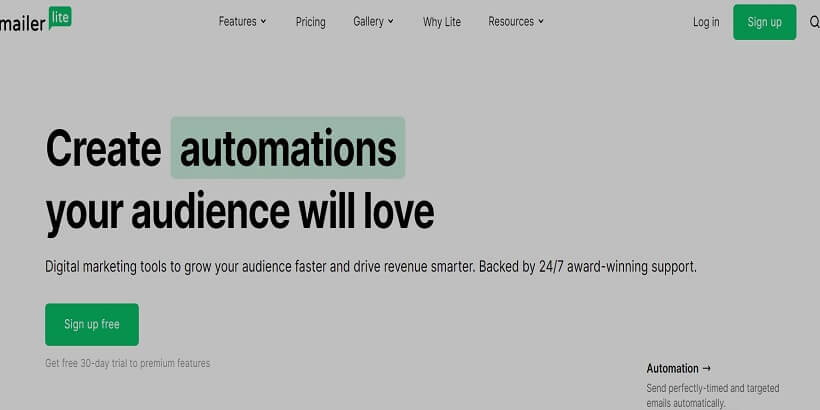 MailerLite was founded in 2010 and has since accrued over one million users. This email marketing platform prides itself on its ease of use, simplicity, and more. MailerLite includes advanced segmentation A/B testing and automation features.
Furthermore, MailerLite's mission is to simplify complicated/ difficult functionalities so that even beginners can benefit from the full power of email marketing. Also, MailerLite is one of the very affordable options on the market, which make it especially attractive to bloggers, small business, sole traders, and new entrepreneurs.
Mailer lite comes with :
Advanced yet easy-to-use functionality and 24-7 live chat support
A clean design and community groups for extra support and advice.
ActiveCampaign VS MailerLite: Major Features
Interface
MailerLite comes with features like a landing page builder, list management tools, email campaign analysis, A/B split testing, popup signup, and inline forms. It is very convenient to use and offers amazing customer support.
Though MailerLite's editor feature is pretty intuitive, it doesn't enable you to edit directly in the email template. Instead, it would help if you made all the modifications using the sidebar, making it less advanced than other market solutions. Reviewers comment that its interface is clunky and its reporting can be improved.
Automation
Once you utilize the power of email marketing automation to its full potential, you can be in touch with subscribers at critical touchpoints throughout their journey. Both of these platforms provide automation features.
MailerLite provides powerful, premium automation to help users create relevant and personalized content for free.
However, ActiveCampaign comes with more advanced tracking features, event, and site tracking. This happens when a specific website or event-related trigger occurs. It also enables goal tracking and comes with a unique automation map tool that provides an overview of all your automation.
Customization
ActiveCampaign is more than just an email marketing tool. It provides an all-in-one CRM, an omnichannel platform, robust. This platform comes with a complete complex visual automation builder that includes your choice of over 125 email templates. It is highly customizable, loads quickly, and comes equipped with a Litany of third-party integrations. Thanks to its advanced segmentation system, users can combine lists, tags, and custom fields, to create hyper-targeted emails.
However, ActiveCampaign is much more complex and robust than MailerLite and doesn't offer a free plan.
ActiveCampaign VS MailerLite: Pricing
As mentioned earlier, ActiveCampaign is the more expensive one of those two platforms.
So, let's see how much will MailerLite VS ActiveCampaign hold you back!
MailerLite offers a 14-day free trial for its premium features. Also, MailerLite has a free plan that includes 12000 emails per month for up to 1000 subscribers. Once you cross the range, the cost goes up based on the number of subscribers you have. This might not work for larger companies with a long list of customers, but it's amazing for small businesses, and startups, to give it a try.
ActiveCampaign is much more powerful and complex than MailerLite and doesn't offer a free plan.
The price starts at 500 contacts and is cheaper if you pay annually. The pricing for 1000 contacts on a monthly basis looks like this:
$29 per month for its basic plan
$49 per month for Plus
 $149 per month for Professional
However, for email marketing automation alone, MailerLite is much more affordable. It provides more transparent pricing without introducing pay gaps. You can access all the premium features once you upgrade to MailerLite's paid-for package.
Which is better for you? MailerLite vs ActiveCampaign?
So, we've come to the end of this review. It's transparent that both MailerLite and ActiveCampaign have common email marketing features.
So, If you've clean hands and are just starting out in this field and looking for a cheap but best email marketing tool to build your mailing list from the zero level, MailerLite is perfect for you. This platform is not super advanced but it makes it easier and quicker to grasp. Its free plan meets the needs of small businesses, bloggers, and sole traders.
Similarly, ActiveCampaign is the more expensive option as it comes with other additional features. This platform is best for anyone looking to launch omnichannel campaigns. If your marketing plans are starting to gain entanglement, this platform will be able to match your ambitions.
Hope you enjoyed reading this article!
Check out our other recent article: