Best Image Gallery Block Plugins for Gutenberg
A few weeks ago, we talked about the best Gutenberg WordPress plugins, now let's take a step deeper and talk about the best image gallery block plugins for Gutenberg.
Image galleries have become a crucial part of websites these days. They do not just help you visually appeal to your visitors, but also convey your message better. You can present your products and portfolio beautifully to your visitors with beautiful image galleries. So, here we have chosen the top 10 best free image gallery block plugins for Gutenberg.
With these gallery blocks plugins, you can create beautiful gallery blocks on your WordPress websites and customize those galleries. Let's get started.
Gutentor – Gutenberg Page Blocks
Gutentor – Gutenberg Blocks – Page Builder for Gutenberg Editor
Gutentor – the most advanced free page building blocks for Gutenberg with which you can build elegant websites, blogs, and e-commerce stores. It has 100+ ready-to-use Gutenberg blocks and templates including image gallery blocks.
You can use Gutentor and show a beautiful masonry grid-style photo gallery on your website. This page builder for Gutenberg lets you change every single element of the gallery so that you can give a personal touch to the gallery.
Besides gallery block, the plugin has 100 other well-built blocks of every kind to build your dream website.
Gutenbee
GutenBee has a free collection of amazing flexible WordPress blocks and one of those blocks is a gallery block. The gallery block offers every single function that you need to create galleries on your site. It offers you adjustable heights, color, spacing, and it ev3en lets you select a specific image size to display in the gallery.
If you prefer to show your images on the slider rather than the grid display, you can do that too with GutenBee's gallery block. You can build a carousel and define the timing, autoplay option, navigation option, and so on.
Kadence Blocks – Gutenberg Page Builder Toolkit
Kadence Blocks is another popular Gutenberg page building block plugin that has great image gallery blocks. With its gallery block, you can easily make carousel, masonry, grid, and slider galleries. The plugin has a built-in lightbox and it offers you customizable image fonts, captions, filters, and other such options.
FooGallery – Image Gallery WordPress Plugin
FooGallery is another popular WordPress gallery plugin with which you can instantly add an incredible photo gallery to your site. The plugin offers six gallery templates in its free version – image viewer gallery, justified gallery, masonry, portfolio, single thumbnail, and grid image gallery.
In terms of customization, you get customizable navigation, captions, lightboxes, and hover effects. The plugin is fully responsive to any screen size and it is retina-ready too. It fully supports lazy loading so that you can keep your photo galleries fast.
The plugin lets you live-preview the changes when you are building image galleries.
Block Gallery – Photo Gallery Gutenberg Blocks
Block Gallery is a free WordPress gallery block plugin built for photographers, artists, and marketers. The plugin has a widely customizable carousel block; you can pick carousel blocks of a specific size, height, navigation option, and so on. You can choose the masonry block and choose specific sizes, widths, captions, rounded corner options, and more.
The plugin also has a stacked block with which you can create stacked fullwidth galleries and add (optional) captions and shadows.
Modula Image Gallery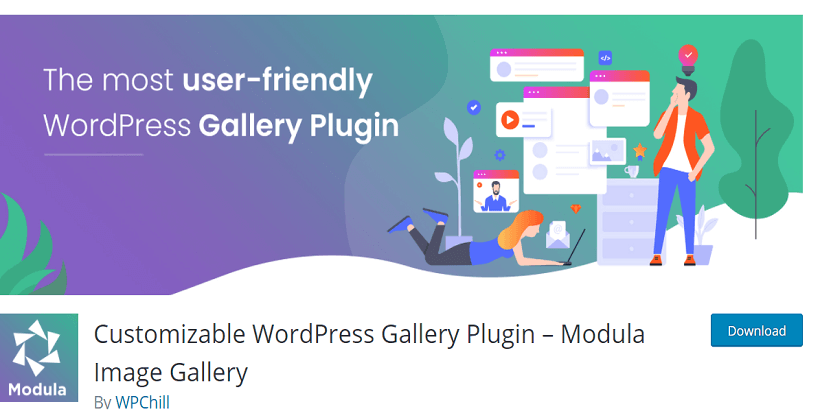 Modula is an easy-to-use Image gallery plugin that doesn't require any coding skills and comes with a gallery block to easily post your image and video galleries into your WordPress page. 
Using this plugin, you can choose from 4 grid types (creative, custom, slider, and masonry), add hover effects, filterable galleries, image loading effects, create galleries with thumbnails, add dynamic animations and effects, showcase your images in a lightbox, and type image captions.
How does this work? First, you customize your galleries with Modula, then you can add them to your page/post with the Modula Gallery block. Easy-peasy!
Simply Gallery Block
Gallery Blocks with Lightbox. Image Gallery, (HTML5 video , YouTube, Vimeo) Video Gallery and Lightbox for native gallery
Simply Gallery Block is a free and easy-to-use WordPress gallery plugin with many advanced options. You can use this free WordPress plugin to build fully responsive galleries of images, audio, and videos.
The plugin displays all the linked images from a post/page in a widely customizable lightbox. Some of its impressive features include automatic slideshow support, thumbnails support, unlimited colors, SVG icon, animations, smart resizing, smart loading, social sharing, and so on.
Although the block is built for Gutenberg, it is fully compatible with WordPress Classic Editor too.
Meow Gallery
Meow Gallery is a free WordPress gallery block plugin that is built to work for Gutenberg and standard Gallery shortcode as well. This fully responsive plugin has modern layouts.
The plugin lets you display the gallery on masonry, tiles, squares, and justified layout. You can also display your gallery by using CSS only to make your site load faster.
The plugin is compatible with almost all WordPress themes and plugins too, including Lightbox and Lightroom.
The plugin also has a pro version that offers you features like lazy loading, carousel, Map layout, animations on galleries, and more.
Gallery PhotoBlocks
Gallery PhotoBlocks is a free gallery blocks plugin for WordPress Gutenberg and Classic editor. The plugin is perfect for building your image and photo galleries on your website with impressive edges.
With the help of a speedy lightbox, you can easily zoom the images. And not just that, the plugin also allows you to add special effects to your image gallery. You can also build justified galleries with PhotoBlocks Grid Builder.
Some other great features of the Gallery PhotoBlocks plugin include Lightbox to zoom photos, mouse hovers special effects, caption positioning, shuffle images, social sharing, and so on.
Getwid – Image Stack Gallery Block
Getwid is a free WordPress Plugin that has over 40 Gutenberg blocks including Image Stack Gallery WordPress Block. This block allows you to create stunning image galleries by using any of its seven gallery layouts.
Its gallery block layout styles include the default style, Gamma, and Zeta layouts; you can build an amazing gallery on your website with these styles.
Photo Gallery by GT3 – Video Gallery & Gutenberg Block Gallery
Photo Gallery by GT3 – Video Gallery & Gutenberg Block Gallery
PhotoGallery by GT3 is a free WordPress gallery plugin that has its custom Gutenberg blocks for the gallery. The plugin instantly changes the way the photo gallery of your website looks and feels.
You can use GT3 Gutenberg blocks and easily add an image/video gallery on your site. It loads quite fast and is compatible with page builders like Elementor and Divi. The Pro version provides you Gutenberg blocks, Elementor widgets, WPBakery Builder modules, masonry layout, Kenburns photo slider, Justified Gallery, advanced lightbox option, custom lazy option, and more.
Final Words,
So have you found out the image gallery block plugin for your website? If you have not found it yet, you can let us know in the comment section what features you want to see in your image galleries section? Maybe, we will be able to help you with that too.