How to Change Date & Time Format on Your WordPress Site
By default, WordPress supports 5 different formats of date and 4 different formats of time via the dashboard. WordPress comes with the built-in function to change the date and time format and it's very easy to change the format. You can change the date and time format on your WordPress site by going to Settings > General.
Login to your website dashboard
Go to Settings > General
Scroll down to Date Format Section
Select the available options for your Date format
Select time format on the Time Format section.
If the selection is fine, click Save Changes below to save the changes.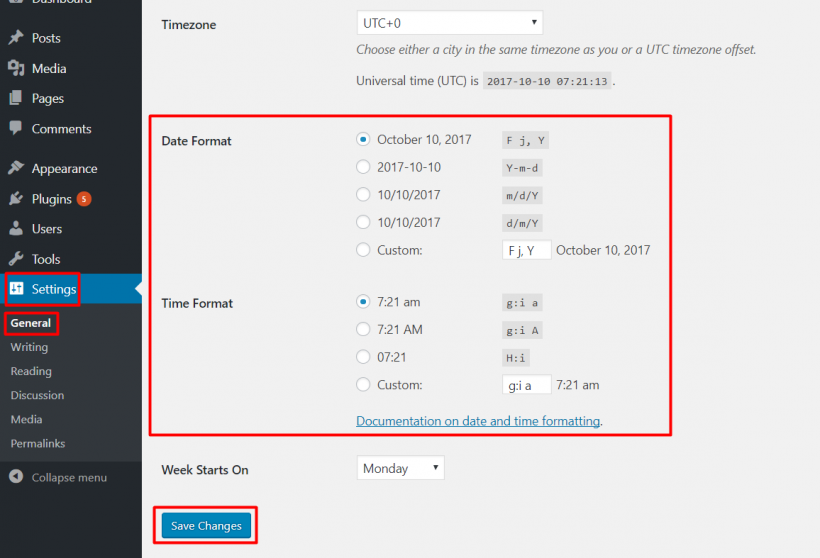 You can see the examples there before choosing the option. If you want to make the custom Date and Time format, you can take reference from the above examples.  You can check Codex for more details about the time and date format.
Date Format Examples
Fj, Y – October 10, 2017
Y-m-d – 2017-10-25
m/d/Y – 10/25/2017
d/m/Y – 25/10/2017
With the help of the above examples, you can make your own custom date format as well.
Time Format Examples
g:i a – 7:15 am ( Small 'a' represents 'am' )
g:i A – 7:15 AM ( Capital 'A' represents 'AM' ) 
H: I – 7:15
With the help of these above examples, you can easily make the custom time format as well.
Finally,
Date and Time format may vary according to different countries. So select the appropriate date and time format to make your website attractive.
---
Other SEO Articles:
✅ 13 Essential SEO Tips For WordPress Website
✅Technical SEO For a Website?
If you liked this article, then consider following us on Twitter and Facebook and LinkedIn.