13 Essential WordPress SEO Tips for a Beginner
As of 2019, 34% of the total website is built on the WordPress platform. With the continuous update and changes in the search engine algorithms, ranking higher is not that easy task. You must be up to date with each and every algorithm update and keep implementing different SEO tactics to get better results, especially in today's competitive world.
Search Engine Optimization task is easier for WordPress websites. Because the dedicated WordPress plugin makes it easier for SEO guide. In our previous article, we have listed 10+ Essential WordPress Plugins for a brand new website. Which you must have to install at any cost.
In this post, we are going to discuss WordPress SEO Tips for a Beginner. Because these are fundamental task we should do prior to performing advanced Search Engine Optimization.
Read- 15+ Actionable On-Page SEO Techniques for WordPress Website
13 WordPress SEO Tips for a Beginner
1) Setup Proper Permalink Structure
When it comes to SEO, permalink plays a great role in ranking. Permalink is the website permanent URL seen in the search bar of any browser. For the WordPress website, you have different choices of how your permalink will look like. But, among them recommended setting for best SEO practice is setting www.yourdomain.com/%postname%/ as shown in the fig. below.

One good reason for setting permalink as "postname" is easy to guess what is post is all about and the keyword can also be seen in URL.
Tips
Try to keep the URL as short as possible
Try to include the main keyword in the URL
2) Optimize Images Before Upload
Media like images and videos are important parts of any website. Maintaining proper media setting and size is very important for any website. Media along with text adds extra value to your content. But if you do not maintain media properly, it ruins your website.
From the SEO perspective, optimizing images is one of the best practices. Because of large-sized image slows down the website and ultimately degrades the website performance. One important fact to understand is a high-quality image is not necessarily be of large size. We can maintain high resolution with the optimum size as well. So, optimize images before uploading them to the website.
Tips
Try to keep the image size below 200 KB
Do not forget to rename each and every image with proper keyword
Also, add title, description and also caption while uploading
You can use image compression websites like tinypng.com
3) Manage Plugins
As well know, WordPress is a plugin rich platform. There are thousands of plugin developers who developed various plugins for different purposes.  But installing random and unnecessary plugins adds extra burden to the website. Broken and unauthorized plugins degrade the speed of the website and ultimately it creates a negative impact on ranking. So, use only needed and trusted plugin on your WordPress website.
Tips
Carefully look rating and last update date of the plugin
Do not forget to check the compatibility
Install only essential plugins and delete rest of the plugins
4) Install Cache Plugin
Installing a cache plugin is another important SEO setting for the WordPress website. A cache plugin generates static HTML pages of your website and saves it on your server. Each time a user tries to access your website, your caching plugin serves up the lighter HTML page instead of processing the heavy WordPress PHP scripts. This allows the caching plugin to tremendously improve your page loading time.
Tips
Top 3 cache plugins are WP Rocket, WP Super Cache, W3 Total Cache
Follow full documentation of the cache setup
5) Choose Proper Theme
While choosing a WordPress theme, you should take care of two things, speed and responsiveness. There are thousands of WordPress themes available but the one with high speed, well-coded responsive theme is what we need to install. Fast loading and responsive theme are best for both search engines and users.
Tips
Choose a theme that is not only appealing visually but also fast and responsive
Keep checking Google Search Console if anything is wrong with the theme code and get the support from developers
6) Create a Sitemap.xml and Robots.txt
Sitemap.xml file makes it easy for Bing, Google, Yahoo, and other search engines to crawl your website. This is a file through which search engines find different pages and posts of your website. A Sitemap is an XML file that lists the URLs for a site. If you have installed SEO plugins like Yoast SEO then it automatically generated an XML file for your website. Otherwise, you have to install a Google XML sitemap plugin.
Likewise, robots.txt is also called the robots exclusion protocol, which is a standard used by websites to communicate with web crawlers and other web robots. It defines which areas of a website crawlers are allowed to search and also defines certain areas not to crawl.
These two files are very important files for any website. You can check these files of Acme Themes
7) Use Right SEO Plugin
We recommend using the right SEO plugin in WordPress SEO Tips for Beginner Tips.
The right SEO plugin makes easy for the WordPress website to maintain most of the SEO guidelines. Two of the most popular SEO plugins are Yoast SEO and All in One SEO Pack.
These plugins guides you to insert the proper amount of characters in title tag, body, and meta descriptions. Also, there are lots of essential settings required for Seach Engine Optimization.
8) Setup Google Analytics and Google Search Console
For a new website, setting up Google Analytics and Google Search Console is the first step task. Google Analytics provides in-depth knowledge of visitors, source of traffic, the platform that visitors using, geography for visitors, session and other valuable insights that can help you to build the success strategy for your business.
On the other hand, Google Search Console (GSC) helps you to monitor, maintain and troubleshoot the website's visibility in Google Search Result Pages. If you have a particular issue with a website then you can identify through Google Search Console.
So, you must set up Google Analytics for traffic analysis and Google Search Console for fixing the website issue.
Tips
Setup both www and non-www version of the website in Google Analytics and Google Search Console
Actively monitor and track the GA and GSC to keep your website healthy
9) Use CDN
CDN stands for Content Delivery Network and as the name suggests, it is the delivery of the content based on the geographical location. The core concept of CDN is serving content from the nearest possible physical location in order to increase the speed of the website.
The CDN server closest to a user is known as the "edge server". When a user requests content from a website served through a CDN, they're connected to the closest edge server, ensuring the best online experience possible.
Read – 10 Common Off-Page SEO Techniques
10) Maintain Proper Internal Link
In the list of WordPress SEO Tips for a Beginner, we have Internal Linking.
Internal linking is the process of linking one content to another according to the context in the same website. Internal linking is one of the important factors for SEO perspective as well as the user's perspective. Internal linking helps in navigating the different contextual pages within the website.
Tips
Link to only relevant pages
11) Keep Checking Broken Links
Having broken links on the website is a bad experience for users and so does for search engines. So, time and again you have to keep checking if there exist any broken or dead links on the website. A broken link can be fixed manually by analyzing the Broken Link Checker plugin or using the different broken link checker tools.
12) Make Your Content Shareable
Writing helpful and quality content is a key thing but also making it easily sharable is equally important. It is because once the audiences find it very helpful, they can share with their social media profiles and groups. So, is your content is easily sharable then that multiplies your visitors. More share means more reach, more reach ultimately improves in better ranking.
Tips
Have the easy to share social media plugins
13) Write Quality and Detailed Content
Coming up in our last point of WordPress SEO tips for a beginner, we have quality content. You have to develop quality content Because content is king in SEO.
According to the study, thoroughly written content tends to rank higher in the search engines. So, you should write long and detailed content to improve ranking.
The character limit of the post or pages are as follows-
For Title – Max 75 Character
For Meta Description – Max 155 Character
Body content should be 1000+ Words for better SEO perspective
---
Do you think the content is helpful? Pin it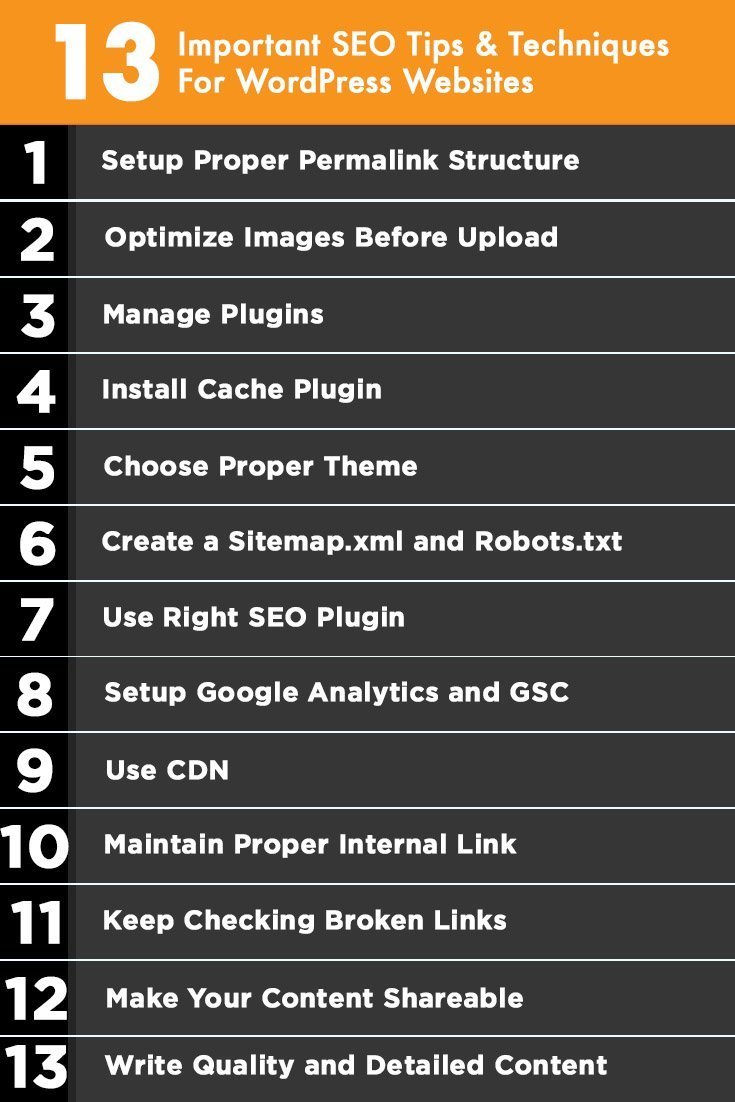 Final Words
Above mentioned SEO tips for WordPress websites are very basic but significant for maintaining proper SEO.  These are the tips and tricks to better rank in the search engines after setting up a brand new WordPress website. These are things to consider or improve before performing any SEO action.
Other Posts: