How to Enable User Registration in WordPress? (Beginner Friendly)
How to Enable User Registration in WordPress? (Beginner Friendly)
An admin can easily create a new user from the dashboard once he/she enters the login details and create a new user. This is only possible when the website has a limited number of users. There will be times when an admin possibly can't create thousands of users in such a manner.
To make it simple and easier it's important to allow users to register themselves through your WordPress site's frontend.
Once user registration is enabled in WordPress, users will be able to fill in their personal information themselves and submit it to register.
This enables new users to automatically create an account and the data is saved on your website.
Doing this cuts down the gratuitous work on the admin's part while also making the user operation process more accessible. Admin can also ask for any redundant information you need from your user through a custom enrollment form.
Why allow user registration in WordPress?
There are various reasons to enable user registration in WordPress. For instance, it's very easier for you if you have guest posts (ie guest blogging). Your guest bloggers can register on your website and be assigned the role of a contributor. This one step will have a positive impact on them and when they are done with their post, they can submit it for a review. also, you can decide what you want coming.
This is an excellent idea if you want to create some areas of your website that only registered users can access. If you want to provide some additional offers, and limited deals this is the best option. Enabling users to register on your site can also help you promote your marketing strategy. In this way, you'll be able to reach all your registered users through email. This will help you inform them about products and news about your brand. It will result in the promotion of your company.
How to Enable User Registration in WordPress?
Allowing user enrollment for your WordPress website is easier than you can imagine. We've made a straightforward and easy-to-understand tutorial below.
So, go through each step and follow along to enable user enrollment snappily!
Allow Users to Register on Your Website
Before anything differently, you'll need to log into your WordPress website as an admin. Once you go through the WordPress dashboard, navigate to Settings >> General.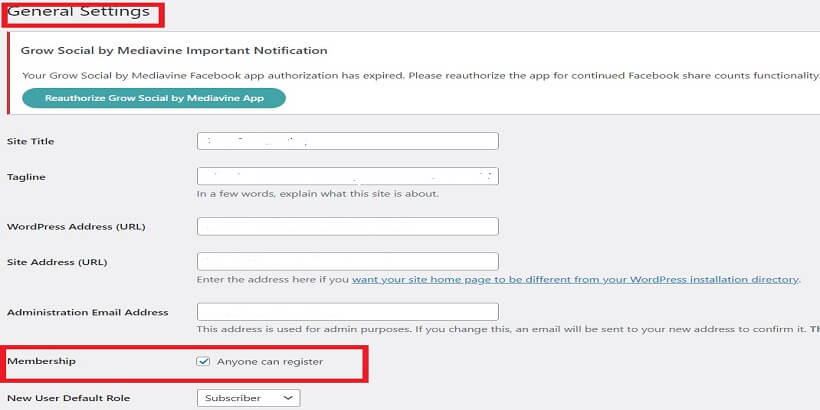 You'll find the Membership option here, which is turned off by default. This shows that visitors can't register themselves on your site. The admin has the authority to create/ add a new user from the backend.
You just have to simply click on the checkbox next to anyone can register option. And then, you have to click on the Save Changes button which you can find at the end of the WordPress Setting Page. After you've made the changes, visitors can easily register on your site through a frontend registration form.
Also, you have to keep in mind not us use "Administrator as the default role for user registration. If you do so, new users may be able to take charge of and completely hack your site by locking you out.
After doing so, your WordPress website is open to new registration. When you visit your login page there you'll find an option to register as a new user.
By default, WordPress comes with a default registration form that admins can use.  Even so, it lacks various form fields and functionalities that can be customized by coding. This makes it easier to use the form on your site.
You can also create a new customer registration form with custom fields. There are numerous plugins available to create registration forms.
How to manage users in WordPress?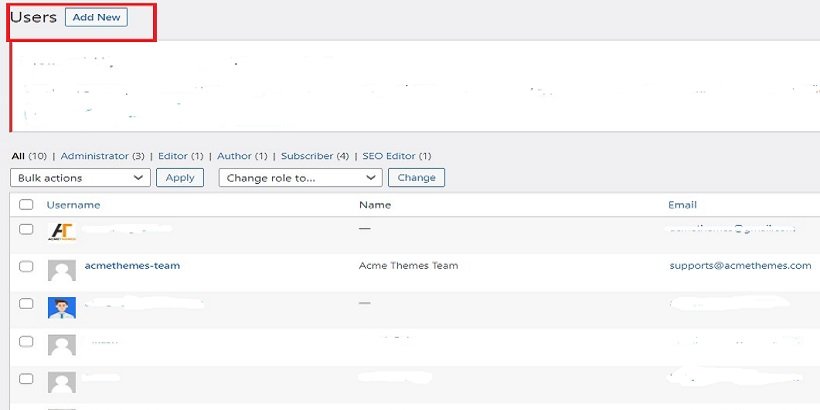 Admin can view all the registered users by going to the User section in the WordPress dashboard. By clicking on users, WordPress will show you all the listed users with their usernames, roles, and email addresses.
Admin has the authority to delete users at any time they want to. They can also edit users' roles, change their profiles, and can even change users' passwords.
Wrapping up,
Enabling user enrollment on your WordPress website is a very wise idea.
I hope this article helped you!
Check out our other articles: