Pinterest SEO Tips 2022 To Grow Your Traffic
Driving traffic to the website is one of the primary tasks for Online Business Owners. For those business owners who sell digital products and services, the growth of the business entirely depends on the number of traffic that comes to the website. So, it is always important to look for different ways to drive traffic to the website.
Social media is one of the best ways to bring people to the website. And talking about social media, Pinterest always is the best platform for an internet marketer to showcase the products. According to Forbes, Pinterest is the second most used social media app in the US and Europe. As of August 2019, Pinterest achieved a share of approximately 16.79 percent among online social networking platforms in the United Kingdom (UK).
In this article, I am going to cover all about Pinterest SEO tips 2020 and related questions like What, Why, and How? So first off, let's know what is a Pinterest?
What is Pinterest?
Pinterest is a Visual Search Engine with more than 300 million monthly active users. People use Pinterest for searching recipe ideas, decor inspiration, and DIY hacks, makeup, dressing styles in the image and graphical format. But once you click in the image, it redirects you to the related website pages. So, Pinterest is one of the best platforms for driving traffic on the website. In fact, many internet marketers use Pinterest as a Traffic Generating Machine to bring thousands of visitors to their sites.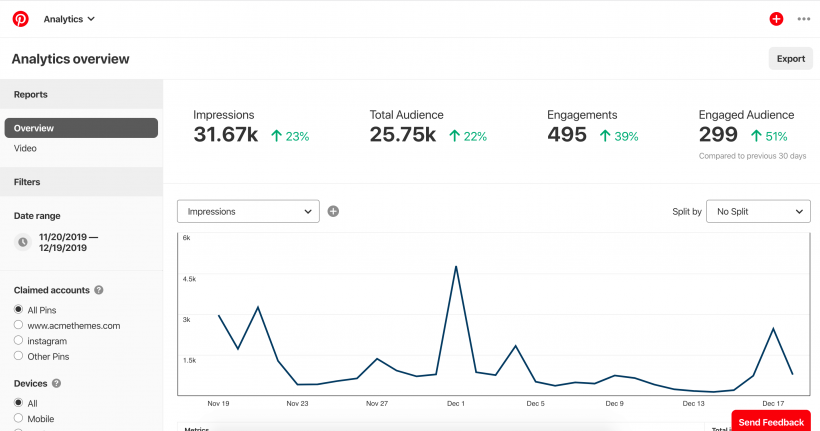 With over 200 billion saved pins every month, you can scale up your online presence and ultimately your business. I would say, Pinterest is the perfect place for you to showcase your brand and business to an engaged, niche marketplace that's ready to spend.
But, before knowing about Pinterest SEO 2022, here are the quick and interesting statistics about Pinterest.
---
Pinterest Statistics as of December 2022
Pinterest currently has 300 million monthly active users.
Seven of every ten Pinterest users are female.
Most US adult Pinterest users are aged between 30 and 49.
Pinterest users spend an average of 14.2 minutes on the platform every day.
There are over 200 billion pins saved on Pinterest.
Six out of ten millennials use Pinterest to discover new products.
More than two billion text-based and guided searches are carried out on Pinterest every month.
More than two-thirds of all Pinterest users live outside of the US.
28 percent of all marketers worldwide use Pinterest to market.
 Eight out of ten Pinterest users have bought products based on their brands' content on Pinterest.

84% use Pinterest when they're trying to decide what to buy
So, Why Pinterest?
As we have already seen the fascinating statistics about Pinterest, it is already clear that there are millions of potential customers who are looking for making a purchase. On top of that, the study shows that with 40% of Pinterest users having a household income of $100k+, there's a huge audience with a strong spending power just waiting to be introduced to your business.
Take a look at some of the screenshot of the Pinterest account.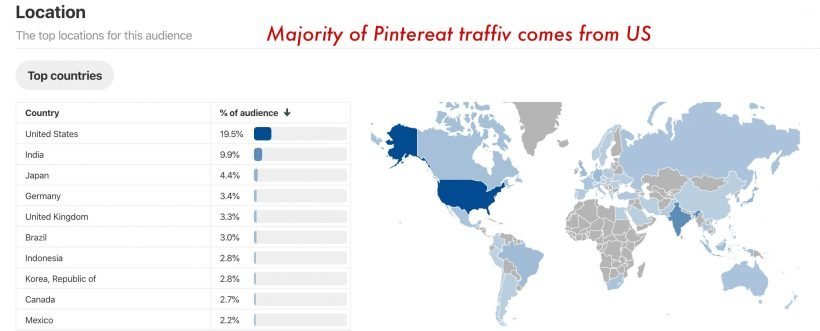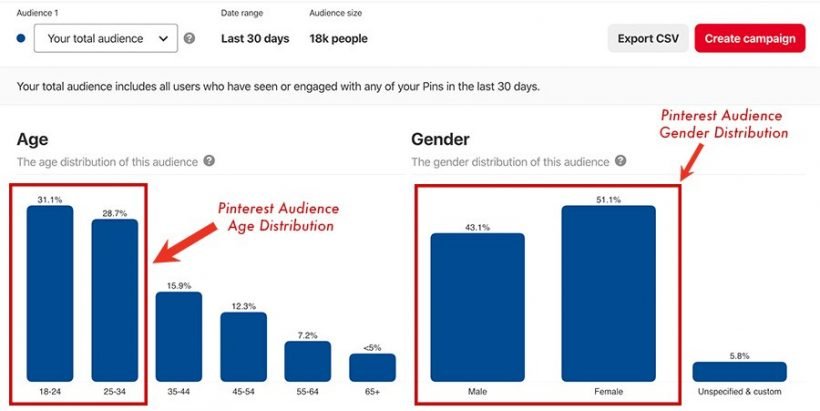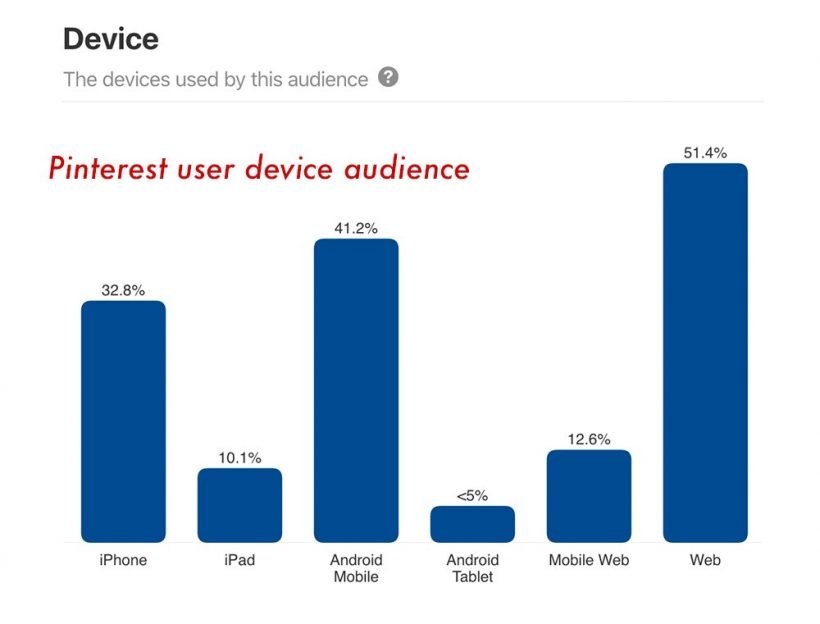 Pinterest Business Account vs Personal Account
There's a subtle difference between a personal Pinterest account and a Pinterest business account. Think of Pinterest account like your personal Facebook profile and a Pinterest business page is similar to a Facebook page.
As a business account, you can claim your website and you can see the activities on your account. You will have access to statistics and metrics like – monthly visitors by gender, nationality, language, age and other. You will see what is your engagement rate – this means totally how many people are clicked, viewed in close up, engaged /saved/, comment and like your pins for the last days.
Whereas in the personal account, you have no access to statistics to see more about your account – what the people are saving from your content and you can't see metrics like engagement and monthly viewers.
NOTE: Keep in mind, once you convert your personal account as a business, you will not can to convert it back so easy as personal – you will need to message Pinterest support to do this for you.
How to Create a Pinterest Business Account?
If you want to use Pinterest just to save some ideas to your boards, then you can simply create a personal Pinterest account. But if you plan to use Pinterest for driving traffic to your site, then you should create a Business account.
NOTE: I don't recommend using social options (Pinterest sign up with Google or Facebook) because this usually ends up in the creation of multiple accounts. Some day you'll try to open Pinterest when you are not logged in to Facebook or Google, you will insert your Pinterest email address somewhere and boom! – Pinterest created a new account for you, and then you'll be jumping from one account to another on different devices and will end up completely lost and frustrated. So when you create a Pinterest account, use an email address and not FB or Pinterest login Gmail. 
There are two ways you can create a business account.
#Directly Create Business Account
Go to pinterest.com and >signup now>Create a business account.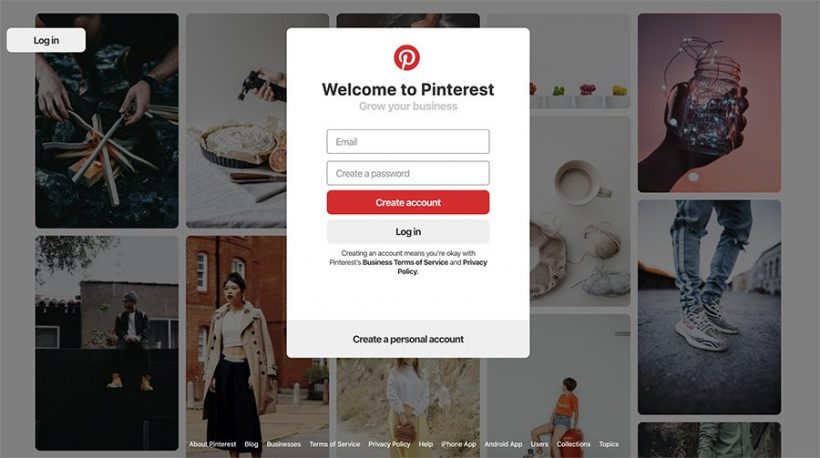 Fill out details about your business and the person who will manage the account. Once that's complete, just read and accept Pinterest's Terms of Service and click Create Account. Now your business profile is ready. You can start Pinning!
#Convert existing personal account into the business profile
If you already have a personal account and want to make the move to a Pinterest for Business account, making the switch is easy. First off, login to your account.
Next, click on the three dots symbol on the top right-hand corner of your screen and select "Add a free business account". You can also follow this link to convert to a Pinterest for Business account.
#STEP 1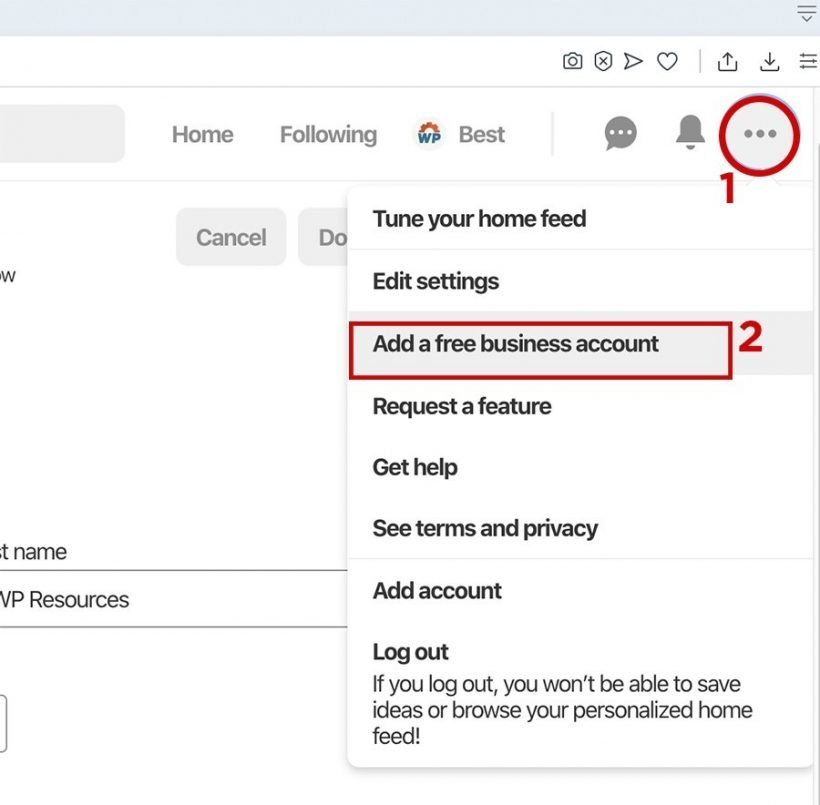 #STEP 2
Click in the "Get Started"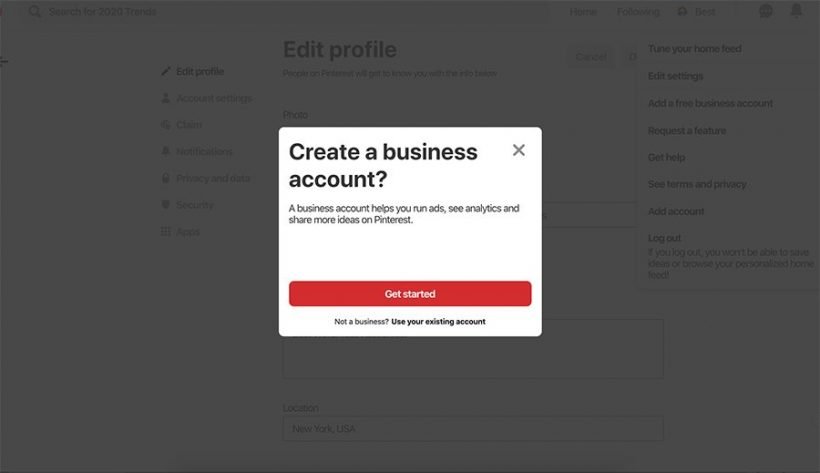 #STEP 3
Add business account name and chose the business category and click "Next".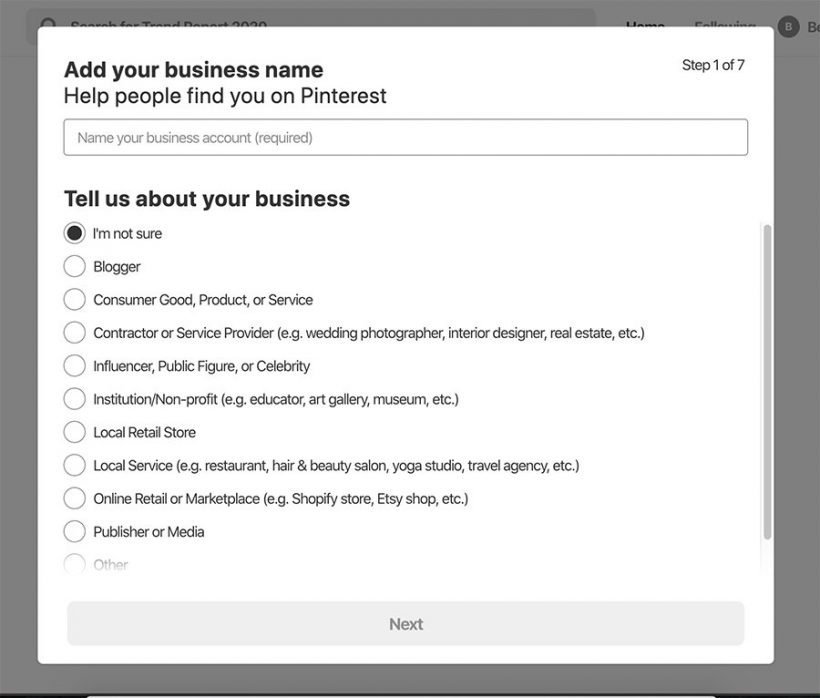 Fill up the necessary information about the business like an email address and a website link. It is not that difficult.
Getting Started With Pinterest
Now, before going for Pinterest SEO Tips directly, let's talk about some basics of Pinterest terminologies.
#Home Feed and Search bar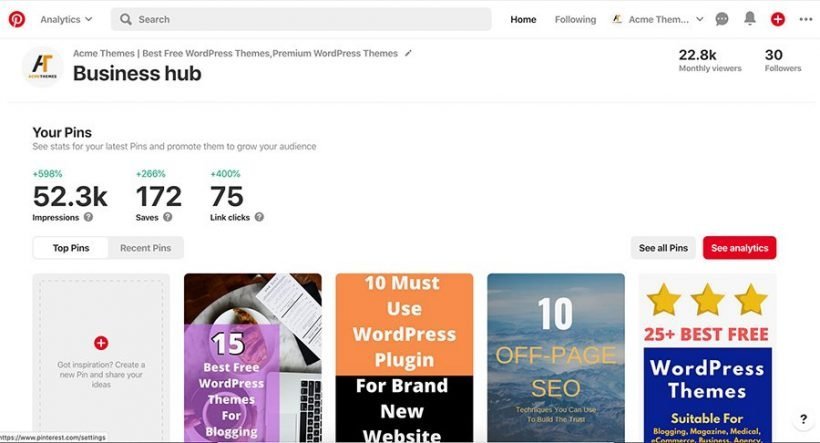 This is the home feed of the Pinterest account. You have a simple interface with your recent pins, search bar, and pin stat. Your Pinterest home feed is a collection of Pins saved by the people, topics, and boards you choose to follow. Your home feed also includes Pins inspired by your boards or your recent activity to help you find similar Pins you might like.
Pins and Rich Pins
Pins are ideas that people on Pinterest find and save from around the web. People can search them, save the ones they like and click on a Pin to learn more. As a business, you can create Pins to exhibit your products and ideas, and you can link them back to your website.
Rich Pins, on the other hand, are a type of organic Pin format that provides more context about an idea by showing extra information directly on the Pin. Rich Pins are a free product available for anyone on Pinterest. You can identify Rich Pins by the extra information above and below the image on a closeup and the bold title in the grid.
Rich Pins add extra details to Pins and update important information from the websites they came from. If something changes on the original website, the Rich Pin updates to reflect that change.
There are three types of Rich Pins: product, article, and recipe. Product Rich Pins show the most up-to-date price, availability, and product information right on your Pin. Article and recipe Rich Pins will update to reflect any edits you may make on your site.
Boards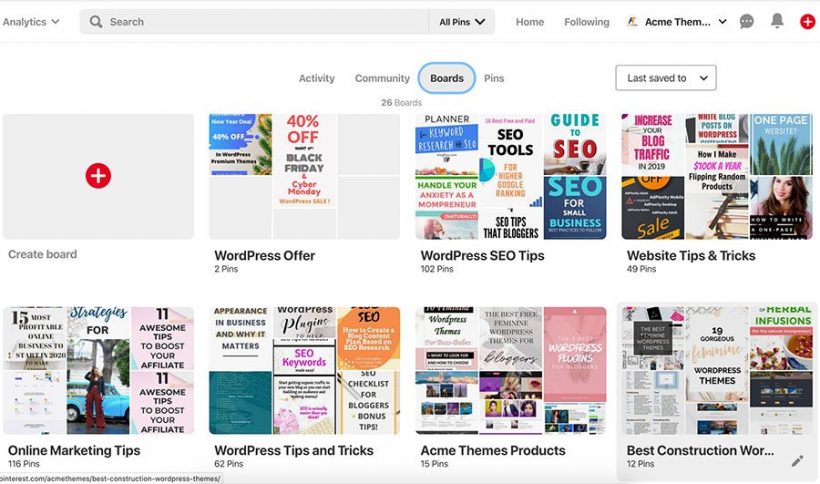 Boards let you organize all of your Pins around different ideas, interests, and plans. You can also be an important part of your business' identity on Pinterest. Boards show what your business is all about, like what kinds of products you offer or what inspires you. Basically, it is the collections(or folders) of your categorized pin.
You can simply create a board by clicking in the Board>Create Boards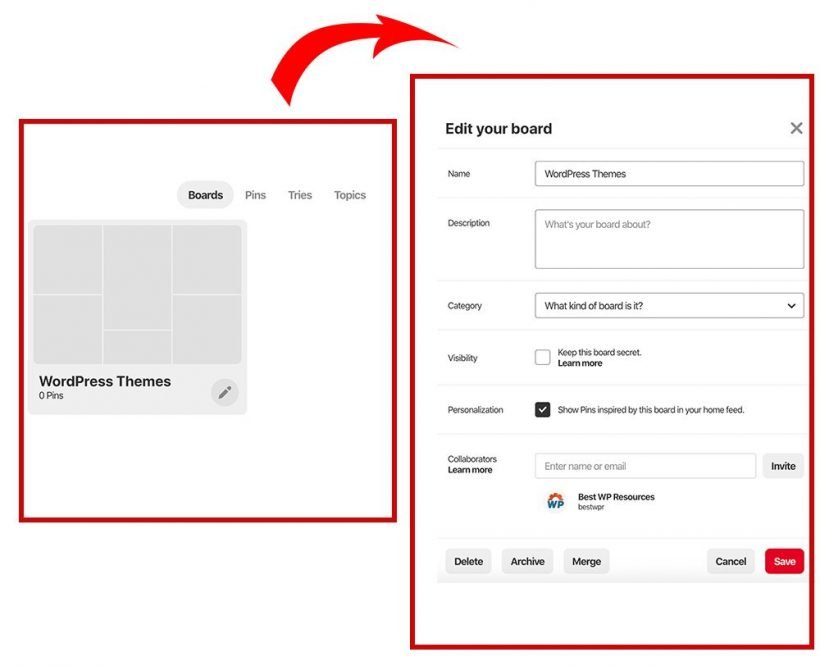 Once you create new boards click in the bottom right corner in the edit sign. "Edit your board" will pop up. Now put proper name description, category on the board. Once everything is done, click on "Save". You can create boards as many as you want.
---
Pinterest SEO Tips in 2022
1. Optimize Your Profile and Boards
One of the most common mistakes I see in the accounts of my new clients is poor search engine optimization of the Pinterest boards. Because the title and description of your boards to which you save your pins is also an important factor that helps Pinterest understand what your pin is about.
2. Make Sure That Users Can Save Pins From Your Site
Something a lot of people don't realize about virality on Pinterest is that original pins (meaning the pins saved by users from your site) are a very important signal for Pinterest. If people liked your content so much that they even bothered to save it on Pinterest, it really must be great. So here are some of the things you could do to get more sales from your site: – Always have at least one pinnable image per post. – Add social sharing buttons to your site. For this you can use several plugins if you are on WordPress, I recommend Social Pug plugin.
3. Create Click-worthy Pin Images
Pinterest has a great page with the main things you need to know about pin design. I would recommend you to check the link to this page in the description of this video. Most of these tips are super obvious but I'm sure that you might be missing at least some of these points.
4. Create pin Images in Canva – Easy and Fast
The tool that I use to create most of my pins is not any kind of fancy graphic design software, it's not Photoshop, it's a free online tool called Canva. It is the perfect tool for creating online graphics for non-designers. You can use it for free but if you want to access more resources you have to buy it. But I must say, you can get enough in the free version. Using such a tool makes it easy to create a perfect size image not only for Pinterest but for all the social media graphics.
5. Schedule Pins With Tailwind to Save Hours of Work
A tool called Tailwind is used to schedule pins on Pinterest. You can have lists of boards on Pinterest and you can schedule each of your new pins to be saved to 5 or 10 relevant boards with intervals. It would take you so much effort to keep track of each pin you already saved and of all the boards without Tailwind. The tool also shows you the best times for saving pins – it's the hours of the day when your audience interacts with pins better. Tailwind allows you to save pins in these best hours without having to actually log in and save these pins manually.
6. Put Keywords in Your Board
It's not all about the Pins. Use top performing keywords to inform board names, descriptions, and categories. You can also add them to your profile so long as it makes sense to do so. If Pinners are searching for these keywords at high rates, there's a good chance the hashtag equivalents are being followed by many Pinners, too. Just like with Pins, quality board names and descriptions will also improve SEO performance.
7. Enable Rich Pins
Rich Pins are essentially Pins with more detail, and that added detail can improve ranking. There are four types of Rich Pin: app, product, recipe, and article.
8. Save Pins to Relevant Boards
The more consistent you are on Pinterest, the better. Once you create a Pin, the first board you pin it too will remain associated with it. So, the more relevant the Pin is to the board, the better the chances it will rank well.
9. Pin Consistently
Pinterest favors regular and consistent Pinners. So, instead of Pinning everything in one go, Pin at regular intervals. To maximize performance, make sure to Pin at the best time of day. You can determine optimal times based on audience location stats and by looking for high engagement periods in your analytics
How to Create a Pin?
Click + at the top right corner of Pinterest and click Upload a Pin
Select "Choose Image" and find the file on your computer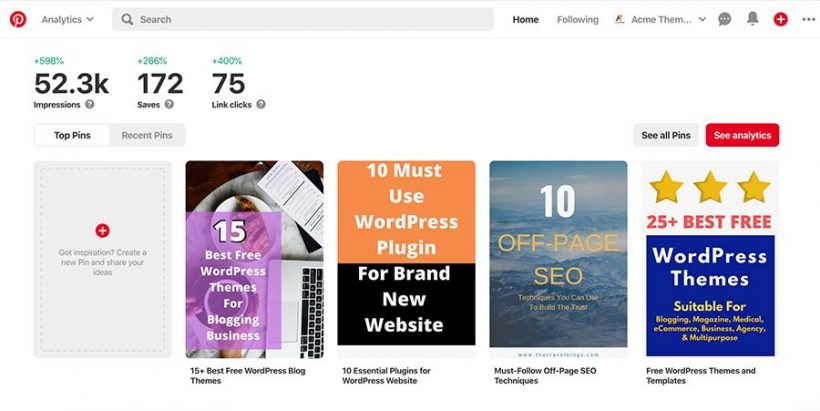 Pick a board for your Pin and add a description and product/page link
Do not forget to choose the board on the right top corner
Click Publish
You can also schedule publish time by choosing the "Publish at later date" as shown in the fig below.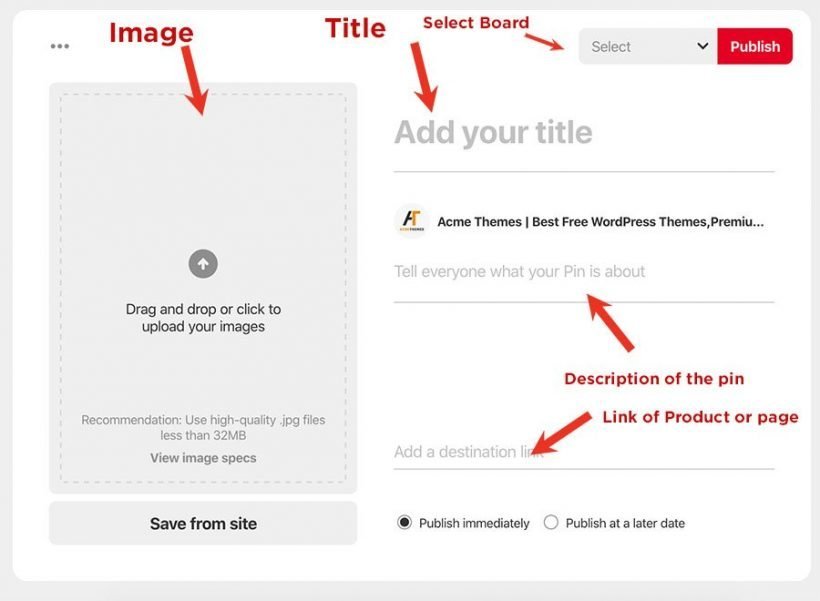 Once you start publishing your pins, people of your niche start finding your product and services through your pins! Keep following the above tips for more benefits from Pinterest.
Conclusion!
Congratulations! You are good to go!!
Pinterest is the perfect place to showcase your brand, business, and products to an engaged marketplace with plenty of spending power. And with all the hints and tips in this guide, you're already taking all the right steps to set up a beautiful Pinterest account that appeals to your target audience. Save time managing your Pinterest presence using different tools like Hootsuite, Later, Tailwind, and many others.
Other SEO Articles:
If you liked this article, then consider following us on Twitter and Facebook, and LinkedIn.