Do you want to make the logo in the center of the header on our theme?
For that, you have to add just two line of CSS codes to your site. We have a Custom CSS field on the theme. You can simply copy and paste the below code there. It easily makes the logo/Site title and tagline in the center. But Please follow the basic things below for every theme.
1. First Login to your site
2. Go to Dashboard
2. Go to Appearance > Customize > Layout/Design Options > Custom CSS
3. Add the below CSS code there.
4. If preview is fine, click on Save & Publish button to save the changes.
.site-logo { 
width: 100%; 
text-align: center; 
}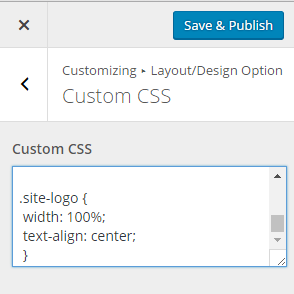 Hope you find this article helpful. Please share your thoughts in the comment section below: