CosmosWP – The Most Advanced & Blazing-Fast Multipurpose Free WordPress Theme!
There is something you need to know.
And it's very important.
The way we are building websites is not working. Whether you custom-build your website or use a WordPress theme from the market, you are most probably going to fall in the same pitfall as everyone else does.
Ask me how.
If you use a WordPress theme, your website will get narrowed by the limited feature of the theme. Or, you get overwhelmed by the beautiful yet useless, unhealthy, worthless features, and you try to squeeze them all in your website.
And this exact error will make your website or the business suffer the entire time thereafter.
So, is there a way out?
Yes, there is!
What if you don't have to confine your website or business just because of your WordPress template?
With the introduction of CosmosWP, we have given you the flexibility to make the website as you like. You can use this theme to build almost any kind of website, including blogs, business websites, education websites, medical websites, fitness websites, travel websites, e-commerce stores, and so on.
A website should have a clear brand messaging, strong Seach Engine Optimization, clear contact details, fast loading times, mobile-friendly design, easy navigation, clear Call to Action button, visitors-friendly layout… I could go on with hundreds of them. What we can assure you is CosomosWP has put special attention to all these smallest, finest details. Your website building process will go precisely right from the beginning with the CosmosWP multi-purpose free WordPress theme.
With CosmosWP, obviously there are several demo starter sites to start building your website, but there is something more. You can easily add a new block or section on your website or custom-build one. And you don't need any coding knowledge to do all these. Looks interesting? Read on.
So, What Makes CosmosWP the Most-Advanced Free WordPress Theme Ever?
Let's see some of the main features of CosmosWP.
Multi-purpose WordPress Theme with 14+ demos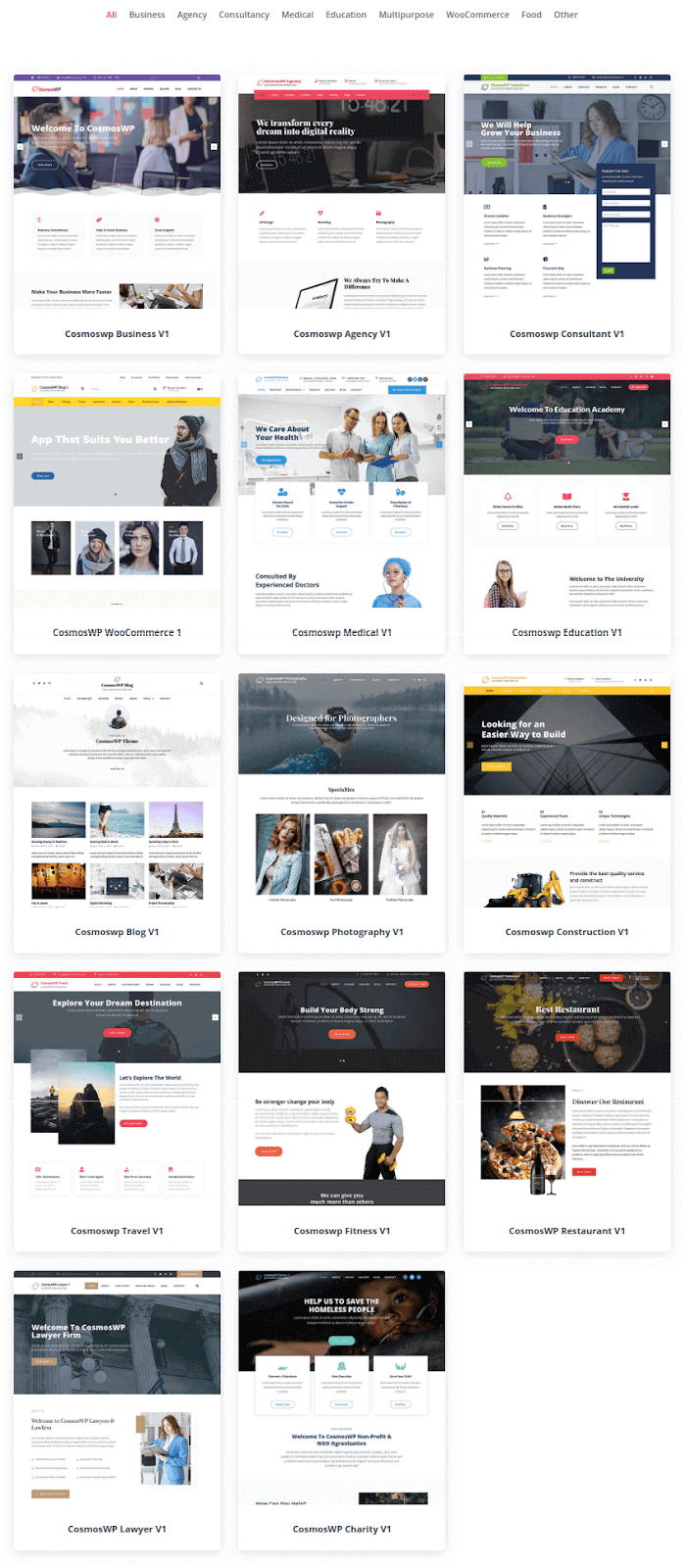 We wanted CosmosWP to be the one-stop solution for building any kind of website. Like Divi, WP Astra, and OceanWP, but with more options and broader flexibility.
So, we have 14+ ready-to-import free templates in CosmosWP that you can use for different kinds of websites.
CosmosWP has demo starter sites for agencies, business, medical, education, construction, lawyers, fitness, travel, charity, photography, blog, and e-commerce websites.
You can import any of these demos in a single click and kick-start building your website.
But, does that mean you cannot build other kinds of websites like directory websites, magazines, wedding websites, or other kinds of business websites? Absolutely not; it lets you tweak design on your website or remove and add template blocks to build any kind of website.
And if you are more ambitious, its premium add-on ComosWP Pro will give you access to hundreds of premium demo starter sites.
Customization Flexibility Like Never Seen Before
Customization option has always been the most enchanting feature of CosmosWP.
CosmosWP allows you to customize and control every single element. Header, footer, main page, subpages, posts, you name it; the theme lets you customize every single part of your website.
Header and Footer Builder
The theme has three-layered headers and footers that are fully flexible when it comes to customization. You can add, edit, or remove every single element of these sections.
You can drag and drop header elements like site identity, social icons, contact info, button, search box, menu, and more. And you can control the way these elements look and function. The footer elements also offer all these customization and drag and drop features.
Advanced Typography Option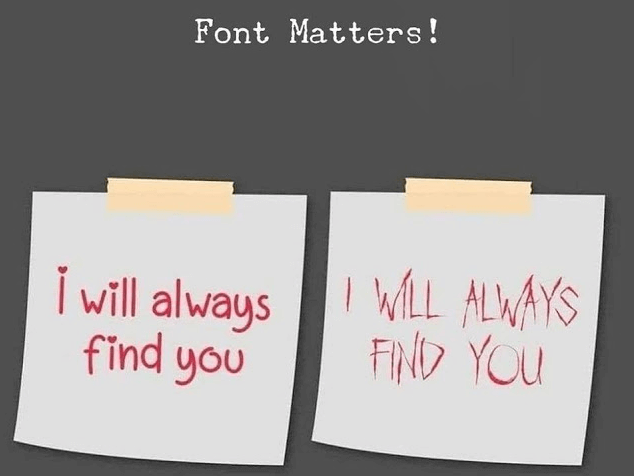 With more typography options, you will have better control over how you can convey your message to your visitors. CosmosWP free WordPress theme lets you choose from 700+ Google fonts, and that is a whole lot of options to choose a font that suits your website.
And, it's not just about the hundreds of typography options only. The theme lets you control the font size, font color, line spacing, line height, margin and padding, text-decoration, and so on. All for completely free!
I bet you will rarely (if any) find any free WordPress theme that offers advanced typography options like CosmosWP.
Advanced Color and Background Options
You get infinite color and background options with this theme. Set any background image, color, or video on your banner section of your website.
Besides, you get advanced options to customize the border and shadow colors of the buttons, boxes, and sections of your website. That's an impressive feature that you will rarely find in other WordPress themes.
Performance and Speed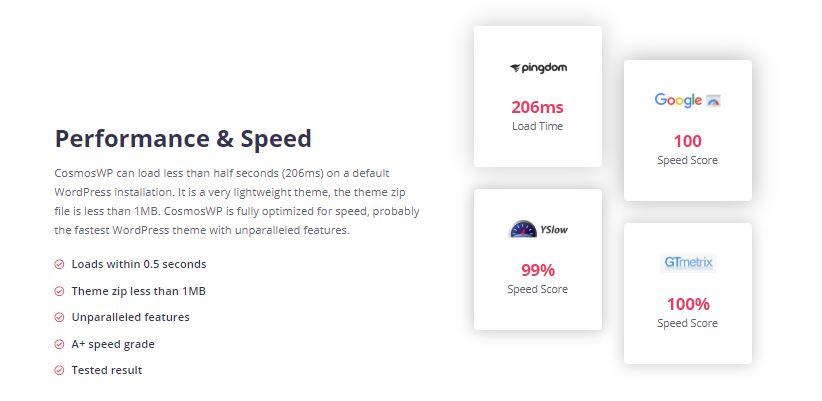 Need I say more?
Gutenberg and Page Builders Compatible

Based on Gutentor Page Builder, CosmosWP is a block-based free WordPress theme with infinite design options. The theme is compatible with Gutenberg and all the major page builders including Gutentor, Elementor, Beaver Builder, and Divi.
Gutenberg Blocks – Gutentor Page Builder for Gutenberg Editor
So, pick your favorite page builder and start building the site of your dream with CosmosWP – the most advanced free WordPress theme.
eCommerce-Ready
CosmosWP integrates perfectly with WooCommerce and Easy Digital Downloads plugins. So, you can build the perfect online store with CosmosWP and tweak the design and functionalities of your website easily.
With numerous highly customizable e-commerce options for shop, cart, single product, and checkout pages, you can easily build a store that perfectly matches your brand.
Extensive Documentation and Support
Our theme installation, setup, and customization process is plain and simple. Yet, we did not skip the documentation creation process. Our detailed documentation process will help every techie or non-technical person to install, customize, and use our themes on their websites. And if someone still needs human support, CosmosWP has a team of WordPress experts to deal with your problems.
How to Download and Install CosmosWP Free WordPress Theme
Installing CosmosWP is similar, like installing any other WordPress theme.
You can install it in three ways.
Download CosmosWP from CosmosWP website
1. Go to CosmosWP
2. Click the Download Button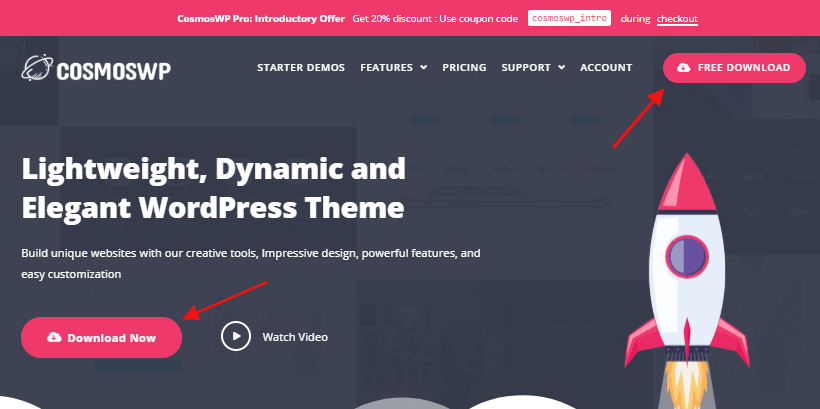 3. Go to your website WordPress dashboard
4. Go to Appearance > Themes > Add New > Upload Theme 
5. the downloaded zip file
6. Activate it after the download is complete
Install CosmosWP from WordPress.org
1. Go to your WordPress dashboard
2. Go to Appearance > Themes > Add New
3. Search "cosmoswp" in the search box and click Install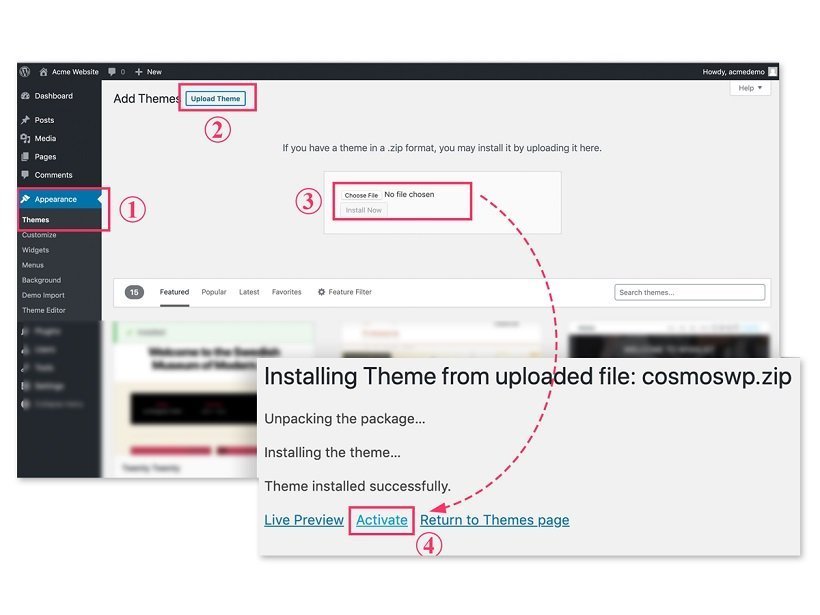 4. After the installation is complete, click the Activate button
(You can also go directly to wordpress.org, search "cosmoswp" download theme's zip file and install it through your WordPress dashboard)
After activating the theme, you can easily import any demo from its 14 free demos.
Installing CosmosWP from File Manager
There is a third way to install CosmosWP. It is not a common one, but I will leave it here.
You can install CosmosWP directly from File Manager. When you get server-side issues like memory limit, this method can be useful. You can download the theme and upload the theme file in the server from the dashboard (backend) of your website.
Login to you cPanel or FileZilla
Go to File Manager>public_html>wp-content>themes
Upload the zip file of CosmosWP
Extract the zip file (you can delete the zip file after successful extraction)
Go to the dashboard and activate the theme
Upgrading to CosmosWP Pro – What the premium Add-on Offers?
Unlike the majority of other themes, CosmosWP has taken a different approach with its premium version.
Instead of offering premium themes, CosmosWP has an add-on called "CosmosWP Pro."You can buy it from CosmosWP's website and install it as a plugin from your WordPress dashboard. It has different plans and pricing available on a monthly, annual, or lifetime basis for a single site and multiple sites. Any professional website owners, freelancers, and web designing agencies can take advantage of its different pricing models.
So, why upgrade to CosmosWP Pro?
With CosmosWP Pro, you get access to numerous premium features. From advanced banner options and advanced blog options to drop-down menu and popup sidebar, you get access to plenty of features in CosmosWP Pro.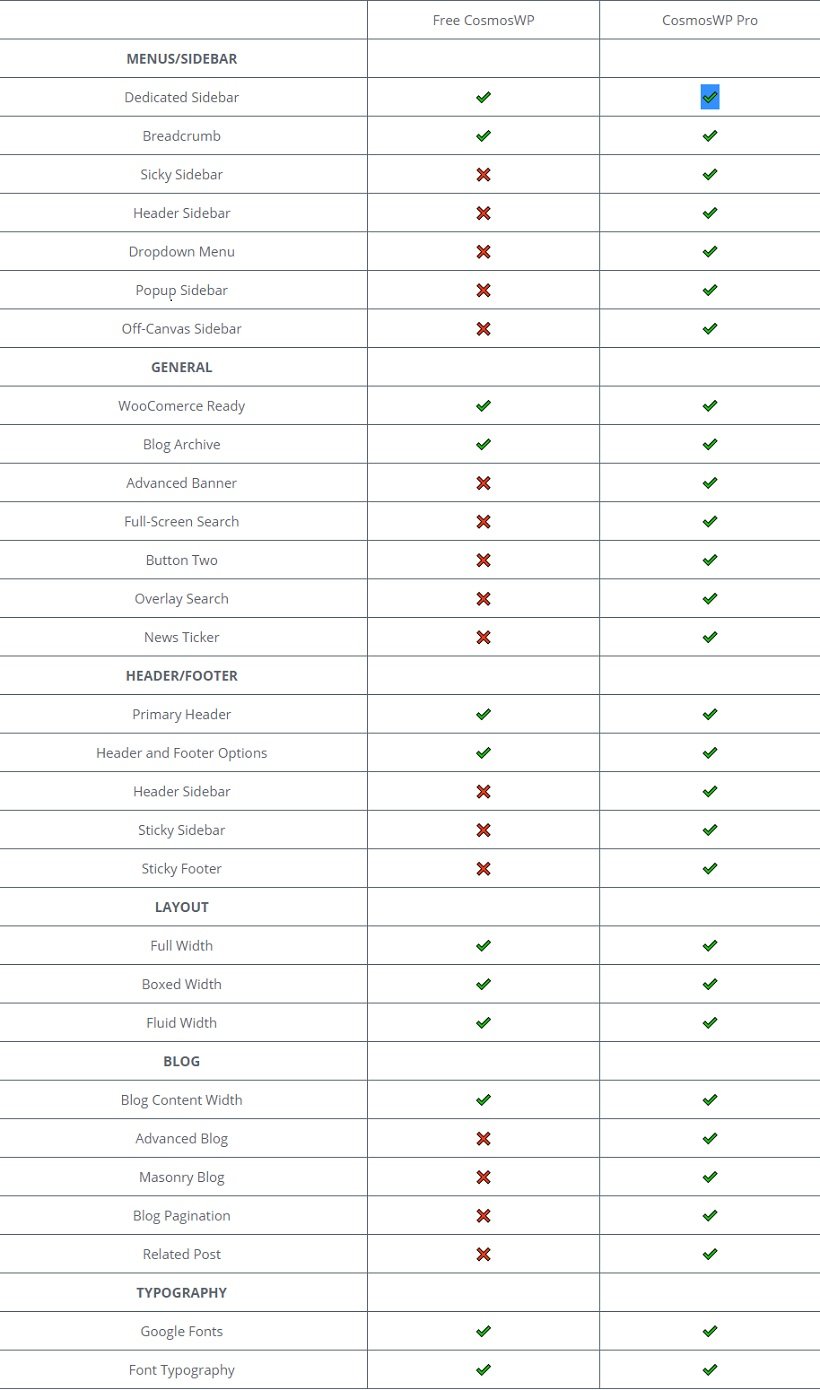 ---
A few Words on
Time to Switch from Other Mediocre Themes to CosmosWP Free WordPress Theme:
Free themes are supposed to be low-quality templates of PHP files containing HTML, template tags, and PHP codes. Simply put, free WordPress themes are templates with a lot of limitations in design options and functionalities.
But, is that the case with CosmosWP?
Absolutely not!
CosmosWP is the most-advanced, multi-purpose free WordPress theme that gives you access to everything that other free themes restrict. Tonnes of free templates, infinite design possibilities, options to control the design and functionalities of every single element like button, border, margin, and padding – I bet you won't find these choices with others.
Final Words
So, are you interested in being a part of this revolutionary free WordPress theme?
And, did I mention it regularly brings updates with added features?