SEO vs PPC – Search Engine Optimization & Pay Per Click Comparison
SEO vs PPC Comparision 
When it comes to driving traffic to the website, there are two options, organic traffic and paid traffic. Organic traffic comes from proper Search Engine Optimization (SEO) and paid traffic comes from Pay Per Click (PPC) campaign. To simply understand, organic traffic is FREE and paid traffic, of course, costs you.
People often get confused about which method to use for traffic. But it is important that before making a decision, you must know what are the differences, pros, and cons of implementing SEO and PPC. In this article, I am going to cover in-depth information about SEO and PPC. 
First off, let's look at the image that shows Google's organic and paid results. The paid result generally shows on the top depending upon the Ad Rank – a combination of your bid, auction-time ad quality (including expected clickthrough rate, ad relevance, and landing page experience), the Ad Rank thresholds, the context of the person's search (location, device, time of search, search terms, the other ads and search results on the page, and other user signals and attributes), and the expected impact of extensions and other ad formatting. 
When people search on Google, text ads can appear above or below the search results. Only up to four ads are eligible to show above the search results.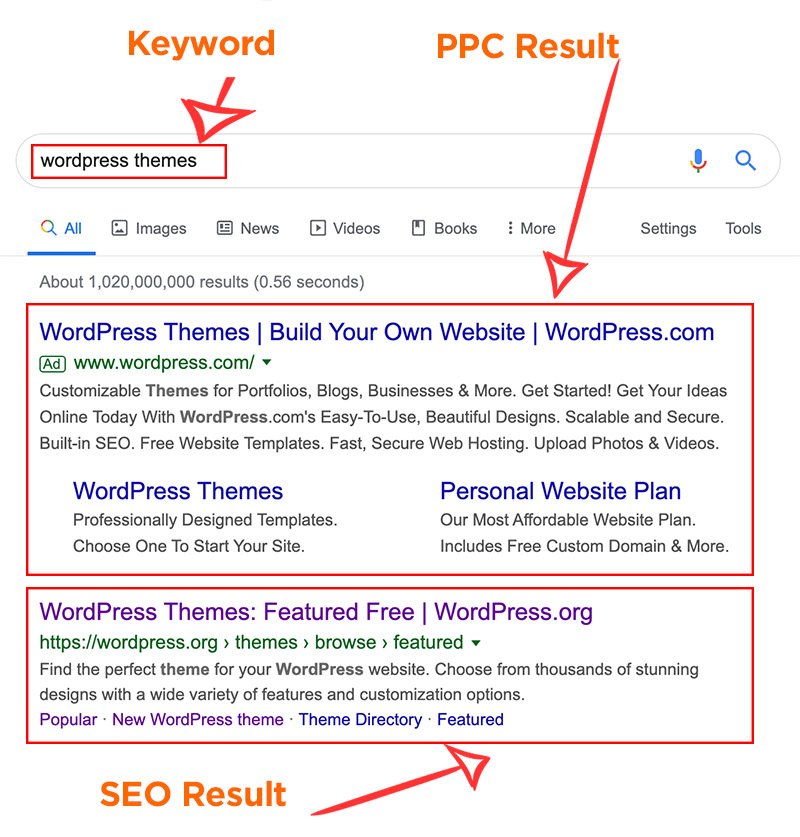 What is Search Engine Optimization (SEO)?
Search Engine Optimization (SEO) is the process of improving the website's visibility in order to drive organic traffic from search engines. SEO involves lots of different tasks from the technical improvement of the website to content creation. Search Engine Optimization is a slow and step by step process that you have to do continuous work to get a result. It may take months to start getting traffic depending upon the keyword difficulty. 
Keyword Difficulty – In SEO terms, Keyword Difficulty is a metric that tells how hard is a particular keyword to rank on the search engines. The higher the value, the harder it is to compete with others using that keyword. So, one needs to focus on low competition keywords in order to win the game. 
Search Volume – Search Volume is the amount of query and search of a particular key-phrase made in the search engine in a certain period of time.  As an SEO person, unless you are working for your own keywords, you need to focus on those keywords which have higher search volume. 
On-Page SEO
On-page SEO is the practice of optimizing individual web pages in order to rank higher and earn more relevant traffic in search engines. On-page refers to both the content and HTML source code of a page that can be optimized. On-page SEO is something that you do within the website like a technical improvement, content creation, content format, etc.
15 On-Page SEO Techniques:
Proper Keyword Research
Optimize Page Titles
SEO Friendly URL Structure
Optimize Meta Description
Optimizing Media Files
Proper Content Formatting
Take Care of Website Speed
Mobile-First Design (Responsive)
Content SEO
Maintain Keyword Density
Work in LSI Keyword
Maintaining Headline Hierarchy
Proper Internal Linking
Use Outbound Link
Developing High-Quality Content
Read About Full Guide To On-Page SEO
 Off-Page SEO 
Off-page SEO, on the other hand, is also an important tactic to bring traffic, build the trust and relevancy of the website. Off-page SEO is performed outside the website. 
Off-Page SEO technique sometimes called off-site SEO techniques – is a technique of improving the ranking of the website in the Search Engine Ranking Pages (SERPs). Basically, it is a type of promoting a website across all the internet channels. 
10 Off-Page SEO Techniques:
Social Media Promotion
Email Marketing
Question and Answer Submission
Influencer Marketing
Link Building and Link Exchange
Image, Video, Document Submission
 Social Bookmarking
Blog Commenting
Local Business Listing
Read About Full Guide To Off-Page SEO
There is another term in SEO called Technical SEO. Technical SEO refers to the optimization techniques related to the technical part of the website like the structure of the website, technology used to build the website and so on.
Technical SEO doesn't have any standard definition, but there are some SEO experts who think technical SEO is something that provides a beneficial platform for making your content rank and brings in success. It ensures that your website is complying with all the guidelines set by the search engines.  Technical SEO falls under the domain of the On-Page SEO services framework, but it has been majorly complicated by implying that it belongs to some other domain.
SEO Pros
SEO traffic is FREE
SEO traffic is considered to be more stable
SEO leads to better user experience
SEO is a primary source of leads
SEO brings higher close rates
SEO promotes better cost management
SEO builds a better brand credibility
SEO takes you ahead of the competition in the long term
SEO Cons
SEO takes a long time
SEO results in low conversion compared to PPC
SEO has no guarantee for #1-page results
You can not have full control over users
You may get a slap from the Algorithms
What is Pay Per Click (PPC)
Pay Per Click is the paid marketing model where advertisers pay certain money on the basis of ads click. PPC is the process of buying visitors through different platforms. One of the best examples of PPC is search engine advertising using Google AdWords. As the name suggests, advertisers have to pay according to the click they get.
Pay-per-Click marketing is seen by many as one of the best ways of promoting a business online. It is considered as the 1st logical step to be taken by marketers and business owners in testing keywords profitability and ROI before they tried their hands-on Search Engine Optimization or SEO. But just like SEO, PPC has its share of advantages and disadvantages. Before you take the plunge into PPC, it is a good idea to know its pros and cons first so you can make the most of it.
PPC Pros
PPC gives you instant result
PPC results in a high conversion rate
PPC does not involve technical tasks related to website
You can control over your ads
You can target specific (Geographical, Demographical) audience
Free from search engine algorithms updates
PPC Gives You Measurable Results
PPC Cons
It is NOT FREE
PPC Costs high – more you pay more you get the results
You get traffic as long as your campaign runs
PPC can be quite complicated
SEO vs PPC Comparison
| Search Engine Optimization (SEO) | Pay Per Click (PPC) |
| --- | --- |
| You can do it FREE | You have to pay |
| Search Engine Optimization is long term game. | You get results quickly |
| Low conversion rate | High conversion rate |
| SEO gives stable traffic | PPC will run as long as you pay |
| Works on "More effort, more traffic" principle | Works on "More money, more traffic" principle |
| It involves lots of technical improvement in the website | PPC expert does not have to be involved in detail technical improvement of the website |
| Search engine will decide which content to show on top based on the keyword phrase relevancy | Optimized to specific keyword |
| SEO requires lots relevant posts, pages, media files, thorough content, | PPC not necessarily have lots of posts, pages, media files. |
| It is ongoing effort, long term strategy that requires new content and good user experience | It is campaign for a certain periods of time |
My Suggestion!
Well, we have come to the conclusion now. We know how PPC and SEO work in the business. But when it comes to picking up the option, both are great options. Just you need to do is figuring out what are your objectives. For long term business, it is quite a good option to invest in SEO, but for instant sales and time-specific business, you better go for PPC option. What did you think about this article? Comment down below and follows our other WordPress, SEO, Traffic, Tips and Tricks articles visit out Acme Themes Blog. Other Posts:
If you liked this article, then consider following us on Twitter and Facebook and LinkedIn.