Yoast SEO Plugin vs All In One SEO Pack | Which One is Better?
When we talk about WordPress SEO plugins, there are two of the most popular and powerful plugins, they are Yoast SEO and All in One SEO Pack. There are new plugins as well in the market but these two are in the WordPress market for more than a decade. That is why people pick up either Yoast or All in One SEO.
If you are stuck having the following questions in mind
Which SEO Plugins in Good for WordPress in 2019?
Whether to use Yoast SEO or All in One SEO Pack?
Is Buying SEO plugin worth it? or How these plugins stand out differently in the market?
Then, we are going to dig down into details about Yoast SEO and All in One SEO Pack in this article.
And before we dive right into the details, make sure that your site is already served in HTTPS, since sites without HTTPS indicate that your site is not secure, and will potentially damage your website SEO.
What Does an SEO plugin Do For WordPress Website?
SEO plugins do not do a complex task for you. Instead, it simply helps in making the content technically sound. When it comes to quality and really good content, the SEO plugin has nothing to relate to. That means, relying completely on the SEO plugin for better ranking is one of the biggest misconceptions.
So, you need to develop the best content by yourself. But, WordPress plays nice with Google and other search engines, has loads of themes and plugins for advanced SEO optimization, is fast and mobile-friendly, community-supported, secure, and easy to learn. In short, WordPress is the perfect CMS for SEO and building websites that rank well. This is where the SEO plugins come into action.
Overview of Yoast SEO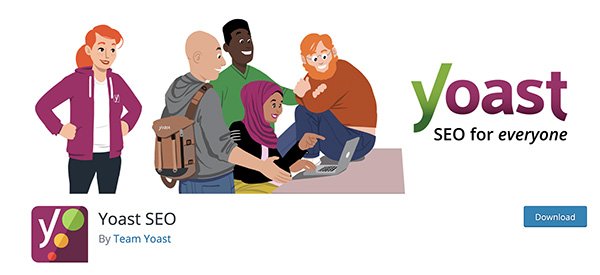 No doubt, the Yoast SEO plugin is one of the best and most downloaded WordPress plugins as of now. This WordPress SEO plugin helps you with your search engine optimization. Since its launch time back in 2008, Yoast has helped millions of people all across the world.
Yoast SEO does everything in its power to please both visitors and search engine spiders. A dedicated team of developers, testers, architects, and SEO experts works daily to improve the plugin with every release.
So, Yoast SEO is for a business owner, professional blogger, content creator, developer, or SEO expert. It helps you keep your website in perfect shape.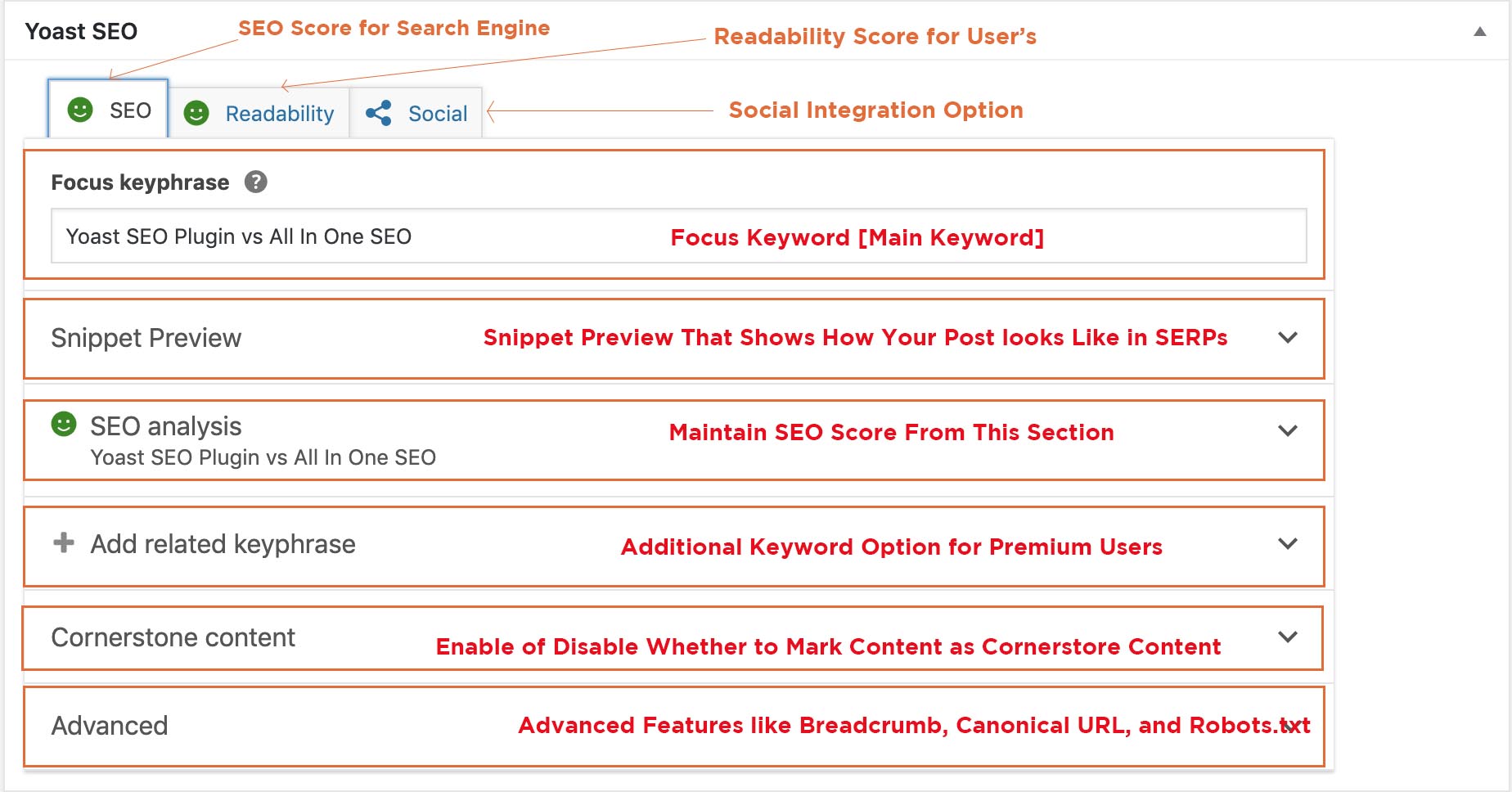 Core Features of Yoast SEO Plugin
The SEO analysis
Readability Analysis
Snippet preview for Desktop and Mobile
The most advanced XML Sitemaps functionality at the push of a button.
Full control over site's breadcrumbs
Canonical URL to avoid duplicate content
Premium [paid] Features
Social previews
Insights tool for focused keyword/keyphrase
Article optimization for synonyms and related keyphrases
Automatic internal linking suggestions and many more
Pros and Cons of Yoast SEO Plugin
Yoast SEO plugin is as popular as it offers a lot of flexibility with your content. You can set up titles, meta descriptions, and Social Media sharing information for each post and page. One of the best things about Yoast SEO is its beginner-friendly features. However, in their quest to facilitate newcomers in using Yoast, the creators have hidden all the advanced options – making you manually turn custom fields on. On top of that, Yoast SEO and readability recommendations force you keyword stuffing or disregard the importance of LSI. Sometimes, this may lead your post out of the subject. So, If you use Yoast SEO, especially as a WP beginner, you should take these suggestions as exactly that – only suggestions.
Yoast SEO
Overview of All in One SEO Pack. 

All in One SEO Pack, on the other hand, was primarily created in 2007 to help people to rank higher in search engines. 
All in One SEO comes with a similar box setting to edit SEO settings on each post and page. You simply edit the title, description as shown in the fig below. One major difference you notice is, there is no content analysis or SEO scoring unlike in Yoast.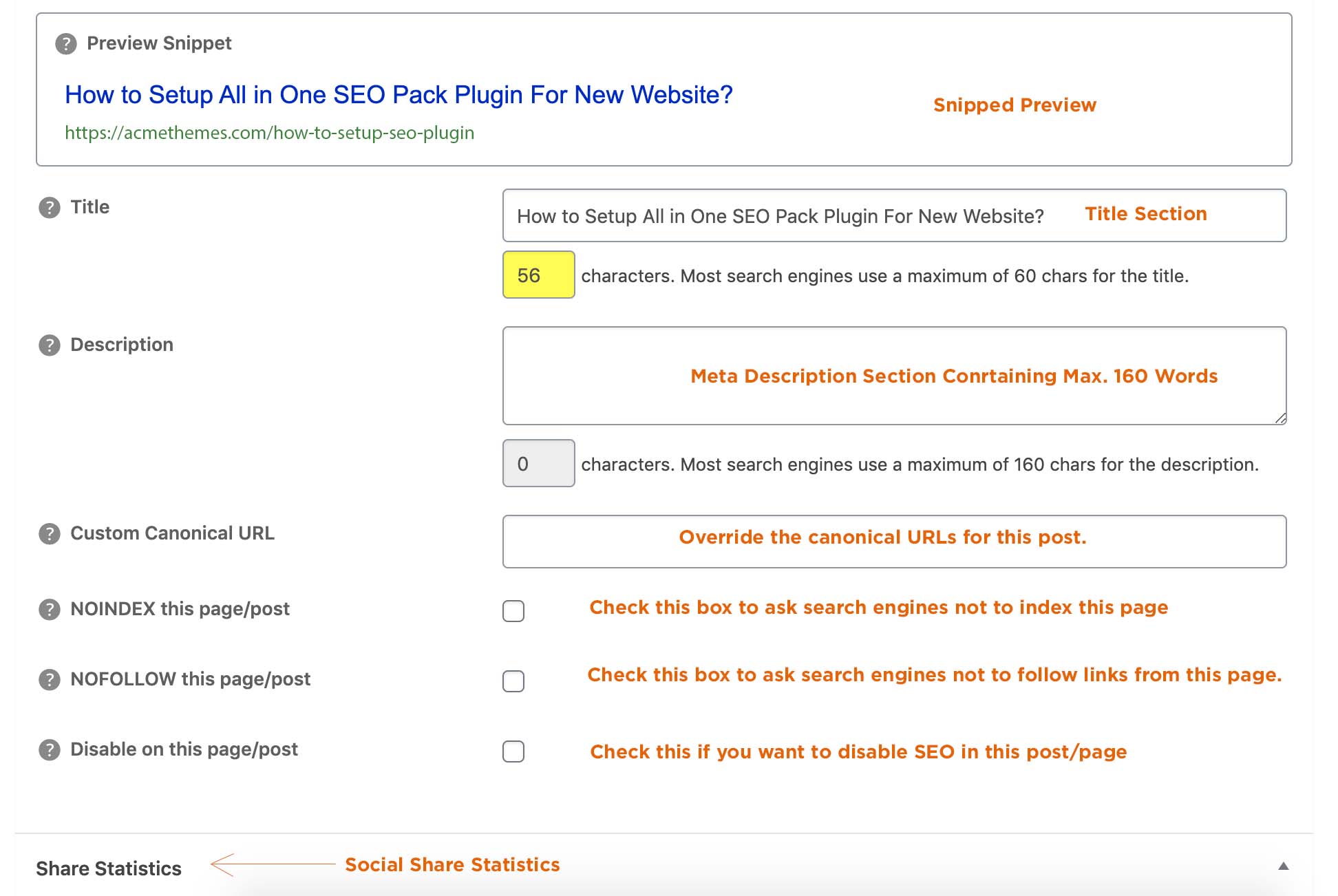 You can manually enable or disable features like Social Meta, Robots.txt, Sitemap.xml, Video Sitemap, File Editor, Importer/Exporter from the Feature Manager as shown in fig.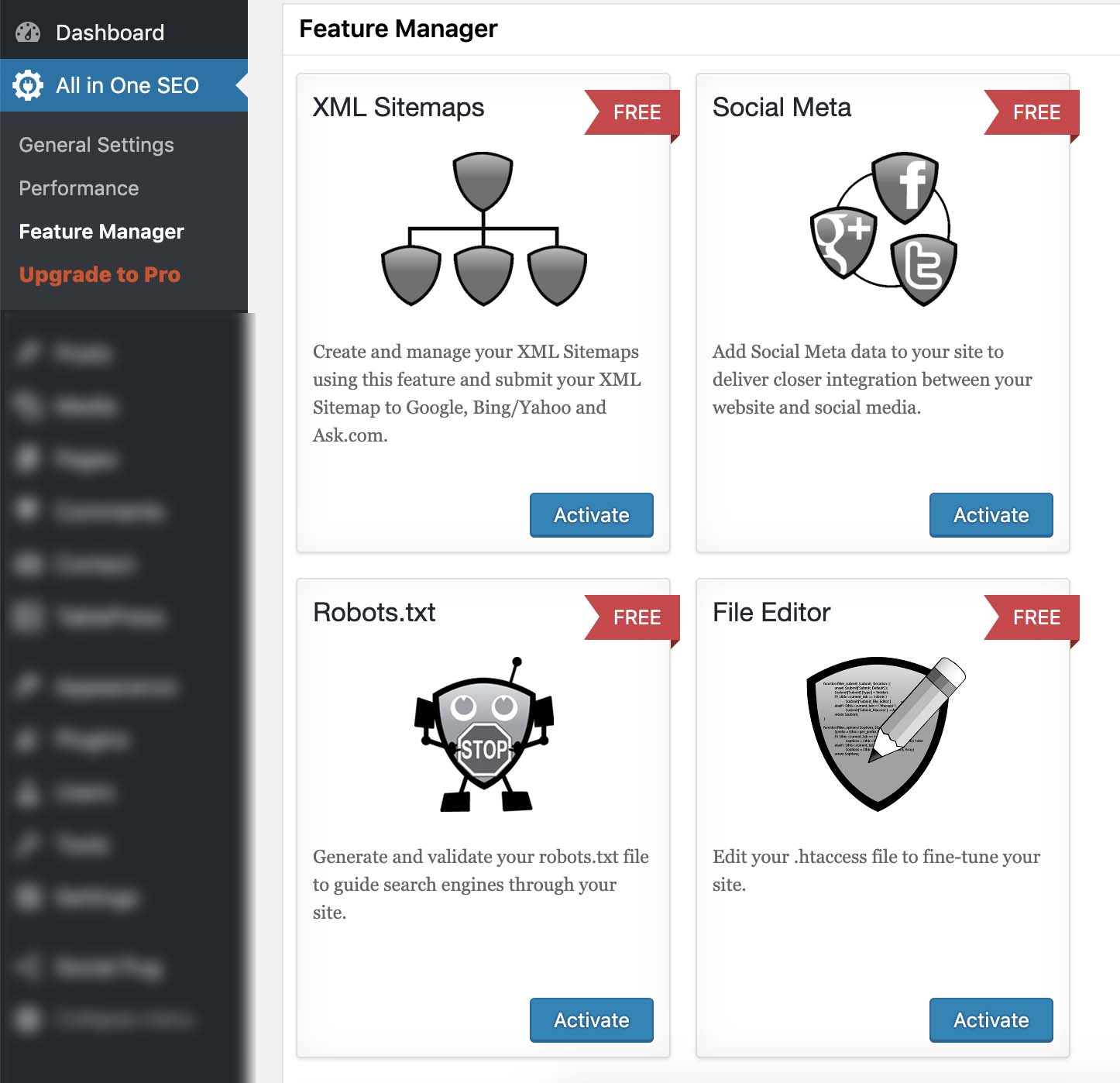 All in One SEO Pack Features
XML Sitemap support
Image XML Sitemap
Google AMP support
Advanced Canonical URLs
Automatic notification to Search Engines after making any changes
Automatic title optimization
Premium [Paid] Features
Advanced Support for WooCommerce
Advanced Google Analytics tracking
SEO for Categories, Tags and Custom Taxonomies, and many more…
Pros and Cons of All in One SEO Pack
One good thing about the All in One SEO Pack is simple and easy to set up. When it comes to setting up SEO for individual posts, things are much simpler here – you can edit the title and description. What is more, you can use All in One SEO Pack's advanced tools to control indexing and search engine following as well as turn it off for a particular post. On top of that, the All in One SEO Pack offers lots of features in the free version that you should not pay a single penny.
But there is no content analysis or SEO scoring unlike in Yoast.  All in One SEO does not have breadcrumbs navigation and importing data from Google Search Console features. However, not having these two features wouldn't have any drastic impact on your site's SEO. The free version of All in One SEO comes with no support. The All in One SEO Pack Pro version comes with one year of professional support.
All in One SEO – Best WordPress SEO Plugin – Easily Improve SEO Rankings & Increase Traffic
What is Common in Yoast SEO and All in One SEO Pack?
Both of the plugins are developed with the same goal – is making SEO tasks easy for WordPress websites. The plugins come with many features as much as possible to be the number one SEO plugin in the market. Some of the common features of these plugins are
Creating and editing XML Sitemaps and Robot.txt files for a website
Meta Descriptions and Titles
Social media integration
Available in Multiple Languages
Avoiding duplicate content with canonical URL
Schema.org Markup and many more …
Yoast SEO and All in One SEO Pack Stat as of 2019
| | | |
| --- | --- | --- |
| Features | Yoast SEO | All in One SEO Pack |
| Users | 5+ M | 2+M |
| Ratings | 4.9 Stars (26,857total ratings) | 4.5 Stars (467total ratings) |
| Started | 2008 | 2007 |
| Price | $89 for single-site including one-year free update and support | Varies for Individual, Business, and Agency |
| Created By | Joost de Valk | Michael Torbert and Steve Mortiboy |
| Available Languages | 41 Languages | 53 Languages |
| Video Tutorial | Dedicated Video Tutorial | No Dedicated Video Tutorial |
[Extra] SEO Tool for WordPress Users
WordPress SEO is a complex list of tasks that requires the usage of multiple SEO tools and plugins. While Yoast SEO Plugin and All In One SEO Pack are fast to set up for WordPress installations and configurations, you still can miss essential SEO features for ranking high in Google. We found SE Ranking to be the most user-friendly software for SEO and online marketing professionals. It can analyze competitors, select keywords for keyword lists, get rid of site technical errors, examine broken links, and much more. Mind that once you've done with website optimization, there's a long path to overcome to get organic traffic and grow conversions.
SE Ranking Features
Keyword rank tracking for multiple GEO and devices
SERP features monitoring
Integration with Google Analytics and Google Search Console
Keyword suggestions and analysis for organic and paid search
Detailed site audit with issue descriptions for crawled pages
The on-page check covering content, metadata, link analysis
Backlink profile analysis including new and lost links, referring domains, and anchor texts
Auto reports and page changes monitoring
Conclusion!
After comparing all the features and functionality of these two plugins, now we are clear about these two plugins. At the same time, we are clear about the fact that the plugin is not going to create awesome content for us.
Having said that, installing plugins only does not make that much difference. However, choosing a good plugin may help us to do a task more effectively.
We use Yoast SEO as it is easy and features like consistent snippets in the search results, breadcrumbs setting, canonical URLs, etc. Yoast SEO also generates SEO and Readability Score which is quite helpful for determining keyword density and English readability. On top of that, the Yoast Team has lots of video tutorials about how to set up and SEP tips, whereas All in One SEO Pack seems lagging in making tutorial videos. According to our experience, Yoast is a good choice for a beginner as it makes it easy to optimize and hides most of the good stuff behind.
This makes Yoast a #1 SEO Plugin and stands out in the WordPress Community.
Other Posts: