Yoast vs Rank Math SEO Plugin – Which One Is Better?
When it comes to WordPress SEO plugins, there are three main plugins that come into mind. They are, Yoast, All in One SEO Pack and Rank Math. For beginners, it is quite difficult to make a decision about which plugin to use as they work pretty much the same.
Yoast SEO is in the market for a long time and it has already established a user base with over 5 million active installations. There is a strong foundation for the Yoast SEO plugin trusted by millions of creators around the world. This proves that Yoast SEO is undoubtedly the best plugin in the market.
On the other side of the game, there is a Rank Math, which is kind of new in the market but this plugin is gaining positive reviews from the users. With its handful of features, its popularity is rapidly growing in the SEO industry.
This brings us confusion that to which one is the best SEO plugin for a WordPress website? Why should you use Yoast or Rank Math?
In the previous post, we have compared the two plugins Yoast SEO vs All in One SEO Plugins in detail. In this article, we are going to compare two of the top SEO plugins, Yoast and Rank Math. 
How Does Plugin Help a WordPress Website?
SEO plugins themselves are not enough to maintain the overall SEO strategy. These plugins just guide a content creator while creating content. The basic guidelines like title text, meta description, keyword density, content readability, image alt text, length of the content, and many more. Basically, SEO plugins help you optimizing content for search engines like Google, Bing, Yandex to outrank your competitors, better known as On-Page SEO.
These plugins also help to create an essential file like robots.txt,  sitemap.xml. The plugin automates your WordPress SEO, helps you optimize your posts, and gets you ranked higher.
Yoast SEO Introduction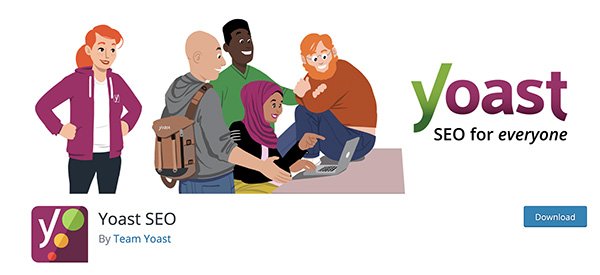 Yoast SEO plugin is one of the best and most downloaded WordPress plugins as of now. This WordPress SEO plugin helps you with your search engine optimization. Since its launch time back in 2008, Yoast has helped millions of people all across the world.
Yoast SEO does everything in its power to please both visitors and search engine spiders. A dedicated team of developers, testers, architects, and SEO experts works daily to improve the plugin with every release.
So, basically, Yoast SEO is for a business owner, professional blogger, a content creator, a developer, or an SEO expert. It helps you keep your website in perfect shape.
Core Features of Yoast SEO Plugin
The SEO analysis
Readability Analysis
Snippet preview for Desktop and Mobile
The most advanced XML Sitemaps functionality at the push of a button.
Full control over site's breadcrumbs
Canonical URL to avoid duplicate content
Indexables feature introduced from 14.0 version
Premium [paid] Features
Social previews
Insights tool for focused keyword/keyphrase
Article optimization for synonyms and related keyphrases
Automatic internal linking suggestions and many more
Pros and Cons of Yoast SEO Plugin
Yoast SEO plugin is as popular as it offers a lot of flexibility with your content. You can set up titles, meta descriptions and Social Media sharing information for each post and page. One of the best things about Yoast SEO is its beginner-friendly features. However, in their quest to facilitate newcomers in using Yoast, the creators have basically hidden all the advanced options – making you manually turn custom fields on. On top of that, Yoast SEO and readability recommendations force you keyword stuffing or disregard the importance of LSI. Sometimes, this may lead your post out of the subject. So, If you use Yoast SEO, especially as a WP beginner, you should take these suggestions as exactly that – only suggestions.
Rank Math Introduction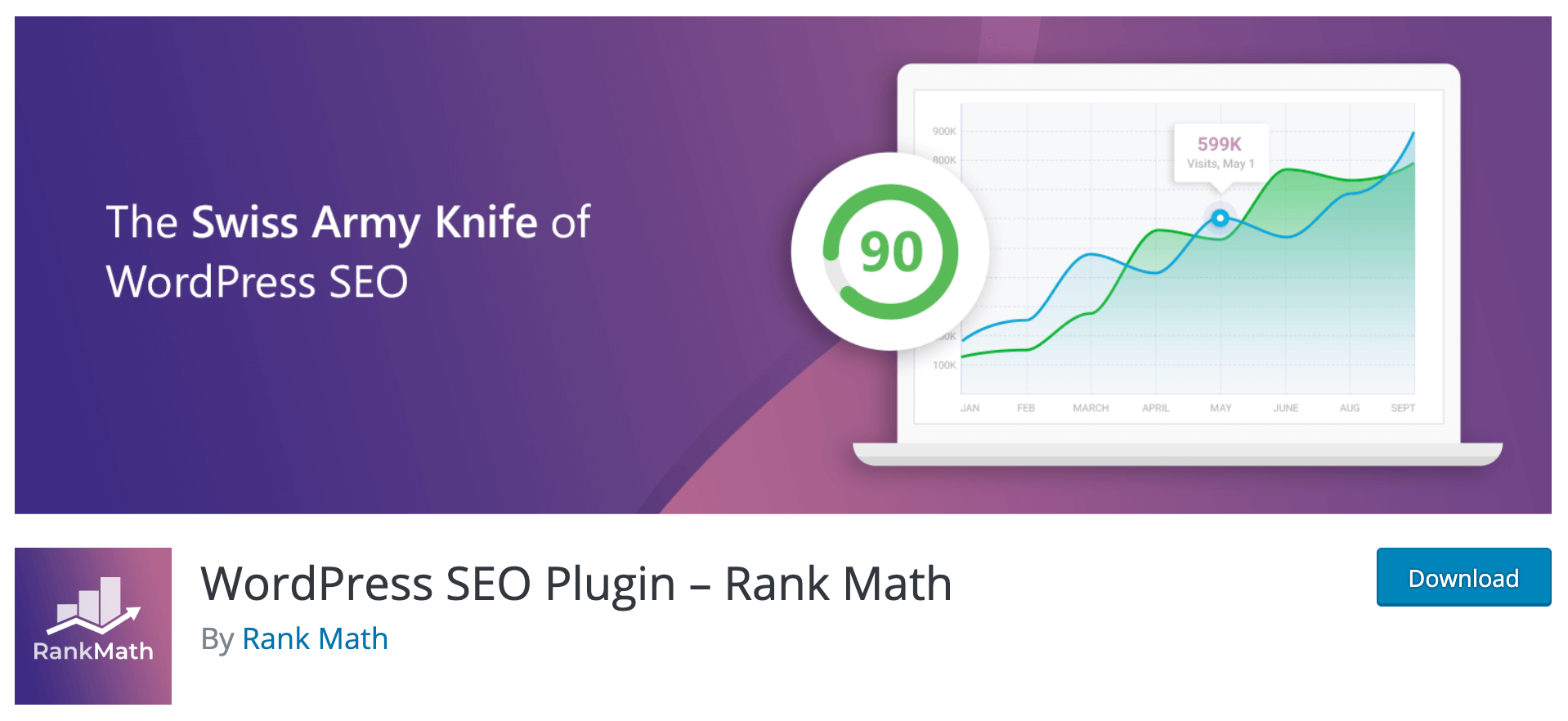 RankMath is another plugin for Search Engine Optimization (SEO) for WordPress. Plugin developer claims that Rank Math is the swiss army knife of SEO tools for WordPress.
Rank Math Features 
Easy to follow the setup wizard
Clean and Simple User Interface
Modular Framework
Code optimized for speed (Lightweight)
Great support
Bulk Edit Titles & Descriptions of All Your Content
Rank Math SEO – Best SEO Plugin For WordPress To Increase Your SEO Traffic
Yoast Vs. Rank Math – Set Up Configuration
Setting up is the first feel of any software and this makes a huge difference in the first impression of people. So, let's compare the setting up of each of the plugins.
RankMath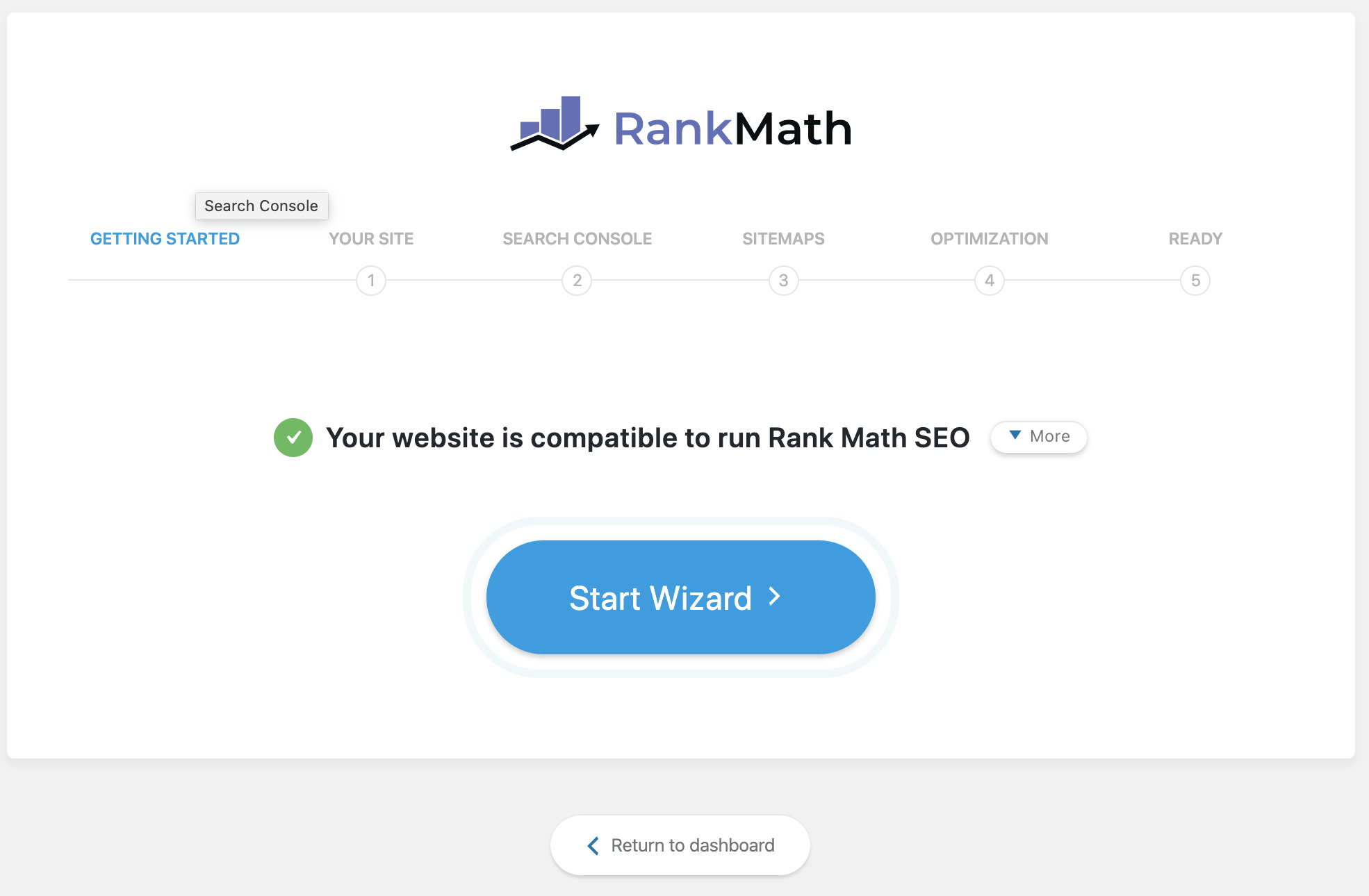 RankMath setup is quite easy and clean in design. After the installation of Rank Math will bring a 5 steps installation wizard. You can create an account via Google, Facebook, or email. But this is skippable.  After that, you are required to site name, search console details, sitemap configuration, advanced optimization, and confirmation of the setting. Once you finish the setting, you will be able to go for more advanced settings.
Yoast SEO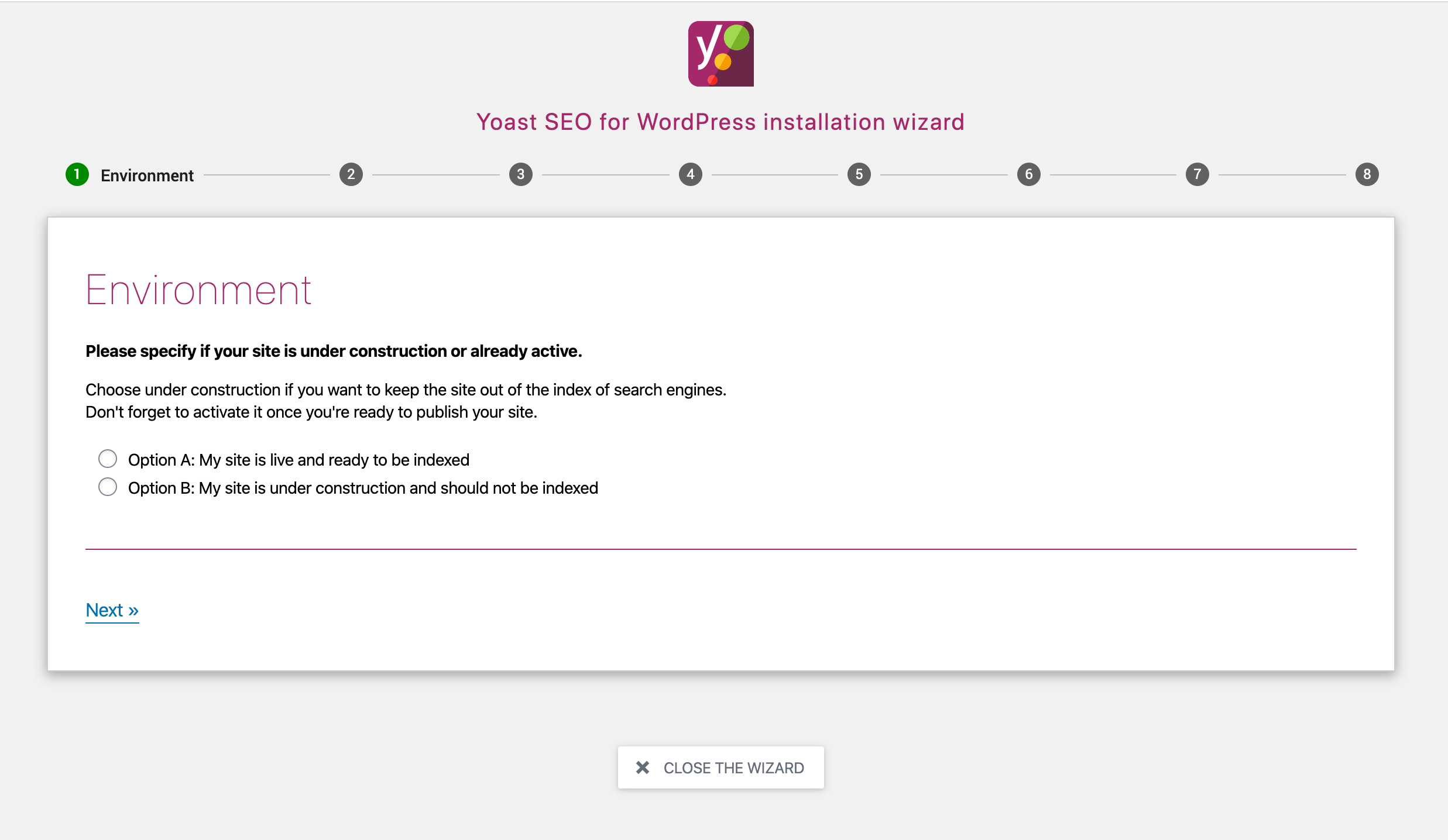 Yoast, on the other hand, provides 8 Steps setup wizard where you have to set up basic settings like site type, organization type, search engine visibility, authors option, title setting, etc. One difference you notice in Yoast is there is a video guide embedded during the setup process. Which might be helpful for beginners.
So,
I think setup wise both plugins provide a great user experience. Rank Math offers more options like search console, sitemap and SEO optimization option which helps automate some of your SEO tasks like making external links no-follow, redirecting attachment pages.
Yoast SEO vs. Rank Math – User Interface
The user interface is a crucial part of any software tool. A clean and minimalist user interface attracts more people and creates value for the users. Let's discuss about the user interface of each plugin.
Yoast SEO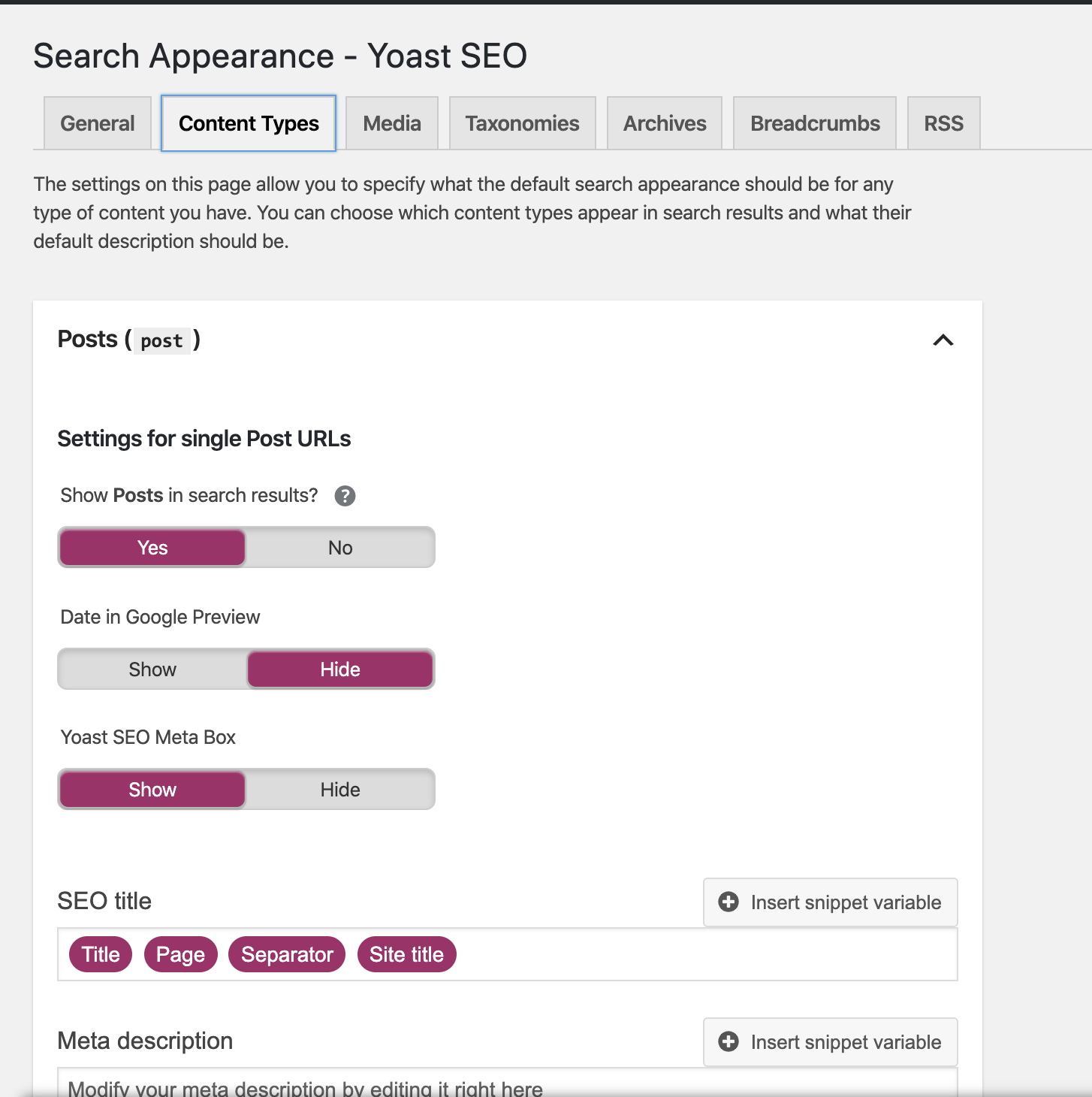 As far as UI is concerned, Yoast SEO focuses more on functionality than aesthetics. Sure, you can get everything done with all the options neatly organized under well-defined categories. But there is no helping the fact that the Yoast SEO UI seems a bit bland and uninspired.
Rank Math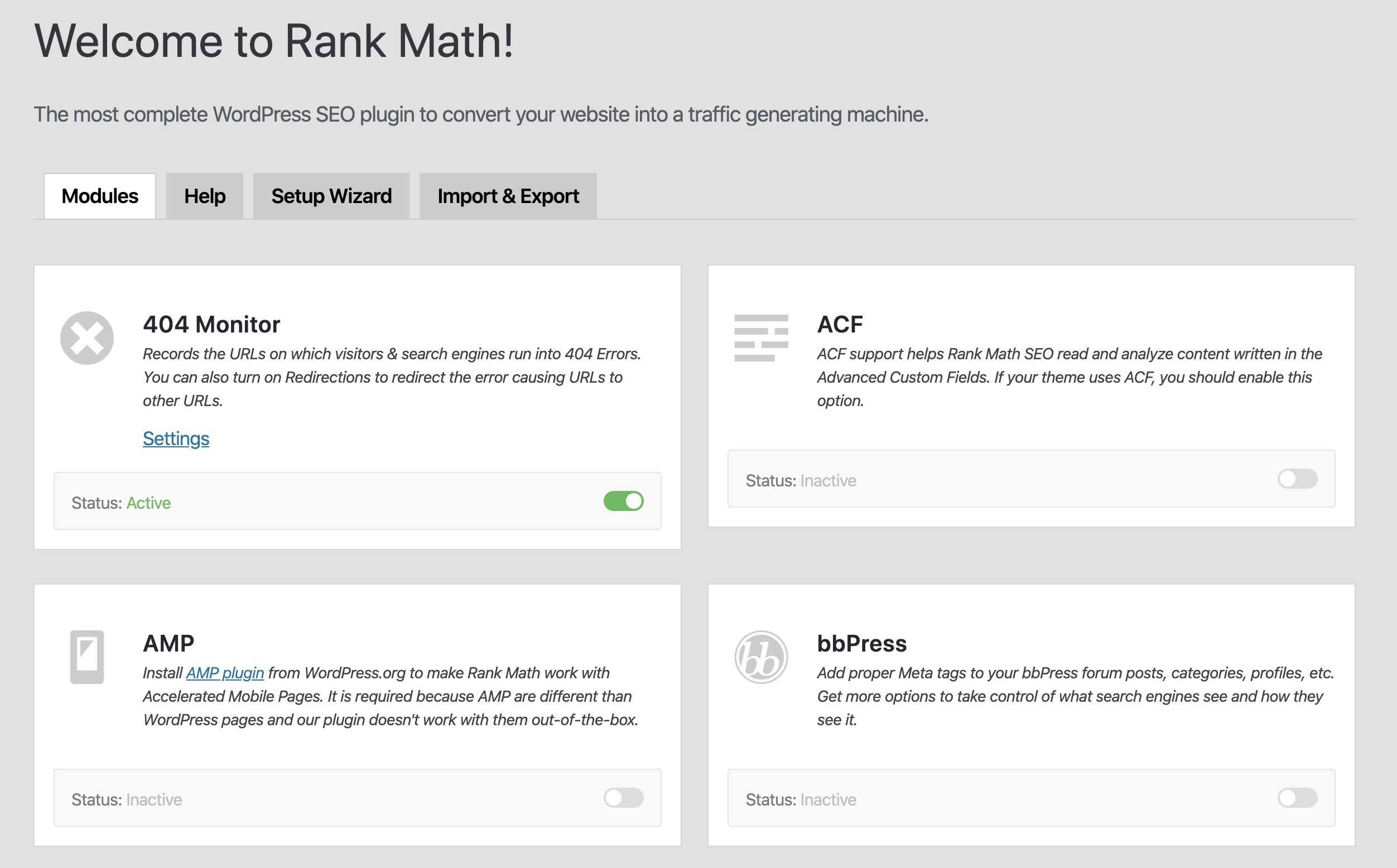 Rank Math offers a clean dashboard. You can easily turn on and of different features one by one. Each feature is clearly described inside the box along with its status. Rank Math implements a visually attractive interface that not only looks and feels modern but also enhances the user experience.
I personally found that the rank math interface is slightly easy to use. having said that, Yoast has not had that difficulty setting either.
Yoast vs. Rank Math — Keyword Assigning
This feature allows you to populate keywords, write title and meta description, set the permalink, and set the focus keyword of the content. This is an essential part of an SEO tool and without properly maintain these settings, you can't just optimize your page or post. Both plugins allow you to assign keywords, titles, and meta, permalink and apply different methods to show you how your content looks on the Google page. The following picture shows the keyword assigning interface of both of the plugins.
Yoast SEO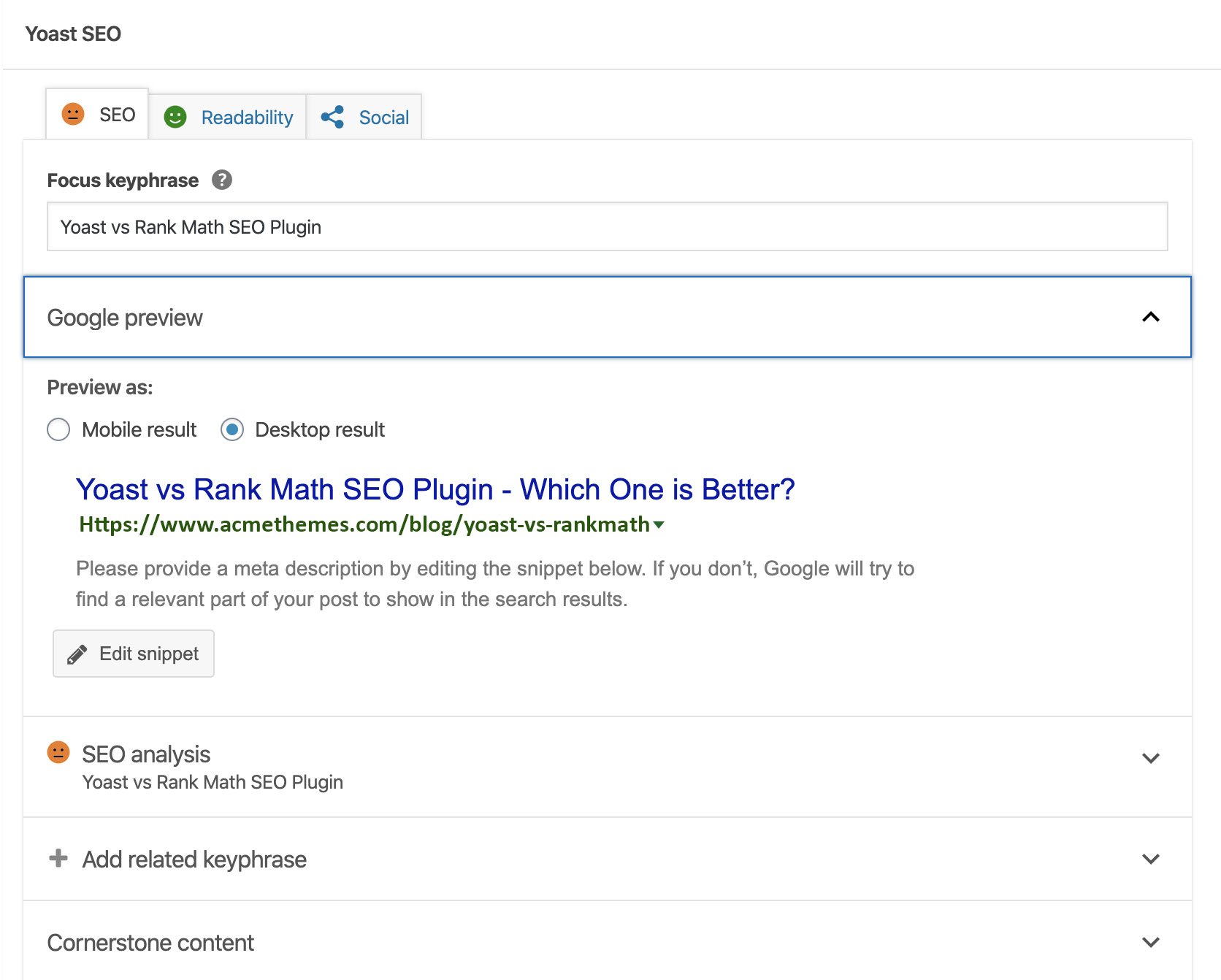 The free version of Yoast allows you to assign a maximum of one keyword to your content. If you want to optimize for multiple keywords, you need to purchase the premium version.
Yoast represents the optimization level of content as green, orange, and red signals. You can analyze the SEO score, readability score,  and Google page preview (both desktop and mobile). Keyword assigning tools is quite easy to use.
Note: Premium Yoast SEO also analyzes the different word forms of your keyphrase, like plurals and past tenses. And not just that, it can analyze different languages – English, Dutch, Spanish, German, and French.
Rank Math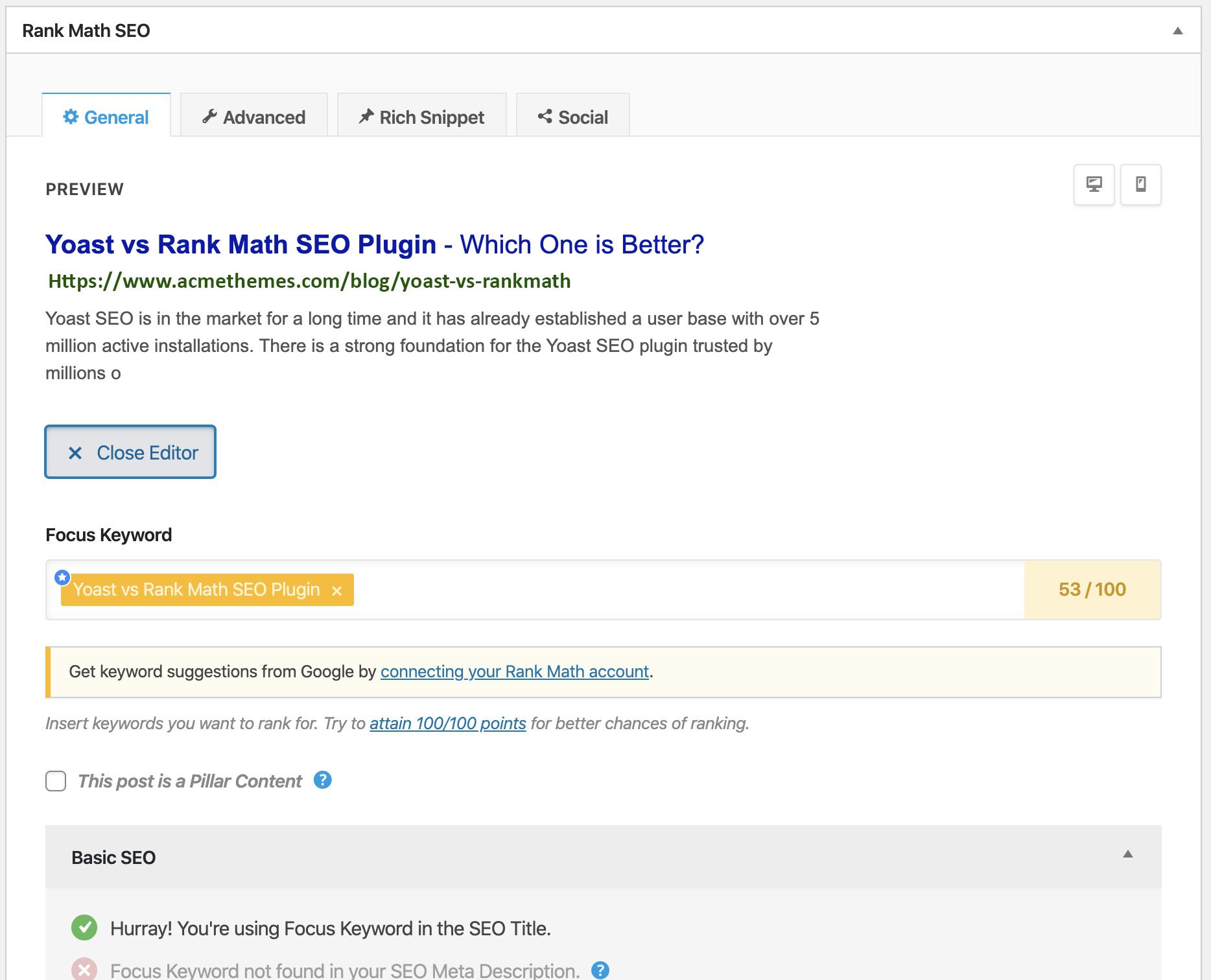 Likewise, Rank Math lets you assign a maximum of 5 keywords for optimization, but you will need to create an account for that which is free. The title, meta, and permalink setup works exactly the same as Yoast and also shows the preview (both mobile and desktop) of the Google page. Rank Math shows the score in the number from 0-100. Generally, if your score is above 80, it turns into green colors. So, you need to optimize your content until your score turns green color.
Moreover, Rank Math can give you keyword suggestions immediately once you start typing the keyword in the "focus keyword" textbox.
The keyword assigning option for both plugins does an excellent job.  The Rank Math gives you a scoring system and Yoast gives you a color signal. It is entirely your decision which one is more appealing for you.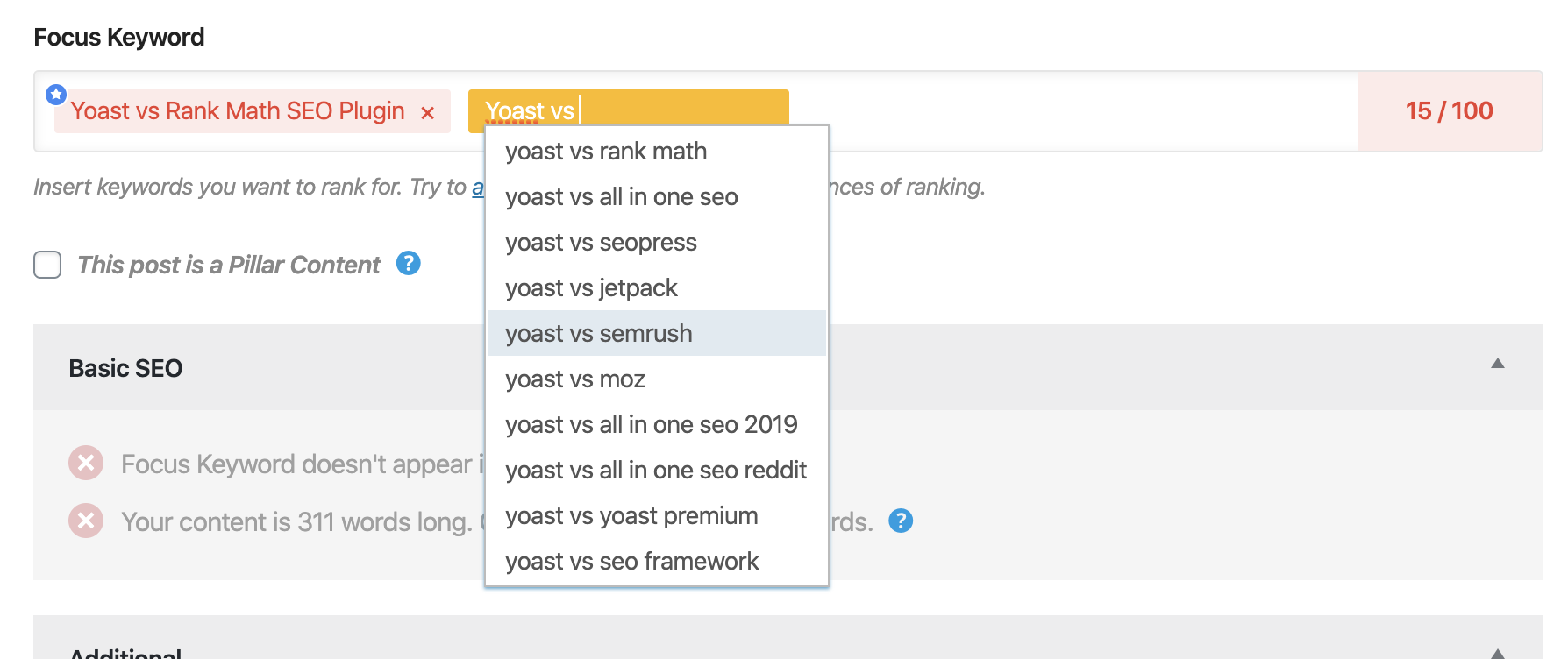 One good thing about Rank Math is, it will automatically start suggesting different keywords as well as longtail keywords based on Google keyword suggestions as shown in the image above. Whereas Yoast lacks this feature.
Yoast Vs. Rank Math – Performance Comparison 
Talking about the performance, we are not quite sure because it is a technical term. But RankMath claims itself a very lightweight, fast, efficient, and well-coded. On the other hand, the release of version 14.0 of Yoast SEO introduces a new feature called 'Indexables' which improves the performance of your site and makes it faster. With this feature, Yoast SEO indexes your pages and put the date in a single table in your database
As a user, you do not feel that difference in this case.

Yoast Vs. Rank Math  – Pricing 
Talking about the pricing of these two plugins, RankMath is completely free as of now. Whereas Yoast SEO is freemium, meaning you have to pay to get access to some of its features. Rank Math may go in the premium version after a while but as of now, you can enjoy full fledge features for free.
Yoast Vs. Rank Math – Google Search Console Integration
When it comes to Seach Console integration, Rank Math makes it much easier. You can integrate the Seach Console during the setup process, all you have to do is input and verify your Gmail account, and it will fetch the associated Search Console data in your WordPress dashboard.
Yoast SEO also allows you to integrate the search console. But it does not provide an interface where you can see your search console records directly.
Yoast Vs. Rank Math – XML Sitemap Integration
A Sitemap file is an important part of any website when it comes to indexing. Without a sitemap, your site can not be fetched by Google's crawler.  Both Yoast and Rank Math SEO plugins generate the sitemap of your website automatically. The URL of the sitemap will be different for both plugins, however, that does not impact on the site.  In both plugins, you can generate custom sitemaps once respective post types are available on your site, such as news sitemap, image sitemap, etc.
Yoast Vs. Rank Math – Updates
Rank Math brings updates more frequently as compared to Yoast SEO. And you can deem these frequent updates in two ways – either Rank Math is too uncompetitive and gets so many bugs and problem reporting, or it is trying to grow too fast. Rank Math defends their regular updates by saying that they are trying to keep with Google's updates and algorithms change. For example, they immediately added new Schema Markups after Google's update and they removed the readability options after the BERT update came up.
Choice is Yours
There is no significant difference between these plugins so that we could directly suggest a particular plugin. You can pick up any plugin. I personally found Rank Math is easy to use but that might not be the same for you.
Yoast is in the market for a long but Rank Math is new compared to Yoast. So, there is more trust in Yoast from millions of users. My suggestion is if you are using the premium version of Yoast then you better not switch. But if you are using free Yoast then you can try both and make a decision later.
---
Other SEO Articles:
If you liked this article, then consider following us on Twitter and Facebook and LinkedIn.