How Content Marketing is Important For A Business in 2023?
Content marketing stands at the core of any business in today's digital world. It can be used for both building trust as well as securing a position in the industry. In this article, we are going to cover in detail about the topic "Content Marketing".
What is Content Marketing?
Content marketing is one of the marketing approaches by distributing valuable content to the targeted audience. The ultimate goal of content marketing is to drive the traffic to the website and convert them into customers. It is also called the art and science of using instructive, informative, or entertaining content to reach out to a specific set of the target audience, convert them into customers, and nurture them to incite loyalty.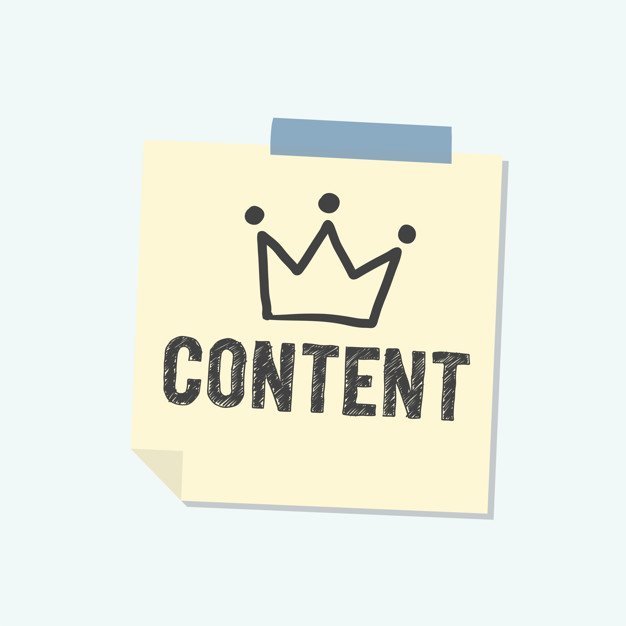 If you produce valuable content that aligns with your prospect's online behavior, you're already on your way to creating the first impression. The potential customers gauge your credibility by the level of online influence you have and content is the best way to establish that.
Delivering helpful content at every stage of your buyer's journey paves the way for customer loyalty. Throughout the journey, your buyers come up with a lot of unique questions. You use content to answer their queries, validate their purchase decision, and delight them to encourage advocacy actions.
If you have the perfect niche in mind, but are having trouble coming up with a good domain name to use for lead generation and content marketing, consider using a domain name generator. Just add some keywords that are associated with your niche and the generator will do the rest.
Content Marketing Trends in 2023
---
The effectiveness of content marketing continues in the year 2023. While written content is definitely useful, visual materials such as infographics or videos are performing better when it comes to marketing and they will continue to be one of the most often-used strategies for 2023.
The importance of publishing high-quality content continues to increase with Google's prioritization of user experience and advancements in its Panda algorithm. After the BERT algorithm, Google better understands the nuances and context of words in searches and better match those queries with more relevant results.
It is simply far easier for people to remember visual information than the same information in text form because the human brain processes visuals 60,000 times faster than text. That's why marketing videos and especially infographics are all the rage now:
Infographics can increase web traffic by around 12%. (Demand Gen Report)
Posts with images usually have a 650% higher engagement than text-only posts. (Webdam)
30% of marketers use graphics, such as infographics, more often than any other type of visual content(Venngage)
Content with relevant images gets 94% more views than the same content without images (Quick Sprout)
– Check the infographics below ?
---
Content Marketing Lifecycle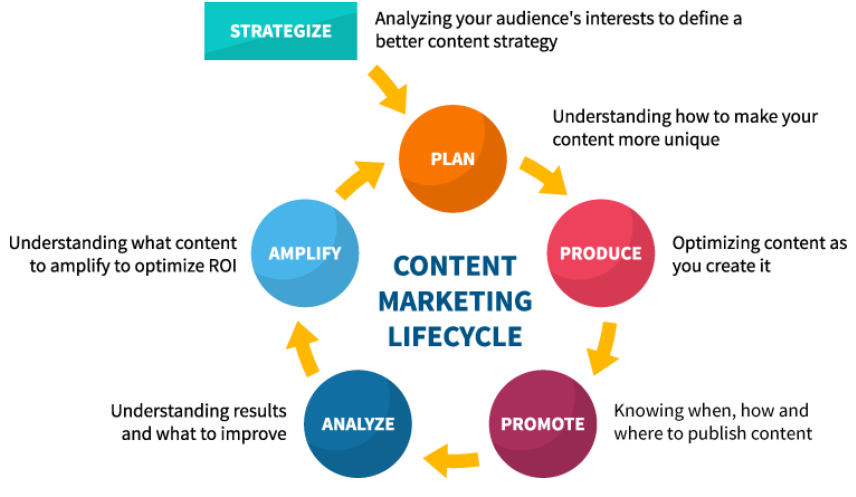 Make Strategy
Make Solid Planning
Produce High-Quality Content
Promote it
Analyze the Result
Amplify it
Make Strategy
Making a strategy is the first step take in content marketing. This involves analyzing audience interests and defining a content strategy.
Make Solid Planning 
After analyzing your audiences, make solid planning on how you are going to provide value to potential customers. You have to understand how you are going to make unique content for your audience in this phase.
Produce High-Quality Content
This step involves creating actual content. Create something that your target audience comes online to find. Entertainment, free tools, information, a newsletter, videos, recipes… or anything else they might want to look up online. One important thing you have to take care of it creating content with SEO in mind. Make sure your content looks pretty, is SEO-friendly.
Promote it
Publishing and sharing that content in a way that makes it as easily accessible to your target audience as possible. You can use various channels for promoting your content.
Analyze the Result
Analyzing content involves taking the feedback from the audience and making changes to improve it. Understand the result and know what to improve.
Amplify
After all the steps, you finally understand what part of the content is to amplify in order to increase the ROI. This is where you check the result and make an improvement.
8 Content Marketing Tactics That Work in 2023
---
Adding content marketing into your overall marketing mix can increase your site's sales and profit margins significantly. Rather than slogging away to get traffic and new leads, turn your website into a lead magnet with these handy content marketing tactics.
1. Blogging
Blogging is probably the best and most effective way of doing content marketing. Almost every business websites have a blog section on their websites. It creates an opportunity for people to discover your content, as well as amplify the perceived value of your brand.
You should be creating the content as a part of your business ecosystem so that people get to know more about the products and services you offer. Whether it is products or services, try to provide value to the targeted audience so that they turned out to be regular audiences and also loyal customers.
2. Guest Posting
Guest blogging also called guest posting is another great way to get more exposure. The very first step to getting started with guest blogging is finding out a popular website in your niche. This way, you can reach new audiences by providing valuable insights into their interests.
3. Newsletters
The newsletter is another content marketing tactic. In fact, the newsletter is the most cost-effective way to amplify your brand presence. You need to collect the email address via different forms and send them newsletters on a regular basis offering them deals and offers. In this way, customers recall your brand and contact you at the time they need you.
4. Develope Videos
Video contents are a great way to get your business discovered and develop an online following. You can share your video content through various video-sharing platforms like Youtube, Vimeo, and other sites.
There are billions of people looking for video info on products or services in several niches. You can even go a step further and promote your content on YouTube through Adwords.
5. EBooks
A well-crafted ebook gives you credibility and qualifies the reader so that they are prepared to do business with you. It eliminates the risk and price barriers that prevent people from going through with the purchase. It is also easier to upsell higher-ticket items to these prospects.
Selling an ebook is one way to improve your business's revenue stream, however, it can also be used to create PR opportunities to get more exposure for your business.
6. Use Social Media
Social Media is another great way of reaching a wide range of audiences. For example, you can publish regular content on LinkedIn. There are plenty of opportunities to amplify your online presence by using various social channels.
7. Podcasting
Podcasting is another content marketing channel where you talk about a specific topic and distribute it in audible form.  You can check out the best content marketing podcast for ultimate content marketing.
8. Webinar
A webinar is an offline event, being a speaker means that you get an entire audience focusing on you. This means you can share value and pitch your products or services directly to that audience. A webinar works in the same way and can be used as a part of your business's 'freemium' model, where the audience gets access to valuable information for free before they chose to proceed with a purchase.
---
Content Marketing Infographics [2019] – by HubSpot

Other SEO Articles:
✅13 Essential SEO Tips For WordPress Website
✅10 Common Off-Page SEO Techniques
If you liked this article, then consider following us on Twitter and Facebook and LinkedIn.