What is On-SERP SEO? 10 Best Tips to Optimize For On-SERP SEO
Google always tries to give the best possible result to its users.  So, there are lots of things to consider for better results in the Search Engine Ranking Pages (SERPs).
In our previous article, we have covered On-page SEO, Off-page SEO, Technical SEO, and Local SEO. You as a content producer need to focus on developing quality content for both Search Engines and Users. This is something that sounds like a white hat SEO. But there is another term called On-SERP SEO.
Now in this article, we are going to cover the On-SERP SEO in detail.
What is On-SERP SEO?
On-SERP SEO is the technique of optimizing the website to increase visibility in the SERP. With the On-SERP SEO, you can optimize your content for the zero-click results.
"Zero-click searches refer to a search engine results page (SERP) which answers the query right at the top such that the user doesn't need any further clicks to complete the search. A zero-click search is one that satisfies the search intent at the top of the SERP."
The concept of On-SERP SEO is to bring the brand on the front page of Google as much as possible. The ultimate goal of On-SERP SEO is to increase your click-through rate (CTR) and generate more organic traffic.
In the past days, meta title and description were the only SERP content that you could control. But now, there are more methods available for optimizing your on-SERP presence.
For that, you need ta take care of following elements –
A featured snippet
Meta Title and Description
Schema Markup
Ask boxes
Image and Video search
Map Pack
Google My Business
Google Sitelinks
Connect All Social Media Channels
Run paid ads
Importance of On-SERP SEO
Let's look at the data published by SparkToro about the click behavior of users.
The statistic shows that, among 40 M+ browser-based searches on millions of desktop and mobile devices in the United States, more than half of the Google searches resulted in zero-clicks. See the figure below-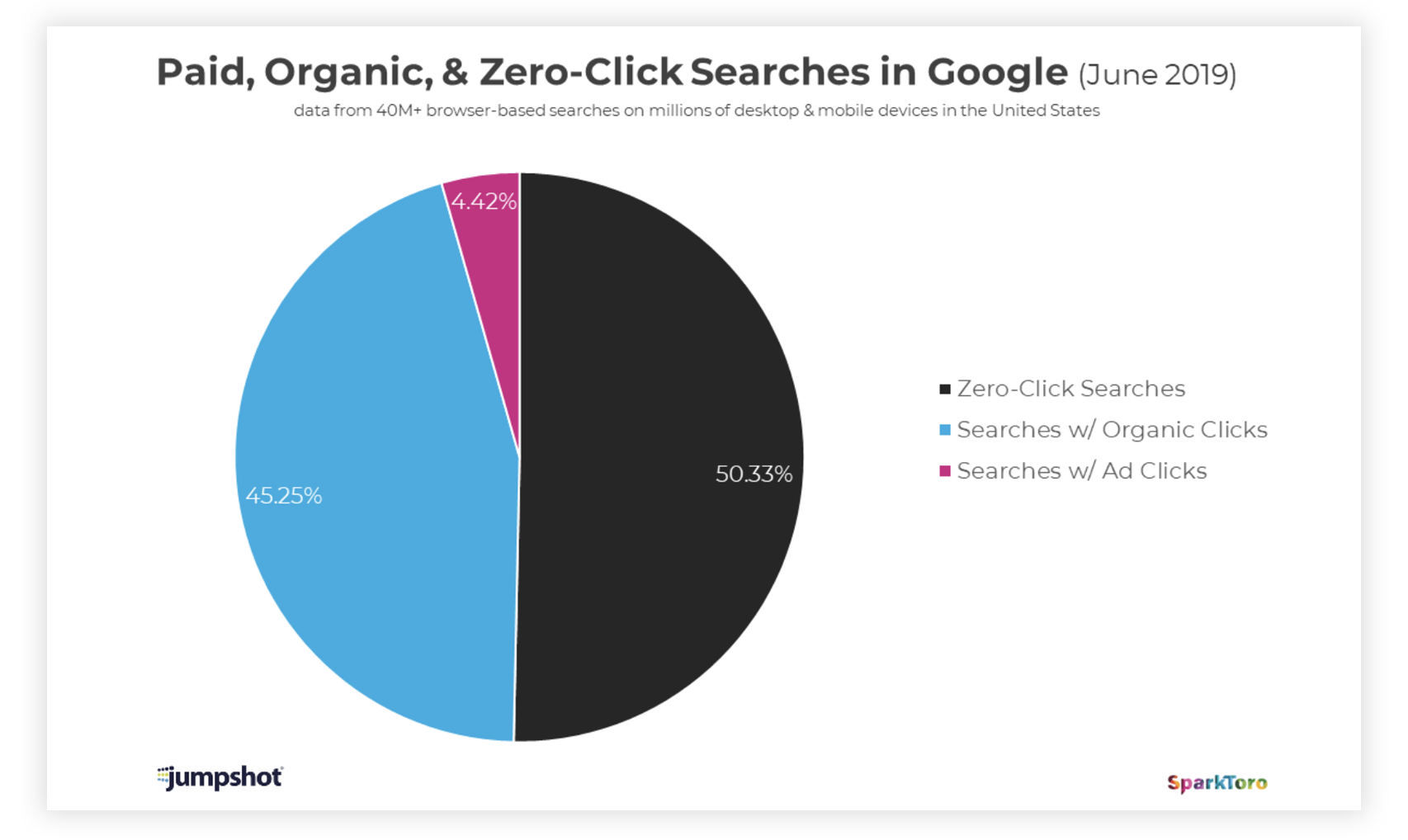 On-SERP SEO helps in enhancing the visibility of your brand in the search results. It does not only increase the traffic to your website but also build trust in the search engine.
---
10 Best Tips to Optimize For On-SERP SEO
Optimizing for the On-SERP SEO involves various techniques. Some of these techniques are a part of on-page SEO techniques. But how is an On-SERP SEO is different from On-Page SEO?
Let's describe the best On-SERP SEO techniques one by one.
1) Aim For Featured Snippet
Featured Snippet is a rich result that shows in the zero position on Google. The zero position is the top page in the search listing. Following is an example of featured snippets on the keyword "Pinterest SEO tips 2020".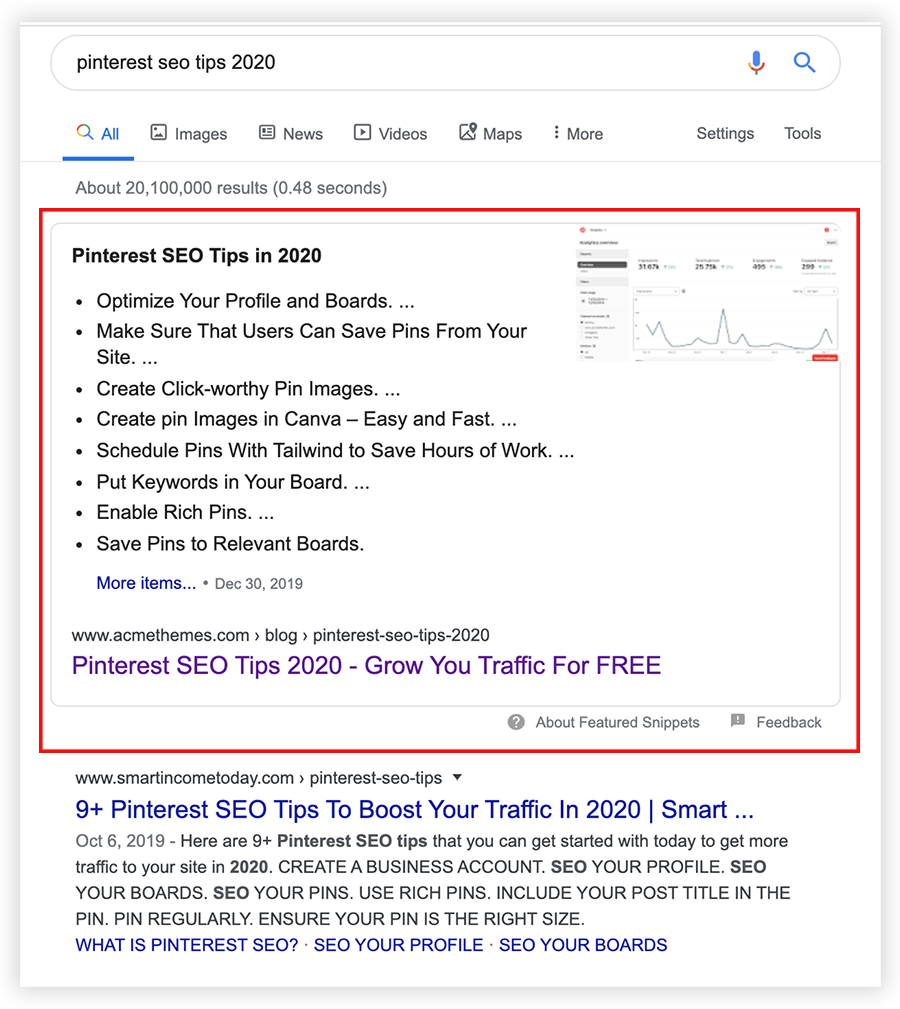 .
Because of the trend towards zero-click searches, winning a featured snippet is a great way to increase awareness and defeat your competition for impressions. In general, the best way to win a featured snippet is to organize your content in a way that is logical and indicates to Google that you have a useful, succinct answer to the question being asked.
Note: The latest announcement (January 2020) from Google has stated that webpages in a featured snippet position will no longer be repeated in regular Page 1 organic listing.
2) Optimize Meta Title and Description
Optimizing Page Title is another most important factor for SEO. Although meta title and description are not only the SERP content that affects SERP results, meta title and description are still an important part to take care of.
So, you need to put a catchy and powerful title s0 that the user could click it.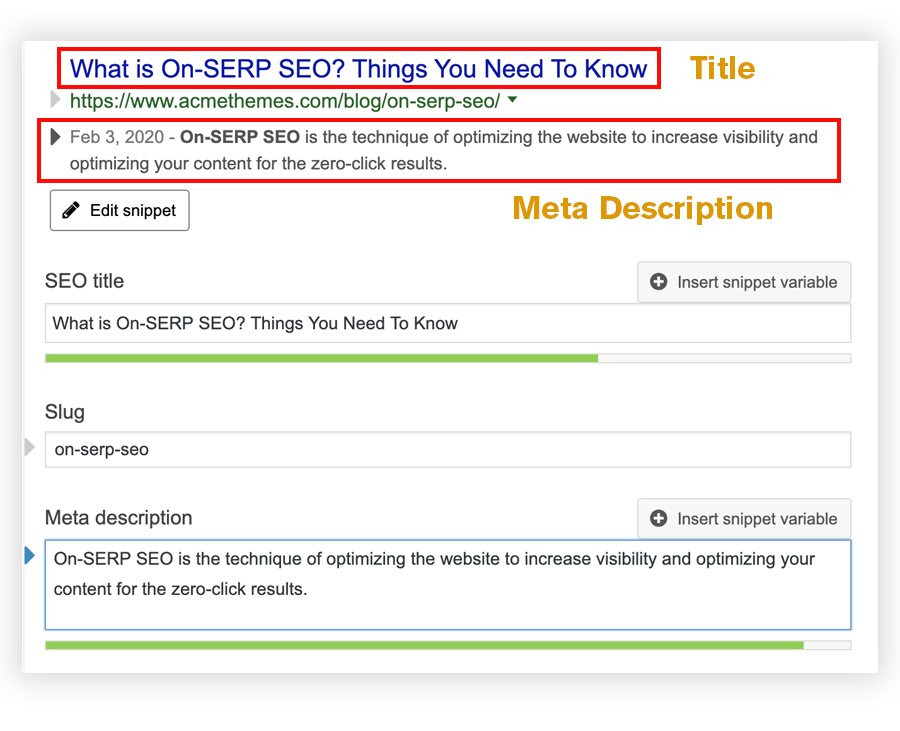 Tips:
You can include modifiers like, "Best", "Free", "Tips", "How to", "Guide", "Latest Date" etc.
Write title not more than 65 characters that perfectly fit on the screen.
The page title should always be in <H1> tag.
3) Add Schema Markup in Appropriate Sites
Schema markup helps search engines understand the topics of your content better via structured data. A rich snippet is a result shown on the Google page along with some other additional information so as to add value to the result. It stands out from the other snippets when it comes to the priority.
From the user's perspective, just by looking at the result of the rich snippet, they get to know more about the content.  Because it is more appealing to the users, posts with rich snippets are likely to get more clicks. If the click-through rate (CTR) of your blog post increases, you will get more traffic. Ultimately, rich snippets will affect your ranking as well.
The following image shows the difference between rich snipped and normal snippets.

Rich snippets can not be used in all types of content. The following are some of the content types where rich snippets can be used.
Recipe
Event
Apps
People
Products
Business and Organizations
How can you get rich snippets? 
You have to add structured data to your site so that Google can show a rich snippet. A piece of code in structured data tells Google to extract the maximum relevant data for rich snippet result. You can test the structure of your article using this Structure Data Testing Tool.
4) Optimize For Ask Boxes
Ask Box is the box area on the Google page shown in the tabbed form. The number of questions are shown up in this box based on the user's query. Users generally click in these boxes when they are looking for a particular answer.
Optimize for ask boxes by answering the question in a structured way in your content. Get the idea of the related questions by analyzing the LSI keywords, Google Keyword Planner tool. You can insert the FAQs box (Gutenberg) within your content that lets your content to result for ask boxes. I recommend installing Gutentor for amazingly designed FAQ boxes.
Following is the example of how an ask box looks like in Google's page.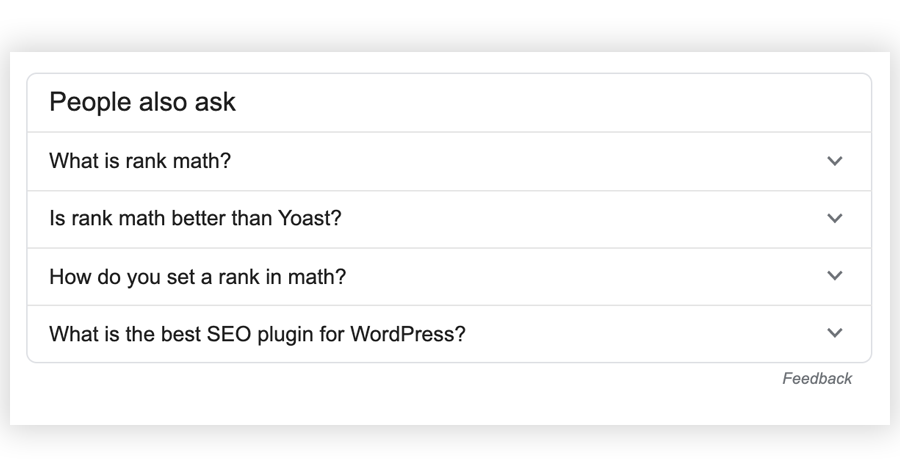 5) Focus on Image and Video Search
Optimizing image and video content is one of the best practices in SEO. In fact, this practice also falls under the On-Page SEO. Based on the user's query, video or image of your website have a better chance to appear on the front page via the image or video carousel.
However, the result might appear in different positions in the result page, so they're not as fixed as featured snippets.
Just look at the example of video results in the following example.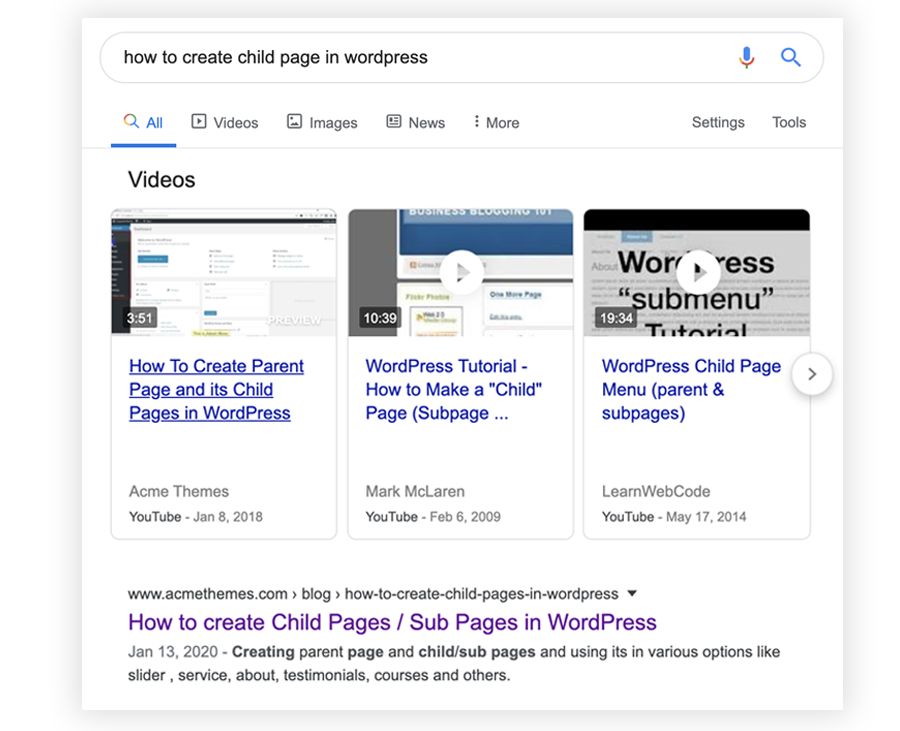 Schema markup and optimization are important with video and image SEO, especially because there are brands that won't take the extra step to work on it. For videos, make sure you have video schema markup (more on schema markup next).
6) Add Map Pack
Google's Map Pack can be a great way to get in front of potential customers and clients locally. The local map pack is a listing available on some searches that includes a scrolling list of businesses within a category. A map pack contains the Google map location, star ratings, contact number, and website. You need to optimize for Local SEO in order to optimize the map pack.
Read detail about Local SEO techniques here.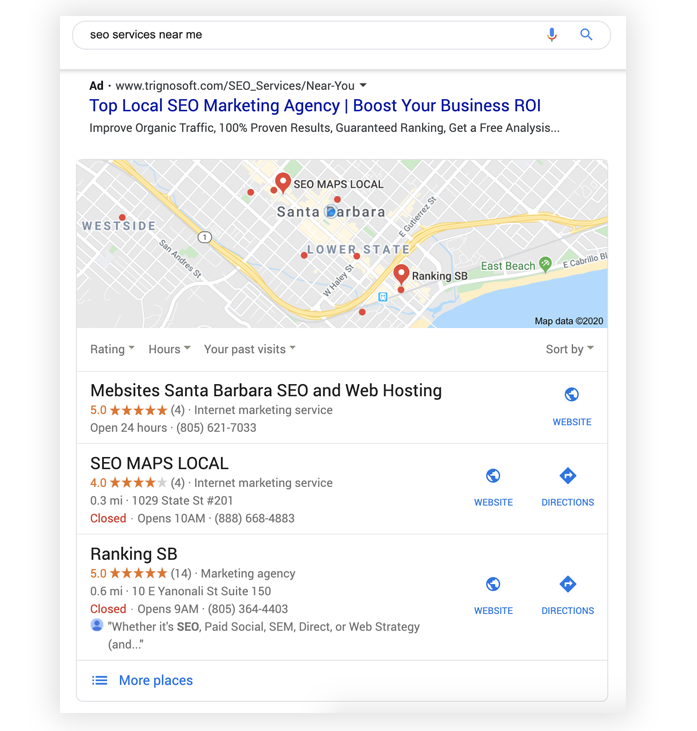 7) List in Google My Business
Getting listed in Google My Business is another best approach for On-SERP SEO. A Google My Business listing is important for appearing in both places on the SERP. Google will show the rich result on the right side of its page along with the related information.
Check out an example of Google My Business result below.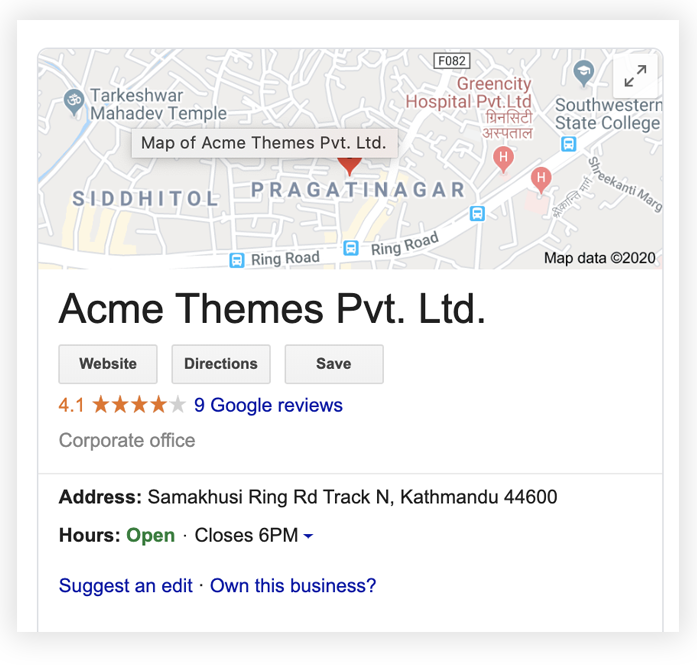 8) Google Sitelinks
Google Sitelinks are sub-listings that appear under the first result in the search result. Sitelinks increase the visual space of your search results by displaying the most important pages of your website directly within your search result. This results in direct navigation on your website.
Although you can't force Google to display sitelinks, you can create a clear navigational structure – with strong internal links to the core pages, as well as anchors and alts tags that are descriptive – to increase your chances of Google displaying your sitelinks.
Google says –
"Our systems analyze the link structure of your site to find shortcuts that will save users time and allow them to quickly find the information they're searching for . . . We only show sitelinks for results when we think they'll be useful to the user."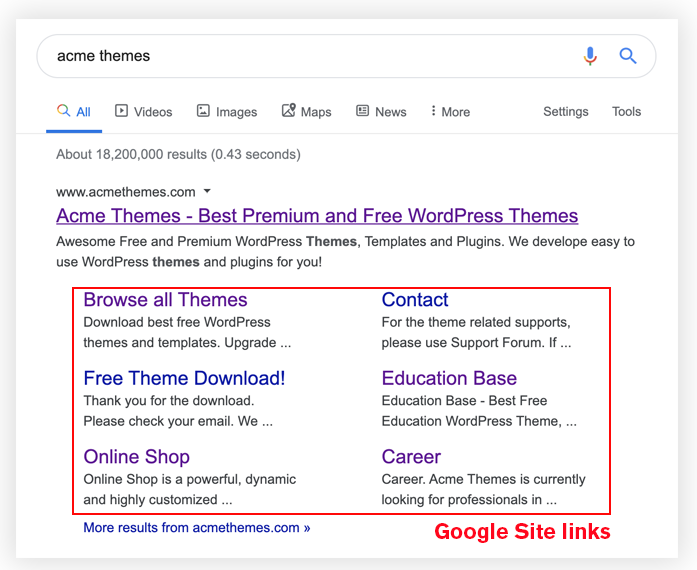 9) Connect All Social Media Channels
Social media channels play a great role in traffic to any website.
Google uses its knowledge panel to display all the information about your business in one condensed spot.
Connecting social media will provides more opportunities for the user to click on a search element that you own and control. Your social media profile may help in building brand awareness among customers.
10) Run Paid Ads
Although running ads cost you, it helps you to get an extra spot at the top that Google can't take away from you. People are searching for keywords that your brand belongs to. In this case, you have to find out the cheapest keywords that you can run ads on so get more clicks on your website.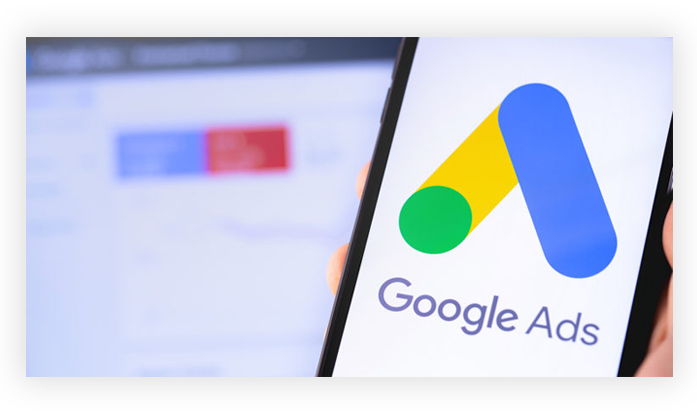 Lastly, in today's world, digital marketers and companies need to be well versed in adopting the changing technology. In order to compete with the rapidly changing world in the competitive market, you need to care about lots of things at once.
Just follow the above techniques to win the traffic to your website.
---
Related Article 
If you liked this article, then consider following us on Twitter and Facebook and LinkedIn.