What is Negative SEO? How To Be Safe From Negative SEO?
When it comes to the term "Negative SEO", it is something that most of the people don't want to talk about. There are also lots of misconceptions about this term. But, it is a good practice to always keep your eyes on your site from each and every perspective.
After Penguin Update (April 2012), Google strictly looks for the manipulative links. Unusual black hat techniques are something Google does not like. So, your competitors may apply some of the black hat tactics to downrank your website. However, this happens in a very rare case.
Is "Negative SEO" is still a good topic to talk about in 2020?
What actually is this term, what are its main type and how to avoid negative SEO attacks? In this article, we will discuss Negative SEO and related terms in detail.
What is Negative SEO?
When someone performs an irrelevant activity on the website by using a black hat technique that is called negative SEO. It is the act of showing search engines that a website is not relevant by following various off-page and on-page techniques. On the best way to perform negative SEO is by linking from the various low-quality websites with irrelevant anchor texts. Website owners can combat it by disavowing all low-quality backlinks.
Negative SEO can be done in many ways, but the most common type of negative SEO is a link based on negative SEO. However, there are many other techniques that unscrupulous people can use to try to reduce your rankings.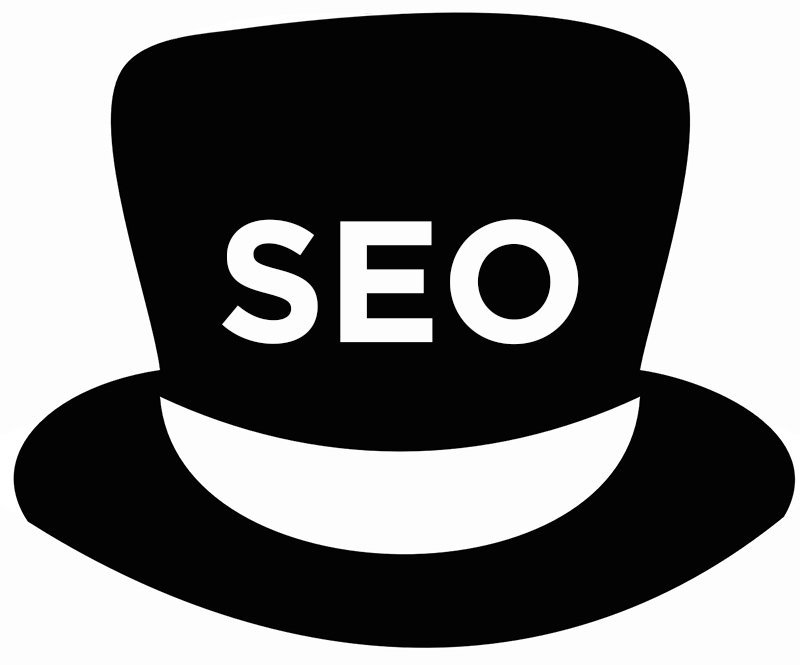 Some negative SEO examples:
Hacking your website
Linking your website from hundreds (even thousands) of low-quality sites
Sending thousands of unnatural traffic bots to website
Pointing the website using keywords like porn, viagra, online betting, gambling, etc
Creating fake reviews
Creating multiple replications of website
Why Would Someone Commit Negative SEO?
There is no exact answer to this question. In some cases, negative SEO happens from yourself too when you trying to apply black hat SEO with the intention of improving your website. But most people do this with the intention of making your website bad in the search engine's eye.
What Does Google Say About Negative SEO?
From the date of the Penguin update, a site with excessive spammy links is downranked from the index. This algorithm gave birth to "Negative SEO". Google itself is not quite sure about negative SEO as it is hard to figure out.
John Mueller – A Webmaster Analyst says –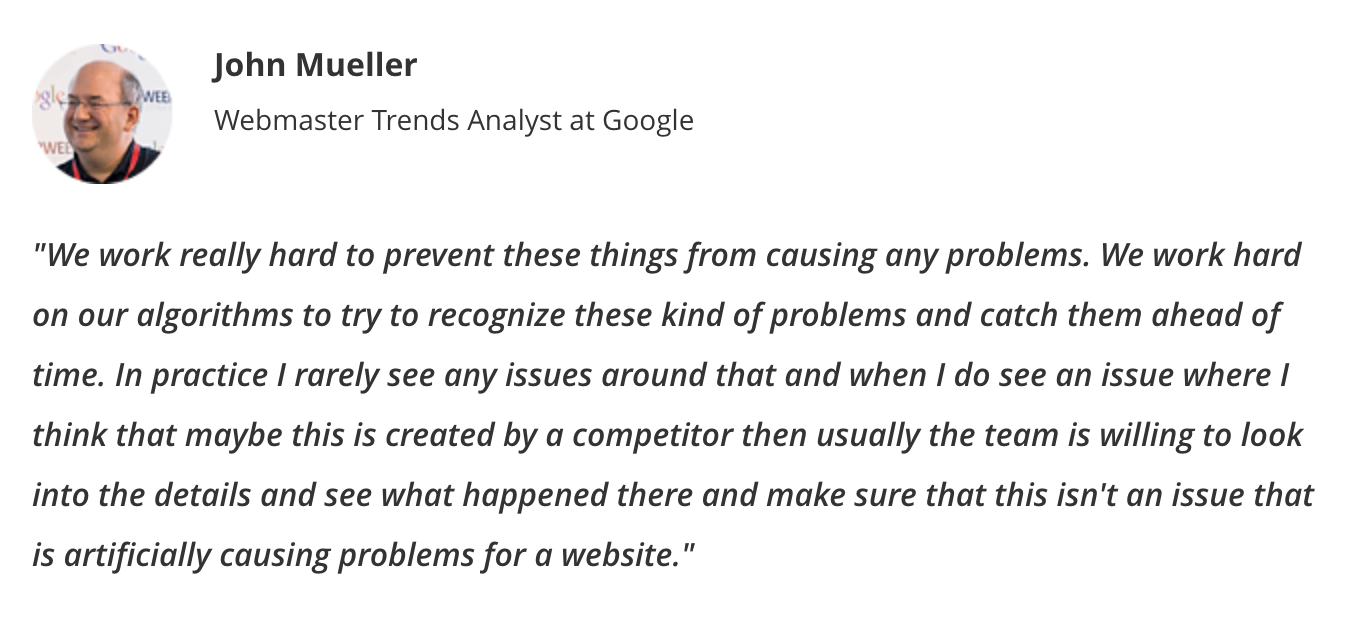 Types of Negative SEO
Negative SEO attacks can take place in a number of different forms, both off-page, and on-page. The below list will give you an overview of the most common forms of negative SEO.
Negative On-Page SEO
Negative On-Page SEO concept is the same as on-page SEO. Negative on-page SEO is a negative SEO activity done within the website. The following are some of the examples of negative on-page SEO.
Excessive Crawling
Content Scraping
Hacking
Excessive Crawling
Google has specific crawling timing. This is the Black Hat SEO trick is achieved by forcefully crawling the site and thus causing heavy server load. When your site encounters heavy server load, search engine crawlers will not be able to find your site. This affects your ranking index.
If you notice that your website is loading slower, or even can not access, contact your web hosting provers or webmasters. They should be able to figure out where the traffic is coming from. This way, you can monitor your website traffic and keep it balanced.
Content Scraping
Content scraping is the process of copying a block of content and publish on other websites. Scraped content results in Duplicate Content.
This is the scenario when someone copies you all website content and publishes on other websites then Google sees it as duplicate content and downranks all similar sites.
Hacking
Hacking the direct attachment to your website. This happens even if the attacker has no negative SEO in mind, a hacker attack per se can hurt your SEO. Usually hacking is done by highly professional tech nerds.
---
 Negative Off-Page SEO
Off-page negative SEO is essentially trying to wreck a website's backlink profile. There are a few techniques used to do this, such as:
Link Farming
Bad Reviews
Irrelevant Link Building
Link Farming 
This typically involves the use of link farms such as a PBN (private blog network) which is a network of sites created solely for link building. Attackers try to carry out negative SEO by linking to their target website from the link farm. Google then flags the target site for potentially being involved in spam activity. The attacker might also make things worse by using exact match anchor text for your target keywords to make your link profile look even more spammy.
Bad Reviews
Reviews are one of the good signals for the website to add value to the search engines. This is also one of the easiest ways to conduct for those who are jealous of you.
Irrelevant Link Building
Google does care about the quality of the link. In fact, backlinks are one of the major factors for ranking. A website having excessive Irrelevant and low-quality links can be penalized by Google. So, this is one of the common ways that someone follows for negative SEO.
How to Prevent Yourself from Negative SEO
---
Although negative SEO impact is something not controllable,  you can prevent yourself from negative SEO by implementing various techniques. There are many ways you can keep track of your website if it is affected by the unusual activities.
Here are some of the methods that you can use to prevent yourself from negative SEO.
1. Keep Track of Your Backlinks
Since backlink is one of the major factors for Google ranking, you have to keep tracking the backlink profile.
You can use the premium tool like Monitorbacklink. This tool lets you know about each and every link you get to your website through email. You can check the good and bad backlinks for you and the competition.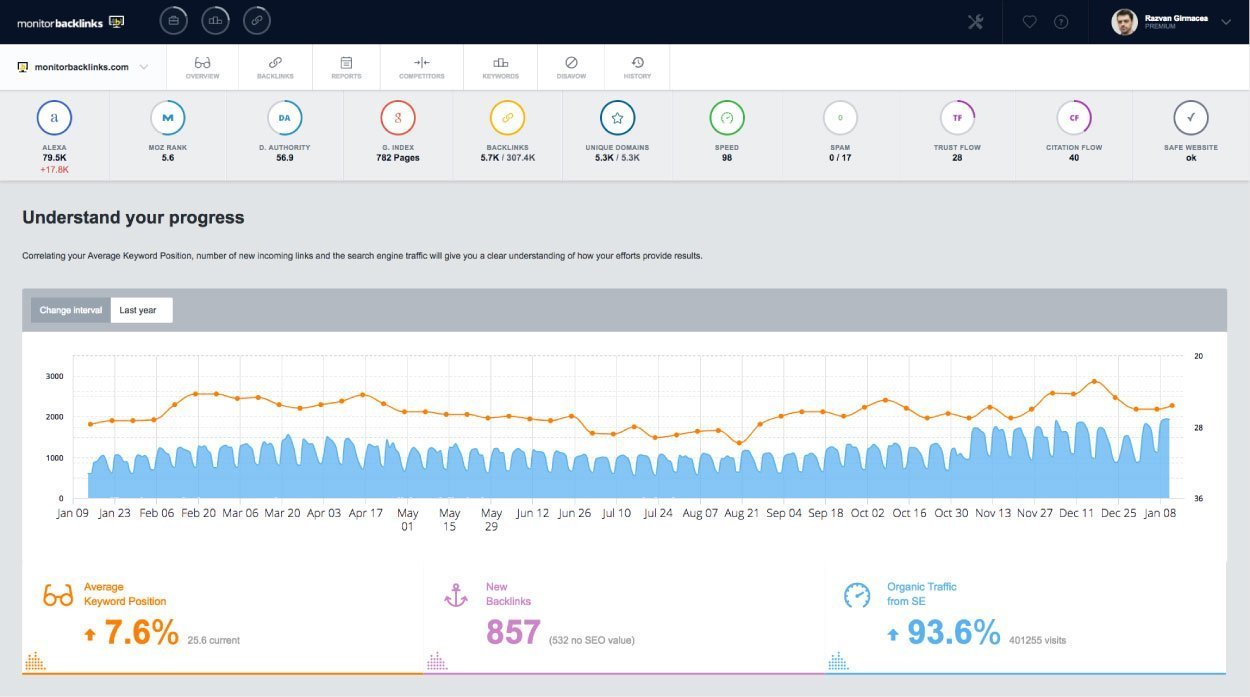 If you don't want to use a paid version of features then you can still check your backlink stats with its Free Tool. Besides this, you can also check the backlink profile from tools like Backlink Checker by Ahref and Backlink Analytics by Semrush.
You can remove the unnecessary backlink from your website by the Disavow backlinks process.
Note: You should disavow backlinks only if:
You are sure that spammy, artificial, or low-quality links pointing to your site.
The links have caused a manual action, or likely will cause a manual action, on your site.
Follow these steps for the disavow process
2. Keep Checking Duplicate Content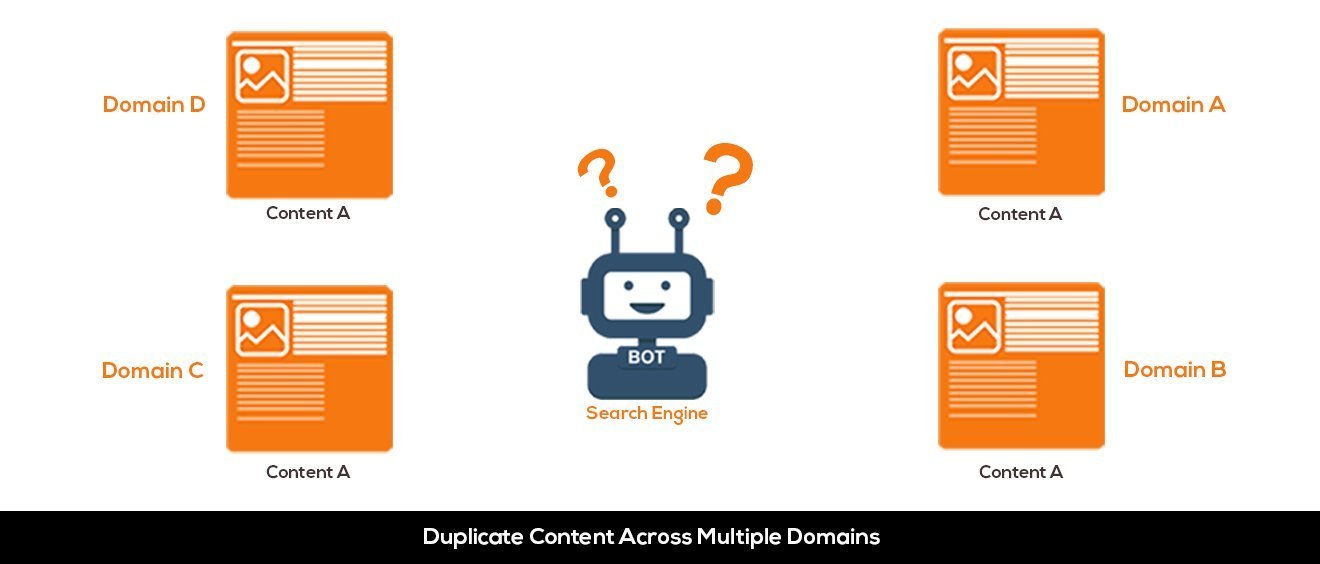 Existence in Duplicate Content results in a negative impact on your website.
You have to regularly check if there is duplicate content exists on your website. This is because if somebody is copying and pasting your website content on another website, all the websites with similar content will be penalized by Google.  You can use tool like Copyscape.com to check if someone published you exact content somewhere else.
3. Monitor Your Own SEO Strategy
As we have talked earlier, negative SEO sometimes occurs from your side too. This is completely an unintentional negative SEO attack. This is the case when you conduct absolute black hat practices deliberately with the intention of improving the site's performance. So, you need to keep yourself free from these activities.
4. Secure Your Website From Malware
Security is a pillar of your business website. You have to keep a strong password for your administrator logins. There are multiple ways you can keep your website secure. Some of these techniques include –
Setting up multiple authentications (Google Authenticator)
Keeping your password secret
Protecting your website by changing the login URL and preventing access to the wp-login.php page and wp-admin directory while not logged-in
Setting up a backup on a regular basis
5. Check Your SERP Ranking
You have to keep checking your websites crawl stat to make sure that robots.txt file is set up properly. This is because sometimes a change in robots.txt or one simple alteration could wreak havoc on your entire SEO strategy. A disallow rule is all it takes to tell Google to completely ignore your important pages or even the entire website.
Check Out This infographic by YourSEOPick.com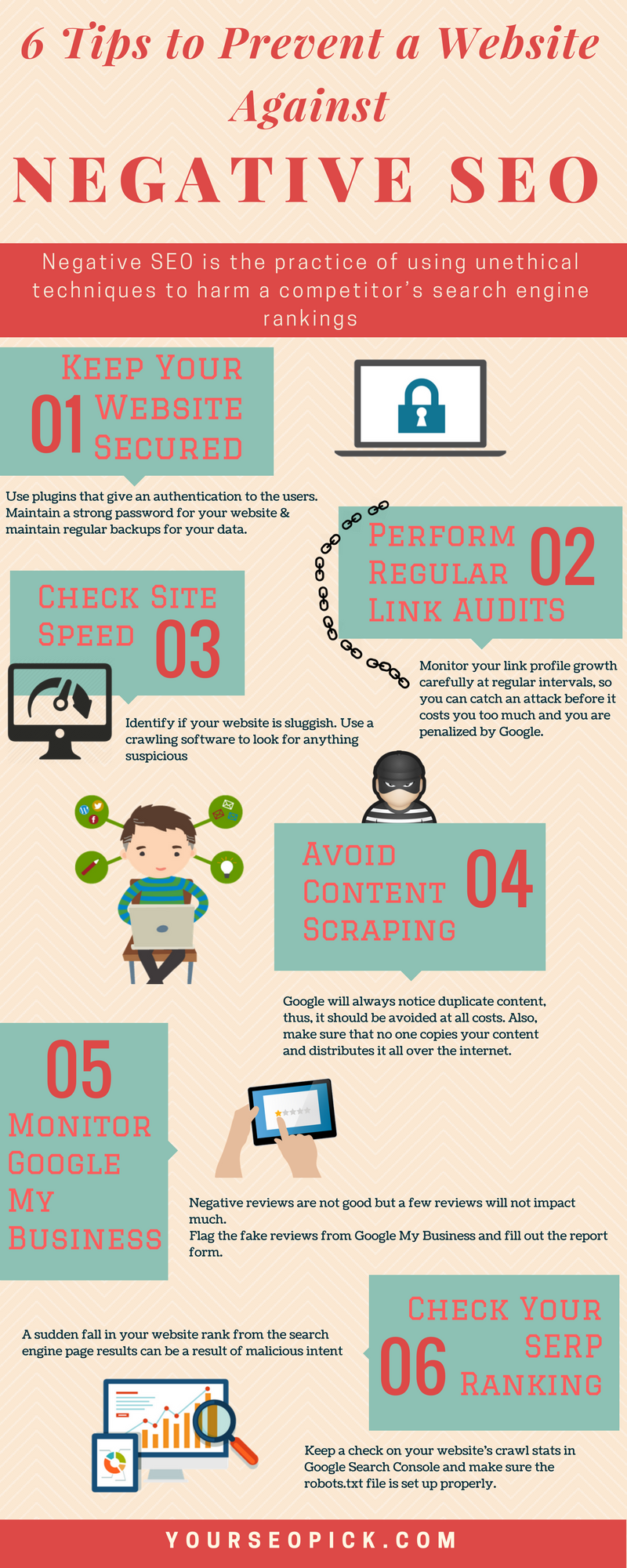 ---
Other SEO Articles:
If you liked this article, then consider following us on Twitter and Facebook and LinkedIn.