10 SEO Errors of WordPress Websites – Acme Blog
SEO Errors of WordPress Websites
WordPress powers more than a quarter website in the world. And the number is growing day by day. It is super easy to build any type of website with WordPress. Especially with the use of amazing plugins like Gutentor, you can create any type of website in a matter of an hour.
There is no doubt that WordPress is great for building websites. But building a website only does not make any sense. We need to build it in a way that people could easily find it on the internet. Also, we need to build sites in such a way that search engines like Google, Yahoo, and Bing love it. For this, we need to make our WordPress website technically sound from an SEO perspective.
If you randomly create websites on WordPress without considering essential SEO tasks then you will not get any traffic. If you do not get any traffic then your website is not going to make any business. So, here we are going to list out the 10 common SEO mistakes that harm your Google ranking.
---
10 SEO Errors of WordPress Websites
1. Choosing the Wrong Theme
A badly coded theme definitely going to harm your whole website.  Because the theme is the backbone of your website, you need to pick up the trusted theme from the trusted developer. There are lots of free themes available in the market, but the thing is they have designed and developed for different niches. Its speed, structure, responsiveness affect the SEO of your website. So, the theme is the first thing you should consider for better SEO. Acme Themes offers a wide range of Free and Premium Themes loved by thousands of users.
What do you need to know about the theme?
Chose the theme from the trusted developers
The theme should be lightweight
The theme should be SEO friendly
Support from developer
Use the premium theme as must as possible for better support and features
---
2. Not Choosing a Right Hosting
Investing in a reliable hosting service is an important part of your business. If you do not have reliable hosting, your website will not be available to the users at the time of the query (or maybe load slow). If your website is not available, Google can not find you, and once Google notice it, your website will not be indexed.
So, investing in reliable hosting is a key decision you need to take. We have been using the Siteground for such a long time and their service is just great. In fact, it is the top three hosting companies recommended by WordPress itself.
It has tools that make managing WordPress sites easy: one-click install, managed updates, WP-Cli, WordPress staging, and git integration. They have a very fast support team with advanced WordPress expertise available 24/7.
---
3. Missing Out a Right SEO Plugin
One reason for WordPress's popularity is its plugins. You can extend the functionality of your website with the help of plugins. There are great plugins that guide you with your on-page SEO such as RankMath, Yoast SEO, All in One SEO Pack. These are the most widely used SEO plugins that help you optimize your content for search engines and outrank your competitors.  As all of the plugins are improving day by day, you can basically use either Yoast SEO of RankMath.
We have been using Yoast SEO for a long time and it is great.
Related Article 
✅Yoast SEO Plugin vs All In One SEO Pack | Which One is Better?
---
4. Missing Out Basic WordPress Settings
Right after you install WordPress on your site, there are basic but essential settings you need to perform. Many people just ignore these settings knowingly or unknowingly. But you need to take care of these things before publishing the very first content.
Configuring these Basic WordPress Settings helps not only in the better ranking in the Search Engine Result Pages (SERPs) but also increase the user experience. So, if you are starting the fresh WordPress website then you should go through this article in detail. Or even you are already running the WordPress site, then it might also be helpful at some point.
---
5. Wrong Permalink Setting
"Permalink" – the name itself suggests the this is the permanent link of each post (Uniform Resource Locator-URL). It is also called the web address of the post that should not be changed once it is set.
Permalink setting of WordPress lets you set how the permanent URL structure of your individual posts, pages, category, and tag archives will be. Permalink structure plays a great role in SEO and site ranking as the URL is the gateway for the web crawler.
. The following figure shows that example of URL.

The WordPress Settings Permalinks allows you to choose your default permalink structure. You can choose from common settings or create custom URL structures. Once you chose the setting, WordPress automatically chose the permalink structure that you configured.
In WordPress, you will find the permalink setting in Settings>Permalink
We recommend setting the Post name as default.  Permalink according to the post name is considered to be better for SEO purposes.
---
6. Not Optimizing Images
Image optimization is another important task of Search Engine Optimization. For WordPress, there are many image optimizer plugins available, among all, Smush and ShortPixel Image Optimizer is widely used plugins. These plugins do a great job after you upload images, but you have to do lots of things before you even upload the images. This helps in even better image optimization. Such as –
Image Size – You have to optimize your image size so as to make it light. This affects the loading speed of your website. But one thing you should be careful of is while reducing the size of your image, you should also take care of its resolution. You can use different tools to reduce the image size such as  tinypng.com, tinyjpg.com. These online FREE TOOLs help you to reduce the size of your image keeping its quality optimum.
Proper Alt text –  Alt text (also called "alt description", "alt-tag") is the written copy that appears in place of an image on a webpage if that particular image fails to load on the screen. So, putting proper alt text is important for accessibility and Image SEO. Try to put the proper image alt tag that better describes the image.
Description of the Image – Description of your text describes the image. This is different from "alt text" because alt text is an "alternative text to the image" that will be shown on the screen when the image fails to load. But image description is the description of that particular image that is shown below the image to further describe the image.
Choosing the Proper format – There are mainly three image formats that are in use, JPEG, PNG, and GIF. I personally do not recommend GIF unless there is a "Must Use" situation. Although PNG produces better quality images, it comes in a larger size than JPEG format. So, you have to use the JPEG image in most of the cases in order to save size and quality. However, there might be some cases where PNG produces better results than JPEG. Just balance it.
---
7. Not Manage Category Properly
Not managing the proper category is another SEO Errors of WordPress Websites. Keep things simple when it comes to WordPress posts and taxonomies. If you link posts to just a few categories with relevant tags, Google will know contextually fit to rank for specific categories. If you have huge numbers of categories and tags then search engines are not going to make a decision about what is your posts associated with.
You should not have random and unnecessary categories instead you should have a very limited number of categories (around 10), and a limited number of tags (maximum 50). Try to use the proper tag every time you publish a post so that it better categorize the posts that people are reading. Tags are also called categories of categories so you should include sensible tags within the respective categories. Read more about categories vs tags.
---
8. Avoiding Duplicate Content
Google defines duplicate content as:
"Duplicate content generally refers to substantive blocks of content within or across domains that either completely match other content or are appreciably similar. Mostly, this is not deceptive in origin."
Duplicate content is the content that appears in more than one place on the internet. In a technical word, two different URLs take you to the same content. It can be within the same domain or different domain.
Having duplicate content harms your website's SEO and if the amount of duplicate content gets higher, Google may degrade your website. It is because the content appearing in more than one location on the Internet can be difficult for search engines to decide which version is more relevant to a given search query.
One of the best ways to solve duplicate content is to set up a 301 redirect from the "duplicate" page to the original content page.
---
9. Not Knowing Rich Snippet
A rich snippet is a result shown on the Google page along with some other additional information so as to add value to the result. It stands out from the other snippets when it comes to the priority.
From the user's perspective, just by looking at the result of the rich snippet, they get to know more about the content.  Because it is more appealing to the users, posts with rich snippets are likely to get more clicks. If the click-through rate (CTR) of your blog post increases, you will get more traffic. Ultimately, rich snippets will affect your ranking as well.
The following image shows the difference between rich snipped and normal snippets.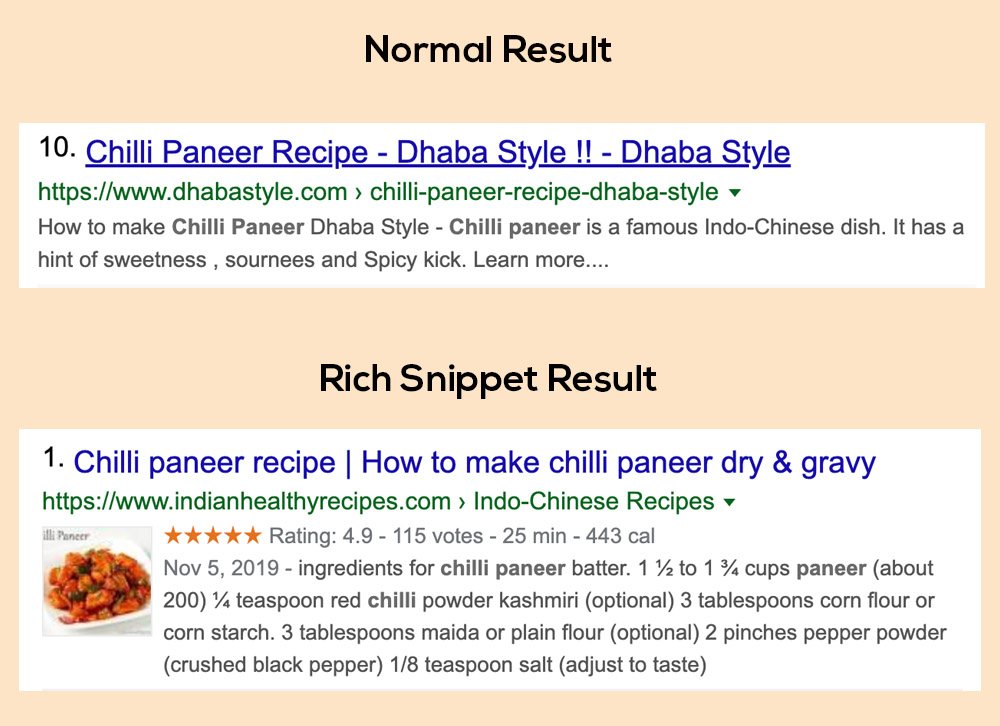 In what types of content can we use rich snippets? 
Rich snippets can not be used in all types of content. The following are some of the content types where rich snippets can be used.
Recipe
Event
Apps
People
Products
Business and Organizations
How can you get rich snippets? 
You have to add structured data to your site so that Google can show a rich snippet. A piece of code in structured data tells Google to extract the maximum relevant data for rich snippet result. You can test the structure of your article using this Structure Data Testing Tool.
---
10. Not Focusing on On-page SEO
According to the Moz – On-page SEO is the practice of optimizing individual web pages in order to rank higher and earn more relevant traffic in search engines. On-page refers to both the content and HTML source code of a page that can be optimized, as opposed to off-page SEO which refers to links and other external signals.
On-Page SEO is crucial for a website. It involves many tasks such as –
Proper keyword research

Setting up a proper title and meta description
Content formating
Speed optimization
Mobile-friendliness
Maintaining the heading hierarchy
Internal and external linking etc
✅15+ Actionable On-Page SEO Techniques for WordPress Website
---
So, these are some of the essential SEO tasks that people missing out. What do you think of these tips? have you are queries, suggestions related to this article? If so drop your comment below and follow us on the following social links.
Other SEO Articles:
✅ 13 Essential SEO Tips For WordPress Website
✅Technical SEO For a Website?
If you liked this article, then consider following us on Twitter and Facebook and LinkedIn.